Vertu Motors Announces Partnership With Yeovil Town FC For the 2023/24 Season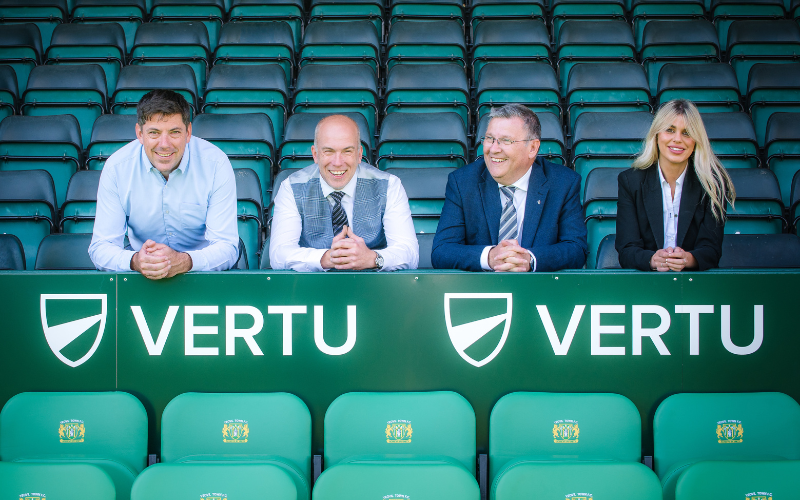 Vertu Motors is proud to announce its partnership with Yeovil Town Football Club for the upcoming 2023/24 season.
As part of the sponsorship agreement, Vertu Motors branding will be prominently displayed around the dugout at the Huish Park stadium.
The newly formed partnership aims to raise brand awareness for the motor retailer, whilst strengthening local community ties for the brand's dealerships in and around Yeovil.
The wider Vertu Motors group acquired 28 South West retail sites from Helston Garages Group Limited in December 2022, a number of which have since been rebranded as Vertu Motors.
Vertu Yeovil Land Rover, Vertu Yeovil BMW, Vertu Yeovil MINI and Vertu Yeovil Volvo all reside locally to Huish Park stadium, whilst Vertu Motors also has several dealerships in neighbouring towns Bridgwater, Taunton and Dorchester.
Robert McGarva, Head of Business at Vertu Yeovil Land Rover, expressed his enthusiasm about the alliance, stating: "We are delighted to be partnering with Yeovil Town FC for the upcoming season.
"This collaboration allows us to further engage with our customers and showcase our commitment to excellence in both automotive and community-driven initiatives."
Mark Robinson, Commercial Director of Yeovil Town Football Club, said: "We are delighted to welcome Vertu Motors as our dugout sponsor for the 2023/24 season.
"We look forward to a successful season both on and off the pitch, whilst building a partnership that will grow for seasons to come.
"It is exciting to see the structural changes in our dugouts for this season ahead; the prominent Vertu Motors branding displayed around our new look dugouts reflects the high professional standards of both organisations coming together."