Vertu Motors Continues To Back Britain's Oldest Professional Basketball Team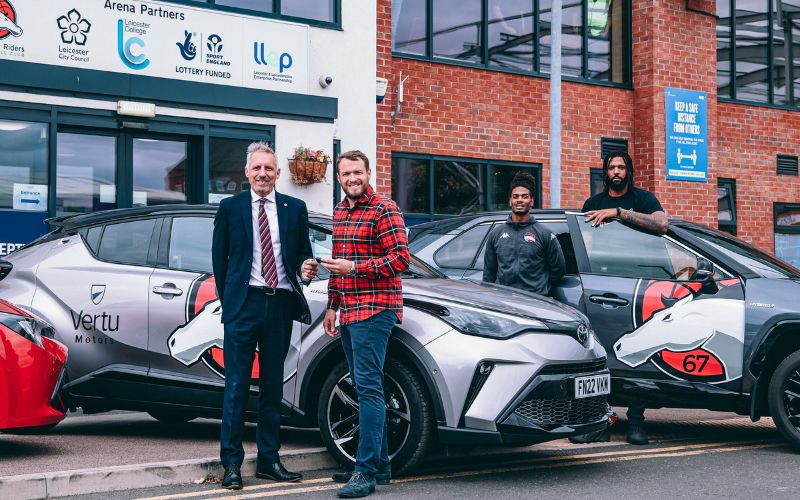 Vertu Motors will continue its partnership with British Basketball League team Leicester Riders this coming 2023/24 season.
The leading automotive retailer's three-year deal with Leicester Riders, which began last season, involves supplying a fleet of Toyota Hybrid vehicles from their Leicester dealership, branding on the team's shorts and across the Morningside Arena, plus the provision of match day advertising opportunities.
As well as their local Vertu Toyota Leicester location, Vertu Motors has several additional dealerships in the surrounding area, including Vertu Toyota Loughborough as well as many more throughout the East Midlands area and UK.
Chris Taylor, Group Operations Director at Vertu Motors, said: "Not only are Leicester Riders the most historic professional basketball team in the UK, they are also one of the most successful. This comes from having a true commitment to providing a great environment for players and fans alike, and most importantly a commitment to community basketball and youth development in the surrounding area.
"The club is a credit to Leicester and Loughborough and has a dedicated fan base. This is something we hope to emulate locally with our recently acquired Toyota retailers in Leicester and Loughborough.
"We are very proud to continue our partnership with the Club and look forward to another exciting season ahead."
Russell Levenston, Managing Director of Leicester Riders, added: "It gives us great pleasure to continue working with Vertu Motors as an Official Partner for the upcoming season. The Riders are committed to working with national brands that have a link to the local community.
"I look forward to growing our relationship on the foundations that we have built. Thank you to all the colleagues at Vertu Motors for all of their support."
Vertu Motors holds additional partnerships with a number of sports clubs across the country, including in football and cricket, with Burnley Football Club, Middlesbrough Football Club and Sunderland Association Football Club, alongside Nottinghamshire County Cricket Club, Yorkshire County Cricket Club and Somerset County Cricket Club.
In addition, the brand has a long-standing relationship with Newcastle Eagles basketball team and has naming rights for the Eagles' Vertu Motors Arena in Gateshead. The wider Vertu Motors group also holds a partnership with Caledonia Gladiators BBL team, through their Scottish brand Macklin Motors.