Vertu Motors Plc Celebrates Three Motability National Awards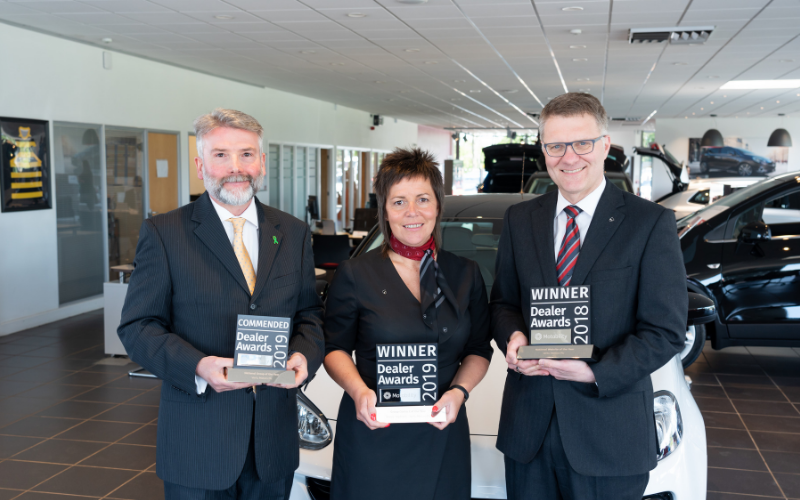 Vertu Motors Plc celebrates its success in receiving the highly coveted commended status in the National Dealer Group category in the 2019 Motability Dealer Awards.
The commendation recognises its commitment to providing great service to customers of the Motability Car Scheme throughout 2018. It has also won the Website of the Year and Group Contact of the Year.
The 2019 Dealer Awards programme rewards best practice and ensures customers receive exemplary customer service across the nationwide car dealer network. Prizes are available across 11 categories; the awards are judged on how a dealer delivers the Scheme to customers and is assessed by customer feedback and reviews of their Motability Scheme performance.
Richard Povey, dealer development manager - dealer relations at Motability Operations Ltd, explains: "We are extremely proud of the achievements of all our winners and commended business partners, including Vertu Motors Plc. It's great to see the high level of service delivered by our dealer network and we are pleased to present the latest 2019 Dealer Awards. The annual Awards allow us to thank dealers for providing consistently positive customer service, highlighting those who are doing it well and encouraging others to do the same.
"It is a testament to the outstanding standard, professional approach, and expert knowledge of Vertu Motors Plc that they have been recognised as commended in the National Dealer Group Category, winner in the Website of the Year Category and Tracey Taylforth winning the Motability Group Contact of the Year Award - Congratulations to them for their well-deserved 2019 Dealer Awards."
Celebrating its Dealer Awards commendation, Robert Forrester, chief executive officer, Vertu Motors plc said: "We are thrilled that the high standards of our service and knowledge of the Motability Scheme have been commended by the 2019 Dealer Awards. The team is really proud to receive this accolade and we look forward to continuing our award-winning approach to customer service in the current year."
Anyone who receives the Higher Rate Mobility Component of the Disability Living Allowance, the Enhanced Rate of the Mobility Component of Personal Independence Payment, War Pensioners' Mobility Supplement or Armed Forces Independence Payment can exchange their weekly payment to lease a new car through the Motability Scheme. Insurance, servicing, RAC breakdown assistance and replacement tyres are included in the cost of the lease.