Vertu Motors PLC Leads The Way In EV Accreditation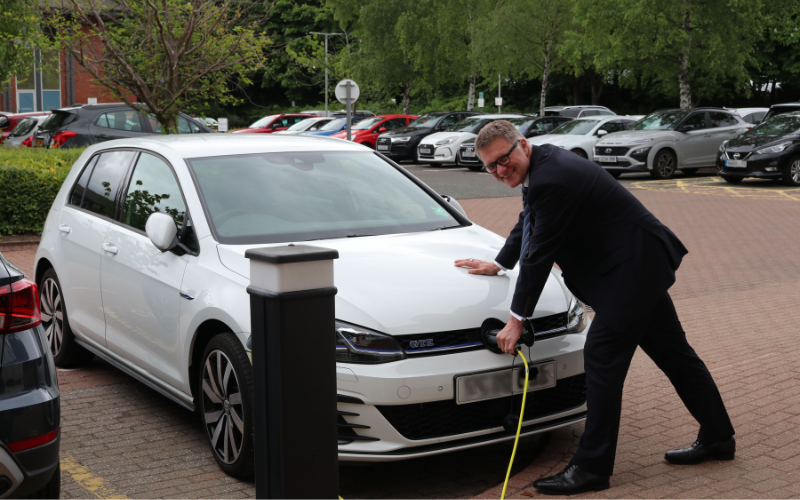 Vertu Motors plc is now the UK's motor retail group with the most dealerships to hold Electric Vehicle Approved (EVA) status.
To date, 21 sites across the Group, which operates Bristol Street Motors, Macklin Motors and Vertu Motors dealerships nationwide, have received the prestigious accreditation.
The EVA scheme was created by the National Franchised Dealers Association (NFDA) and has been endorsed by the Government's Office for Low Emission Vehicles (OLEV) for another year.
Announcing the funding, Transport Minister Trudy Harrison said it was "vital dealerships have the right level of skills and expertise to advise drivers on the important benefits of switching to electric vehicles."
It remains the only scheme to receive backing from central government, working with motor retailers towards the transition to net-zero.
To gain the accreditation, colleagues across the 21 dealerships have undertaken intensive training. They have enrolled onto an electric vehicle awareness training course, tailored to their role within the business. They must also show a solid understanding of all electric and hybrid model variants.
Aftersales colleagues and technicians have also received comprehensive training, with the latter undergoing official EV maintenance and repair training.
EVA is the only accreditation scheme which certifies the efforts and investments retailers are making to meet the growing demand for electric vehicles. The EVA badge of approval enables customers to immediately identify those dealerships that are at the forefront of electric vehicle retail and can offer the highest levels of service and knowledge.
Customers will know, by visiting an EVA accredited dealership, they will be receiving:
- Impartial advice on electric vehicles
- EV products to test on site
- Access to expert EV product knowledge
- EV accredited technicians
- Accessible charging points for their use
Robert Forrester, Chief Executive of Vertu Motors plc, said: "Customer service is our number one priority and as an early adopter of this officially accredited scheme, we are moving forward to ensure more and more of our dealerships achieve EVA status.
"EVA accreditation means that our colleagues possess the knowledge and understanding to offer the best advice to customers, many of whom are considering an electric vehicle for the first time.
"Our ultimate aim is for all our retailers to achieve EVA status, and this is the goal we are working towards now."
British drivers bought more electric cars in March 2022 alone than in the whole of 2019. The Society of Motor Manufacturers and Traders (SMMT) said 39,315 new electric vehicles were sold, up 79 per cent from a year earlier and accounting for nearly a sixth of the car market.