Vertu Toyota Chesterfield hands over new van to Ashgate Hospicecare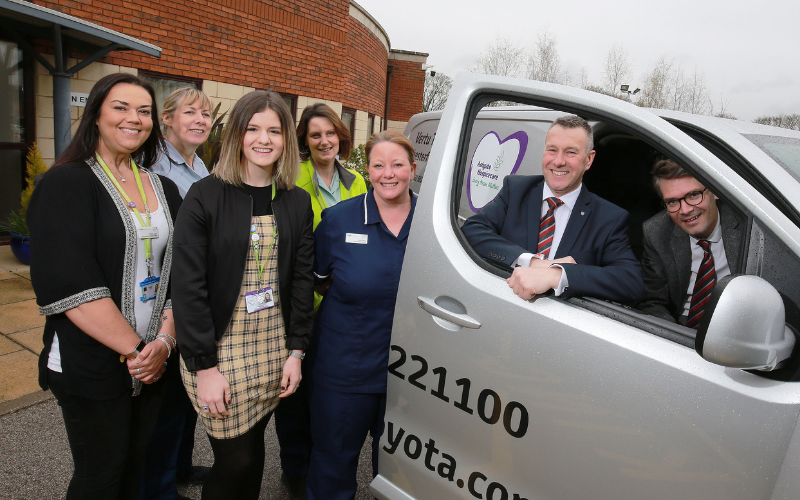 Vertu Toyota Chesterfield has gone the extra mile to ensure that Ashgate Hospicecare can continue to deliver its vital services in the local community.
The Lockoford Lane dealership has donated a Toyota Proace Van, which will be used to transport vital equipment to patients' homes across north Derbyshire, to help them stay at home when it matters most.
The specially branded van will also make an appearance at various events, raising awareness of the hospice and supporting fundraising efforts.
In addition to the 21-bed Inpatient Unit and 16 place Day Hospice, hundreds of people are helped and supported every year by the community team. The hospice needs to raise around £10million every year to continue delivering its essential services.
General manager at Vertu Toyota Chesterfield David Littlewood is a staunch supporter of the hospice. He even stood in for the 'real Father Christmas' at the hospice's Christmas market.
David said: "The hospice is a fantastic facility for the local area, supporting individuals and their families at the very worst time of their lives. Most people know someone who has been affected by cancer and it's important that local businesses get involved in the fundraising to ensure the hospice remains open and its nurses can carry on delivering care and treatment.
"We are proud to be able to support the hospice and to provide the van to enable the community outreach work to continue efficiently and safely."
Alison Ward-Foster, Partnerships Manager at Ashgate Hospicecare said "We can't thank Vertu Toyota enough for their support. Their generosity will make such a difference, the hospice is also saving money by not purchasing or leasing a vehicle and the money saved enables our nurses to care for more patients and their loved ones."