Vertu Toyota Kits Out Chesterfield Junior Footballers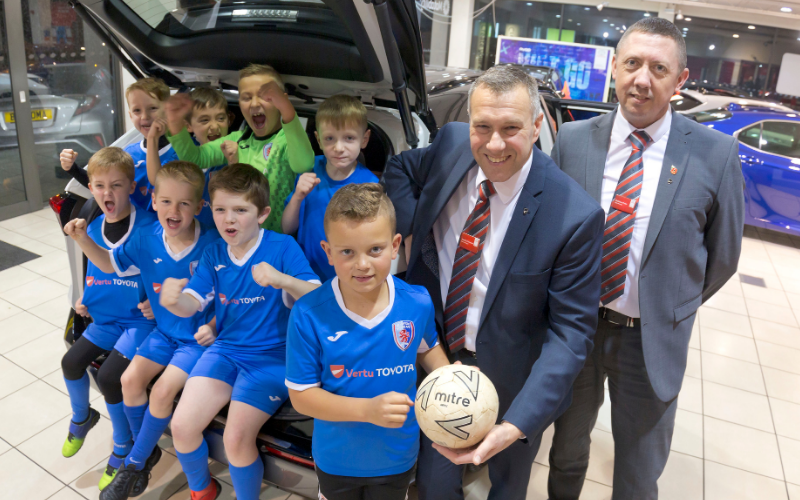 Vertu Motors Toyota Chesterfield is ensuring that a local junior football team will be well turned out for the new season by sponsoring its new kit.
Chesterfield-based Brampton Rovers AFC Under 8s team, who play in the Sheffield & District Junior League, are proudly wearing their new shirts for the 2019/20 season.
The young budding footballers are a new team into the league.
Dave Littlewood, general manager at Vertu Motors Toyota Chesterfield, said: "Brampton Rovers are a great team that does a lot to support grass roots junior football in our area. None of the youngsters have ever played in any team activity before so we wanted to give them a helping hand by providing the team kit.
The children's faces were well worth seeing when John Wood from Vertu Toyota and the football coach Rob Stone presented the kit to the team.
I'm really pleased to be able to support the young players as part of our commitment to be an active part of the local community. It will be great to see the players sporting their new kits and we will be watching closely for their results."
Rob Stone, coach at Brampton Rovers AFC, said: "We are absolutely thrilled with the support from Vertu Toyota Chesterfield and would like to say a special thank you to John Wood and Dave Littlewood. I know they do lots of great things in our local community supporting charities and other worthy causes, so we feel privileged to be considered and supported by them this season.
The young players are fresh into a new venture and to have a brand-new football kit with the Vertu Toyota logo on the front will stay in the memories for years to come!
The team recently played their first match in the new Vertu Toyota kit and looked fantastic."