Volkswagen ID. Buzz Bags Best Electric Car at Marie Claire Sustainability Awards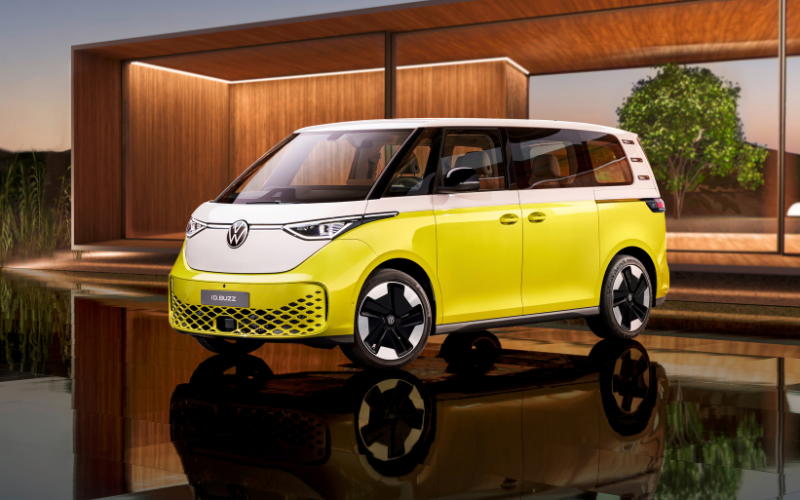 The all-new, electric campervan sees a family-friendly addition to the Volkswagen Commercial vehicle offering, with a host of fantastic features on offer.
The Marie Claire Sustainability Awards are an annual celebration of the most sustainable products, brands, and organisations across different industries- including the motor industry.
It sees a panel comprising of the Marie Claire team, over 50 sustainability experts and business founders and activities come together to identify the products and people who are doing their bit to tackle environmental issues.
This year, one of the latest electric vehicles was named Best Electric Car at the awards- the new Volkswagen ID. Buzz. Let's see what made the ID. Buzz simply the best!
Volkswagen ID. Buzz- Best Electric Car
Volkswagen Commercial Vehicles' new electric ID. Buzz has become a firm favourite with families and eco-friendly enthusiasts alike, thanks to its clever interior layout, high-tech specification, and convenient features for enhanced comfort.
The ID. Buzz incorporates several sustainable touches throughout the interior, from the use of animal-free leather to recycled materials on the seat and floors covers, and the headliner, creating a vehicle which places sustainability and comfort hand-in-hand.
On the outside, it features LED headlights, alloy wheels, as well as a variety of high-tech specification features within. There are the Life, Style and 1st Edition models to choose from, with each offering a range of advanced features.
Technical features include ambient lighting with a choice of colour themes, Pro-navigation and infotainment system with a 10" colour-touch screen display, and wireless charging.
Speaking of charging, as a fully electric vehicle the ID. Buzz offers easy charging capabilities and can be recharged from 5% to 80% in as little as 30 minutes, so you can be well on your way.
With a 258-mile range, it will be sure to get you where you want to go, thanks to quick charges in between for the longer journeys.
"Second-life plans for the ID. Buzz, combined with fantastic design, prove that electric vehicles with built-in sustainable futures don't have to be the hair-shirt option," says Marie Claire's Sustainability Awards judge and Auto Trader editorial director, Erin Baker. "Bi-directional integrated charging also gets a big tick from us".
"A leap ahead of its competitors and competitively priced, with a plethora of storage configurations for every purpose, it makes zero-emission vehicle replacement a reality for commercial fleets," adds Dave Coleman, Sustainability Awards judge and managing director of the Carbon Literacy Project.
Jess Mainard, ID. Buzz Product Manager at Volkswagen Commercial Vehicles, said:
"We are delighted to receive this prestigious accolade from Marie Claire. Our ID. Buzz and ID. Buzz Cargo are game-changing models for us, paving the way for Volkswagen Commercial Vehicles' electrification journey. Everything from the design, to manufacturing, to the on-road performance has considered sustainability from the offset, enabling us to produce a product which is comfortable and convenient for our customers, whilst also contributing to a reduced C0₂ footprint".
The Citroen Ami also took home an award for the Best for Eco-City Travel, thanks to its compact, sustainable design and super convenient features.
Sound like your perfect new campervan? Shop our latest deals now.