Volkswagen Multivan Scoops Most Practical Tow Car at What Car? Tow Car Awards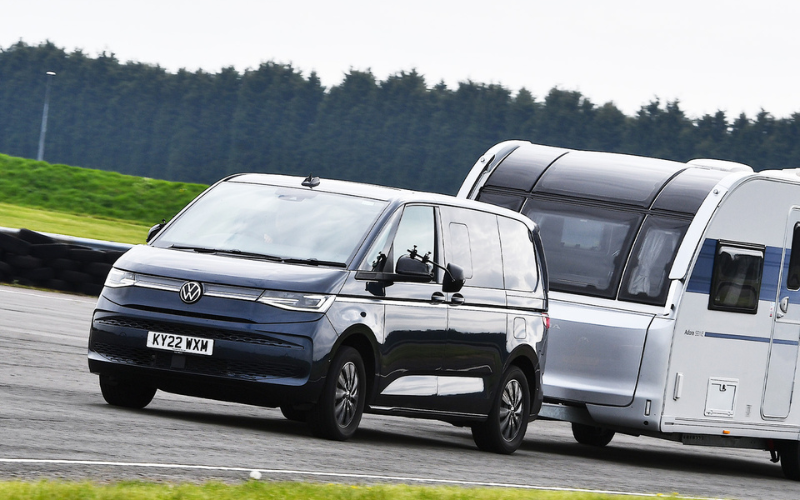 The new Multivan from Volkswagen was given the award for its practicality, flexibility, and clever interior design.
Volkswagen's all-new Multivan has been named the Most Practical Tow Car at the 2022 What Car? Tow Car Awards.
Praised for its strong towing capabilities and stable driving experience, the Multivan was recognised for its practicality as a towing vehicle, as well as the spacious interior layout providing flexible seating for passengers.
The award recognises the best towing vehicles in the UK market for purchasing, and sees vehicles undergo a rigorous testing procedure to put their towing capabilities and performance in different scenarios to the test.
Other factors under consideration include solo driving, practicality, and buying and owning the vehicle.
Judges elected the Multivan Style model as the winner, with its 2.0 TSI 204 PS engine and DSG gearbox. The van features an accommodating interior layout for passengers and luggage, with up to 7 seats and an integrated sliding table which can easily be moved anywhere in the car.
Steve Huntingford, Editor at What Car?, said:
"It may look more like a campervan than a tow car, but the Volkswagen Multivan is one of the surprise packages of the year's test. The petrol engine isn't an obvious choice for towing (there are also diesels and hybrids), but it offers strong performance.
Most big 4x4s are more at home pulling away uphill, but few can match the practicality and flexibility offered by the Multivan."
Daniel Plank, Multivan Product Manager at Volkswagen Commercial Vehicles, said:
"We are delighted that the Volkswagen Multivan has been named the Most Practical Tow Car this year. Our engineers worked extremely hard to make the Multivan as flexible and versatile as possible and this award is testament to that- from its powerful and varied engine lineup to the spacious and comfortable interior. It's great to see judges recognize this and we hope our customers enjoy it as much as they did."
The vehicle was launched in January with a starting price from £44,410 (RRP OTR inc. VAT), and replaces the current Volkswagen Caravelle with a new, updated design, flexible interior, and improved connectivity thanks to the latest technology.
There is even a plug-in hybrid option, positioning the vehicle at the forefront of the move to greener motoring as a strong tow car option.