Volkswagen Reveal Car Park Robots - Bringing An EV Charger To You
With the rising popularity and growing range of fully electric, plug-in hybrid (and hybrid) cars now available, there has never been a higher demand for public charging points!
According to the Society of Motor Manufacturers and Traders, British sales of electric vehicles are up by 125% this year. This demand is only expected to increase in the coming years, emission regulations are becoming tighter and the deadline for manufacturers to lower their count looms.
A survey conducted by Volkswagen on 2,000 UK motorists has revealed that 41% of them are considering leasing or owning an EV as their next vehicle.
With these statistics, VW have been working hard to come up with solutions to ensure chargers are accessible and easy to use for all EV drivers. This new prototype optimises Volkswagen's ingenuity and determination.
Volkswagen have revealed cute car park robots that will bring EV chargers to you! These mobile units will turn any space into a charging point.
The German brand, which is about to launch its ID.3 electric car, says its mobile charging robot could make searching for an EV charging station a thing of the past by bringing the charger to the car in locations such as multi-storey or underground car parks.
VW also promise that the system could end the problem of 'ICE-ing', where a non-EV blocks a charging point.
The robot can be 'summoned' either by a driver's smartphone app or using vehicle-to-X communication and can communicate independently with the car.
The robot should be able to open the charging port on the EV, attach and decouple the charging cable without any human input.
Each robot can tow multiple 'battery wagons', each of which is equipped with a 25kWh power plant capable of DC charging at up to 50kW.
After connecting a battery to a vehicle, the robot moves on to the next car - returning once the charging is complete.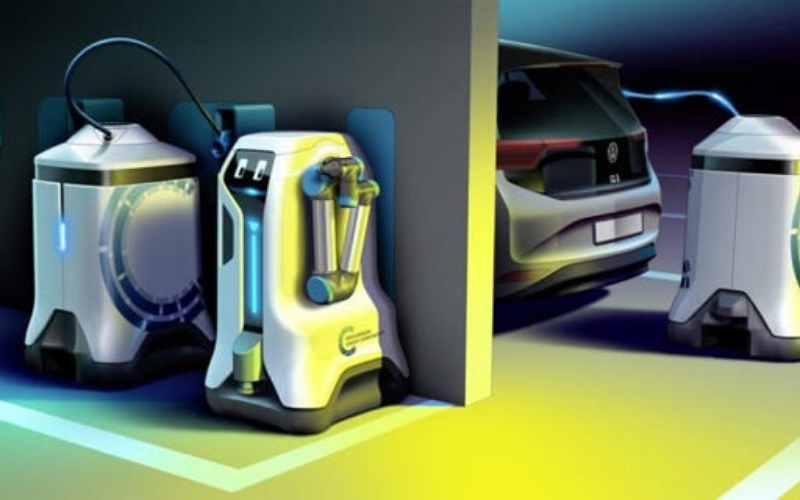 The autonomous robots, that come complete with smiley faces, are equipped with cameras, laser scanners and ultrasonic sensors to help them find their way around car parks without damaging any vehicles or running over any unobservant pedestrians!
Mark M�ller, head of development at Volkswagen Group Components said: 'The mobile charging robot will spark a revolution when it comes to charging in different parking facilities, such as multi-storey car parks, parking spaces and underground car parks because we bring the charging infrastructure to the car and not the other way around.
'With this, we are making almost every car park electric, without any complex individual infrastructural measures.
'Even the well-known problem of a charging station being blocked by another vehicle will no longer exist with our concept. You simply choose any parking space as usual. You can leave the rest to our electronic helper.'
The future is electric and comes with lots of gadgets to facilitate this!
To join the electric squad, check out our great deals for new Volkswagen e-Golf, here at Vertu Motors: