Volkswagen Touareg Crowned 2021 Best Car For Towing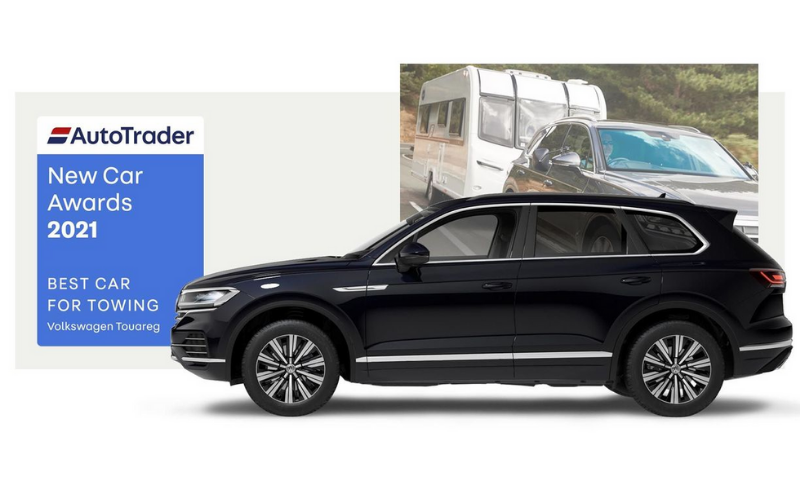 At the annual Auto Trader New Car Awards, the popular Volkswagen Touareg has been named the overall Best Car for Towing.
Auto Trader's yearly New Car Awards celebrate the best of the best across the latest models. With every manufacturer that sells cars to the UK market included in the judging, it's incredible for Volkswagen to claim this title.
After the year we've had, more people have opted to spend their money on staycations and the things that help best facilitate them. Towing has therefore increaded in popularity...
Whether it's a caravan, a horsebox or a trailer of watersport activity gear, more and more of us are using our cars to tow in support of hobbies, pastimes and weekends away. SUVs are perfectly suited to this role; you need your car to be powerful and reliable enough on the road to inspire confidence when pulling heavy loads.
Auto Trader particularly commended the way every version of the new Touareg 'is powered by a burly, 3.0-litre six-cylinder diesel engine driving all four wheels through an automatic gearbox.
'There's even a plug-in diesel-electric hybrid if you want even more grunt. This power, and standard features like trailer stability control, make it the perfect tool for towing, while the optional folding towbar package means you can tuck the hook away when you're not using it.'
Auto Trader recognised that the Touareg also includes Trailer Assist, to help you with the tricky task of reversing: 'Using the rear-view camera as a reference, you simply guide the path you want with the joystick (usually used to adjust the mirrors), while the Touareg takes care of the actual steering and counter-steering itself.'
Auto Trader further noted that: 'Owners appreciate the space, power, comfort and safety features', with one of their customer's summing it up nicely: 'It looks and feels luxurious, and the higher driving position gives excellent visibility.'
With everything considered, Auto Trader revealed that the Volkswagen Touareg is their overall Best Car for Towing... And we believe this is fully deserved.
The award-winning Volkswagen Touareg is available to order now: