What it is Like Owning a Land Rover Series 1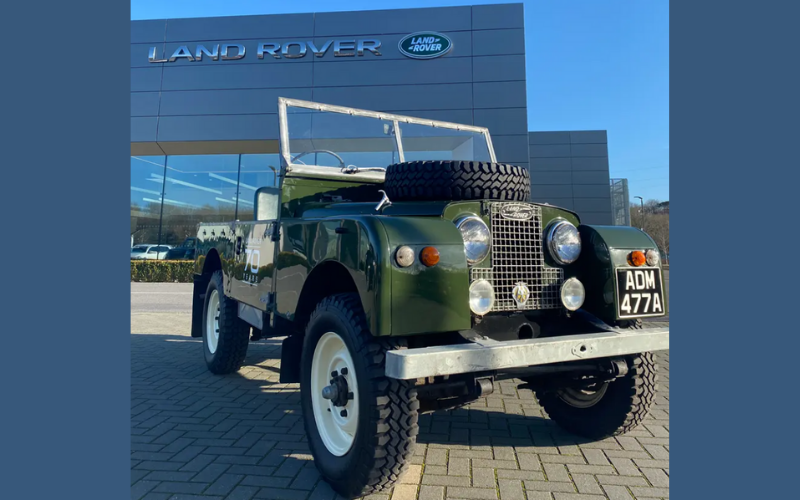 It's not every day that you can see a classic car up close. One of our Sales Executives, Jonny, brought his Land Rover Series 1 into one of our showrooms for customers to see. We couldn't resist asking Jonny a few questions...
Can you tell us a bit about yourself?
I've been working for Jaguar Land Rover for over 30 years. I started my career in the Coventry Head Office factory as a Trainee Technician and have since transitioned into a Sales Executive role.
Classic cars - and cars in general, have been a big part of my life for as long as I can remember. I also ran my own classic car business for 13 years.
My love for cars has been passed on to my family, who enjoy attending shows with me across Europe and the USA.
Have you always been a Land Rover fan?
Most definitely! My first ever Land Rover was a 1974 Classic Land Rover, and my love for them has grown from there. I think over my life (so far) I have owned around 30 Land Rovers.
Can you tell us about your Series 1?
Sure. The car was built in 1957 and due to the registration of the car, we decided to call him Adam.
From 1957 to 1964 it was used by the Coast Guard in Wales, and from that point up until when I found him in 2007, I'm not too sure where he has been or what he has seen!
I then spent time fully restoring him to look almost as good as new and was even able to match the chassis and gearbox to the engine number - which is quite rare for these models!
Do you drive your Series 1 often?
During the summer I'm quite often using Adam as my daily commuter to and from work! I do also use it to tow my boat when we head out on the weekends, and he even once towed a caravan to the South of France without too much trouble.
I do also like to take him greenlaning with me and put him through his paces off-roading. He doesn't have a problem keeping up with the newer Land Rover models.
If you had to choose between a new Defender or the Series 1, which would you choose?
Personally, it would have to be Series 1. The new Defender models are incredible, with some serious capabilities - and the design is second to none, but my Series 1 has a firm place in my heart.
Do you own any other cars?
I do own other vehicles... quite a few! I currently have two classic Jaguars at home; a 1973 Jaguar S1 XJ 4.2 and a 1999 Jaguar V8 Sovereign. When the roads are a bit damper and the temperature isn't so warm, my Freelander 2 becomes my daily commuter.
Thanks Jonny! We hope you make many more memories in your incredible Land Rover Series 1!
If you are thinking about getting a Land Rover yourself then get in touch with our team today.