Which LEGO car set is the most valuable?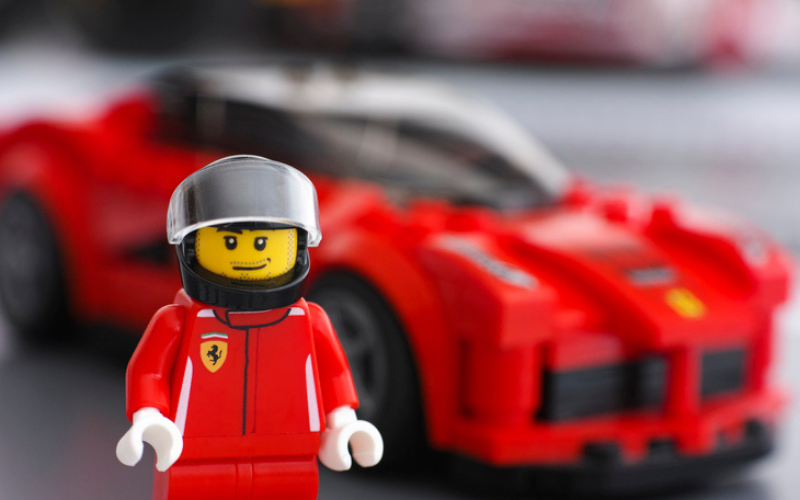 We, at Vertu Motors, know a thing or two about getting the best deal on your motor.
Whether new or used, we're very much in the market of scaling up your long-term investments to ensure you get the best bang for your buck.
But we bet you didn't know our knowledge is not simply tied to real car models. We sometimes like to venture into the lighter, more youthful car ownership realm of LEGO, where some of the world's best cars come to life in teeny-tiny brick form.
And, boy, there are plenty incredible models to choose from. From Fiats to Ferraris, McLarens to Mustangs, LEGO's illustrious Technic collection has expanded rapidly over the years – and with their most expensive set yet (the Lamborghini Sian) coming out last year, we wondered which set was indeed the best investment for LEGO lovers in 2021.
To find out, we ranked the car collectibles according to three categories: potential resale value* (for both new and used sets), hours of fun and price difference vs real life models**.
Continue reading, below, for a deeper dive into our LEGO collectibles cheat sheet.
Best value: ordered by best to resell new
If you want to get the most bang for your buck (or pounds, more accurately) on new LEGO Technic collectibles, then look no further than the Ferrari F8 Tributo and 1960s Ford Mustang sets.
Both of these brickified icons fetch more than 50% more than their RRP on eBay when resold as new.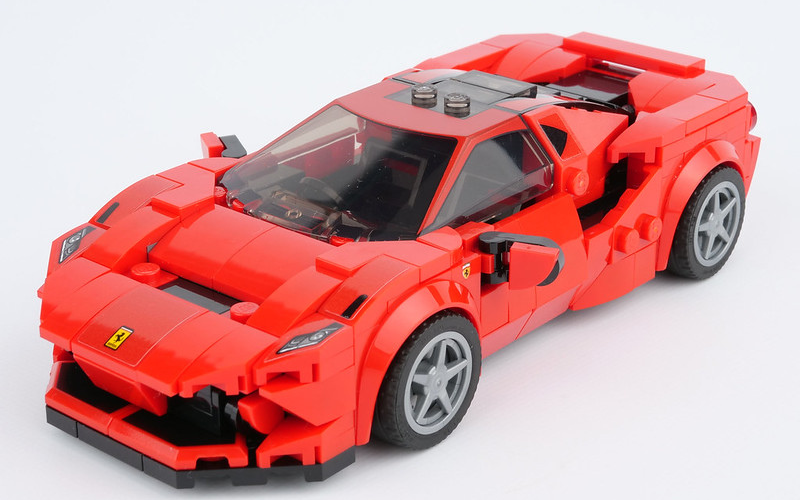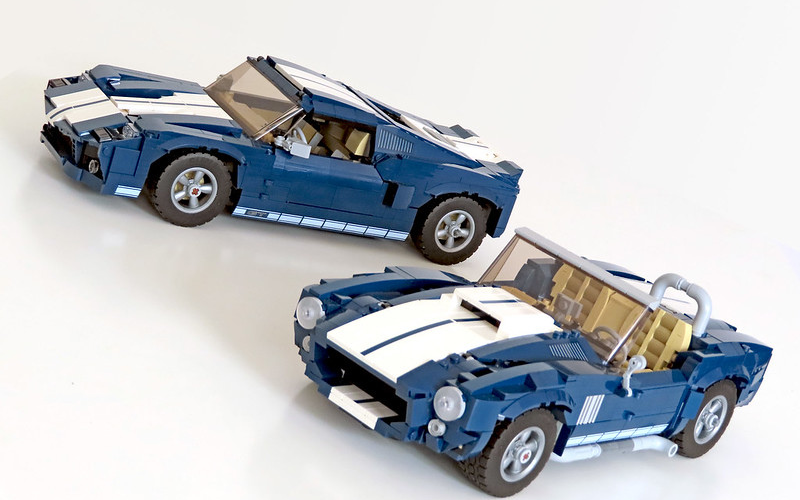 They aren't the only LEGO sets to boast a decent return on your investment, either.
The Ford F-150 Raptor, 1985 Audi Sport Quatro S1 and Toyota GR Supra can all net you a tidy profit, seeing their values increase 38%, 37% and 33%, respectively, on auction sites.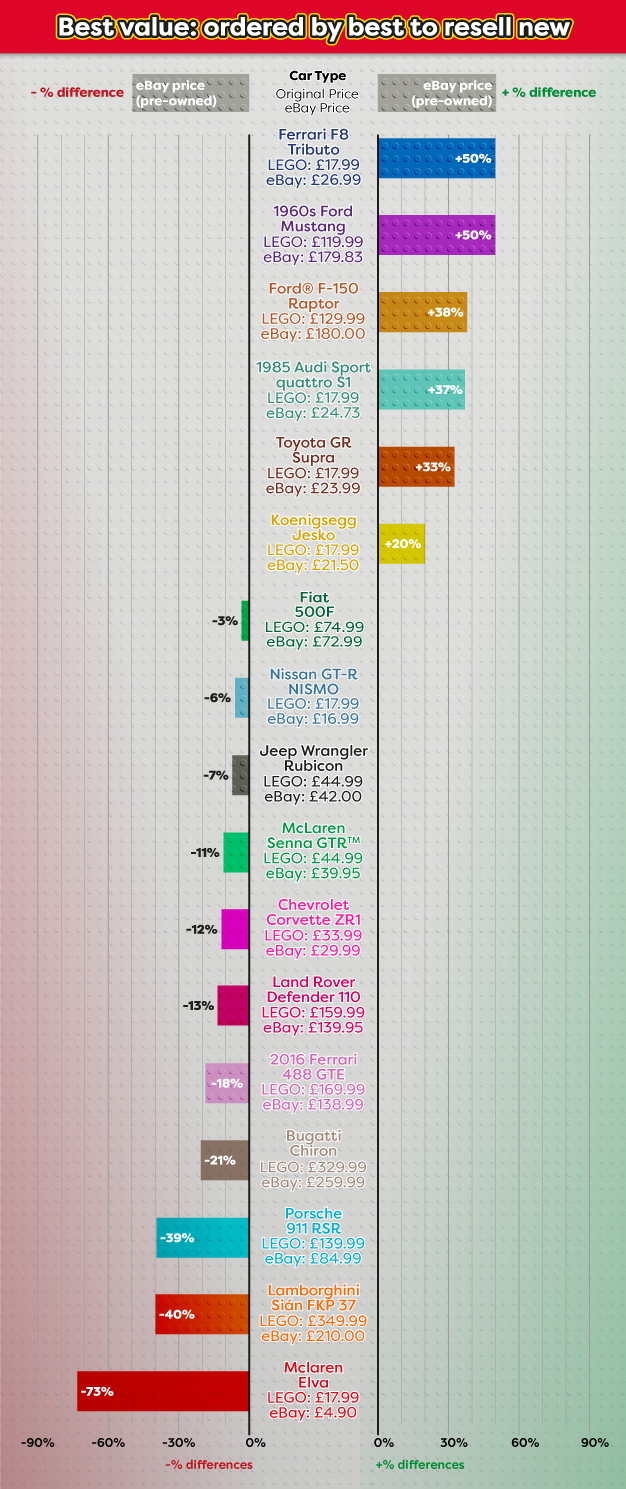 Best value: ordered by best to resell pre-owned
Pre-owned LEGO Technic collectibles, however, are a slightly different story.
The Ford F-150 Raptor set still represents a decent investment, priced up at £175 on eBay (35% more than RRP), but it is the only LEGO motor to retain a positive value change when sold used.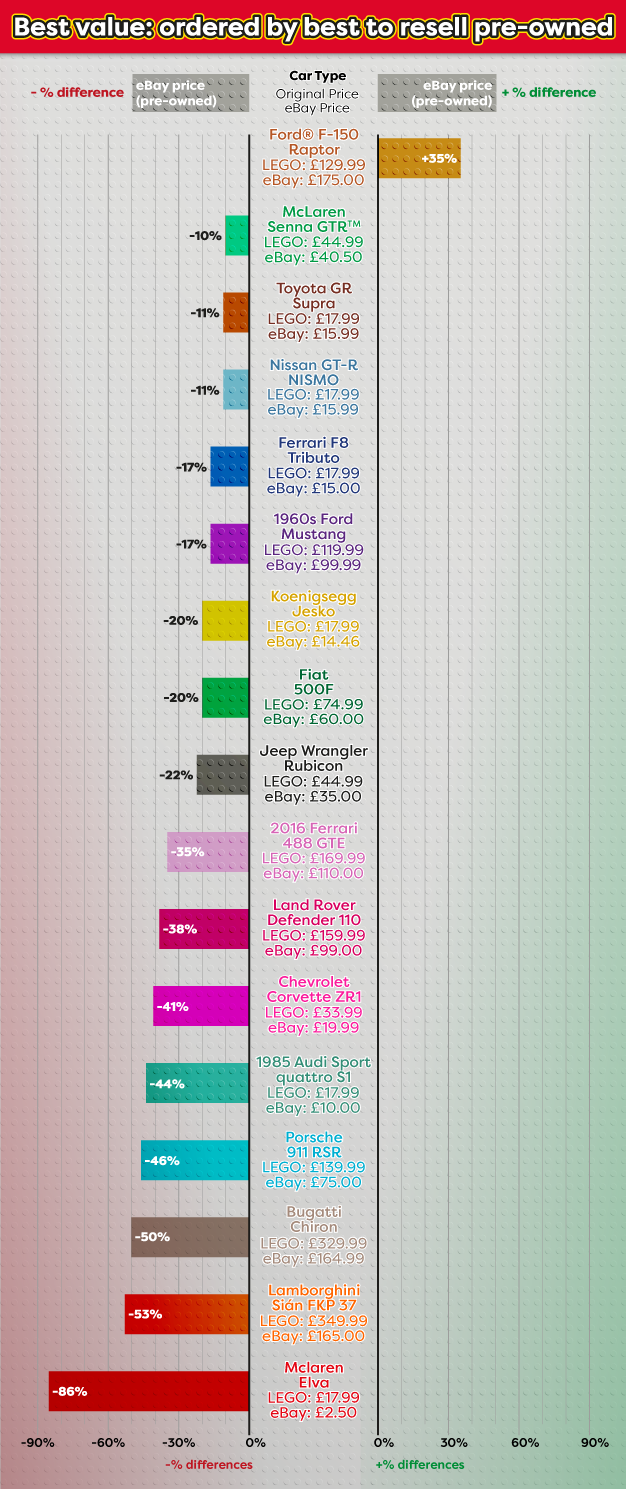 The rest of the LEGO Technic collectibles sell at a loss when preowned – but that doesn't mean you can't minimise your losses, especially when your kids have already had their fun.
Opt for the McLaren Senna GTR, Toyota GR Supra or Nissan GT-R Nismo set to recoup most of your initial investment (90%, 89% and 89%, respectively).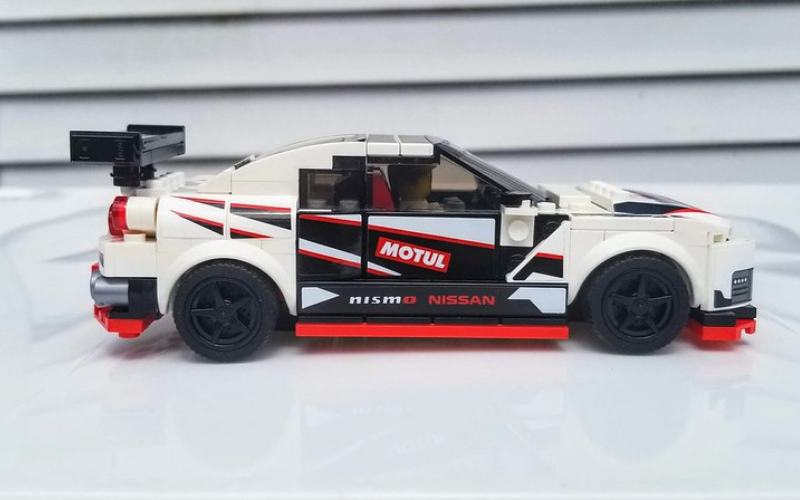 Best value: ordered by most hours of fun
Sometimes, the best investment is the one that keeps your kids quiet for the longest.
In this respect, you should add the Lamborghini Sian FKP 37 or the Bugatti Chiron sets to your Christmas shopping list. These two LEGO supercars each total to over 3,500 individual pieces, which guarantees you at least three or four hours of peace and quiet.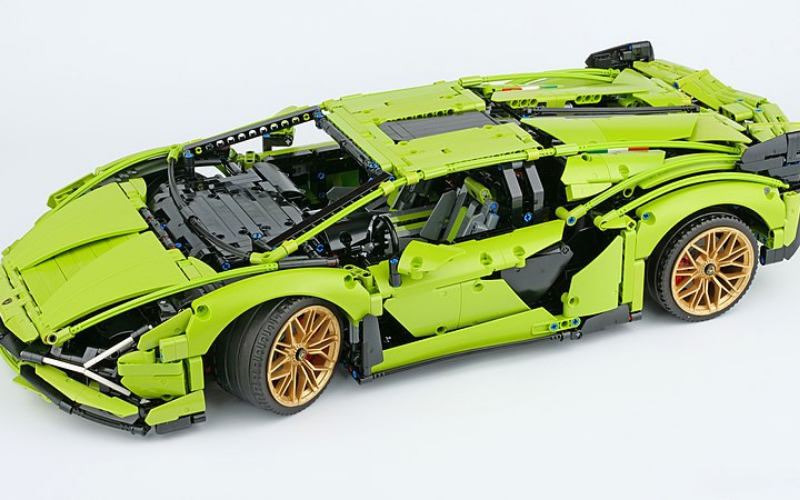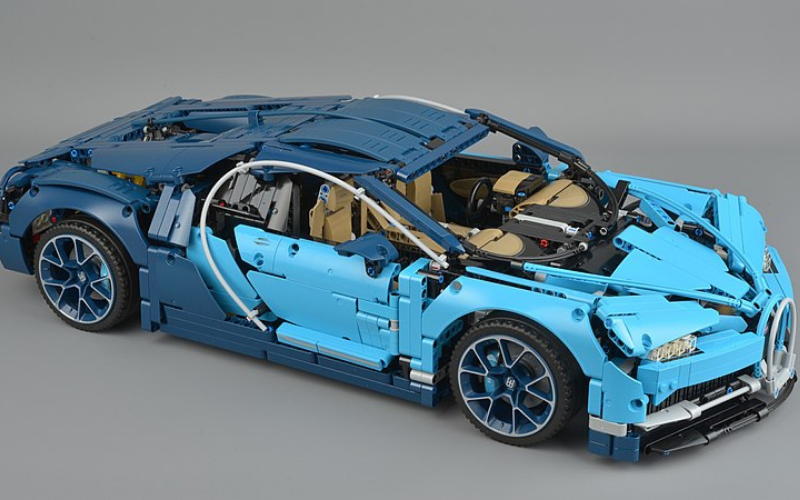 For a less gruelling but still substantial build, there's also the Land Rover Defender 110, 2016 Ferrari 488 GTE and Porsche 911 RSR models that all contain more than 1,500 individual pieces to fit together.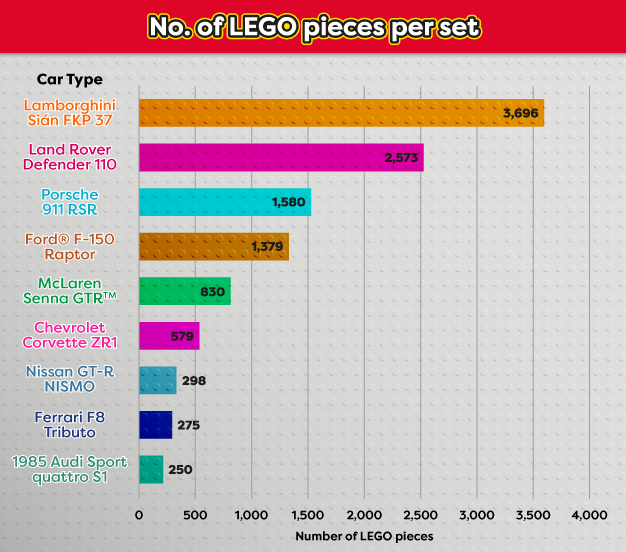 Best value: ordered by cost of real model
As we look to the future of LEGO set investment, it's important not to neglect those cheaper models priced at £17.99 in favour of the more expensive 'hard to find' sets that set you back upwards of £300.
Of course, those rarer LEGO Technic collectibles represent the most valuable investment in the here and now (a new 1960s Ford Mustang currently nets you a £59.84 profit on eBay) – but if you're looking to beat the market, then real car model prices are your best clue.
The Koenigsegg Jesko, for example, is priced at just £17.99 as a LEGO set but a whopping £2,177,415 as a real car (that's a mega 121,033% price difference). As this LEGO Technic collectible gets rarer over time, its value will shoot up in line with its real car cost – so ensure you get in on the ground floor at 18 quid.
The McLaren Elva (real car cost of £1,400,000), McLaren Senna GTR (£1,033,675.50) and the 1985 Audi Sport Quattro S1 (£351,289.62) all offer a similarly reasonable LEGO cost for the more patient investors.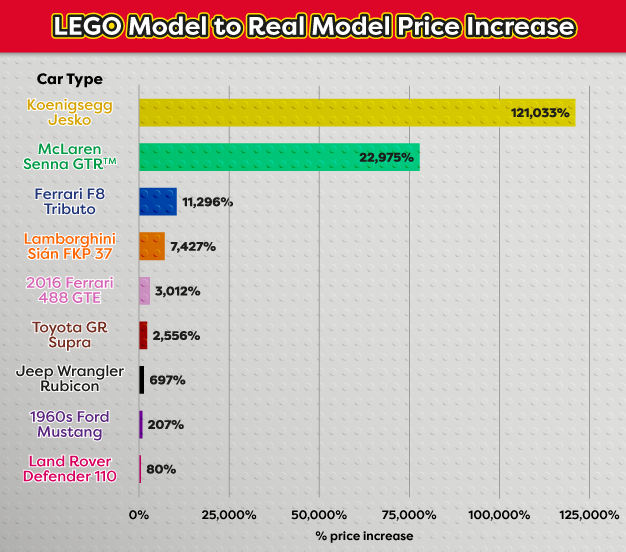 LEGO Technic collectibles are a great investment, but they still don't quite compare to the real thing, do they? Here at Vertu Motors, you'll find the best deals on a range of new and used car models. Browse for your next investment piece over on our website.
*Used and new LEGO prices sourced from the Buy It Now top result in eBay search (top result for Most Relevant), not including postage and packaging. All figures correct as of July 2021.
**Real car costs are converted from dollars to pounds where necessary. Prices correct as of 8th July.
Image credits:
Ferrari - https://www.flickr.com/photos/brickset/49198163552
Mustang - https://www.flickr.com/photos/nkubate/50010286811
Nissan - https://www.flickr.com/photos/rvbtoyreviews/50215429536
Lamborghini - https://commons.wikimedia.org/wiki/File:Lego_Technic_42115_Lamborghini_Sian_FKP_37_(49979966946).jpg
Bugatti - https://commons.wikimedia.org/wiki/File:Lego_Technic_42083_Bugatti_Chiron_(42457831042).jpg