Why The Mercedes-Benz V-Class Will Make Your Summer Special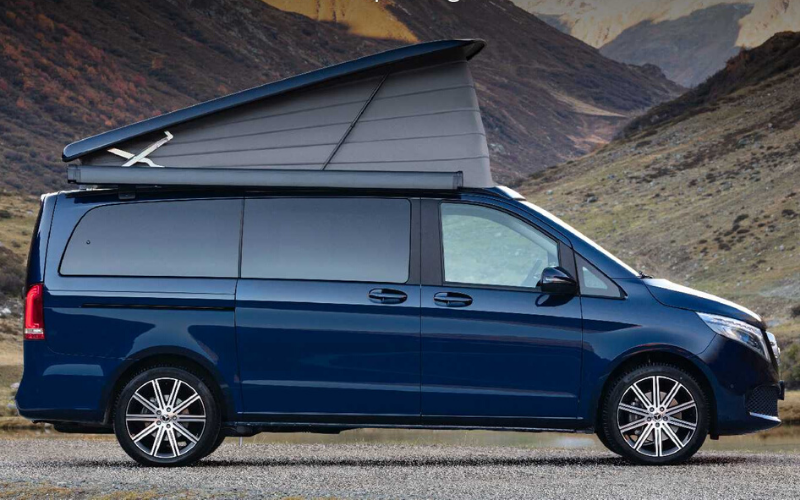 We all joke during the colder months that we just want to pack it all up and move somewhere warmer – well now you can, in luxury and style!
The Mercedes-Benz V-Class is the ultimate luxury camper and great all-round MPV. Whether used for daily commutes, weekend breaks or even abroad vacations, the Mercedes V-Class is designed and engineered for your ultimate comfort and functionality.
If you're looking for a spacious MPV suitable for families, you won't have to look any further than the new Mercedes-Benz V-Class.
Offering a flexible interior with multiple seating configurations, the V-Class has room for the kitchen sink – literally... it's already packed!
You can even upgrade your journey with the Mercedes V-Class Marco Polo Edition – this luxury motor home has been built around the driver, so that camping has never been more comfortable.
With AMG lines also available, Mercedes have given buyers the option to enhance the V-Class' performance even more - to really rule the road.
Home Sweet Home
Mercedes have made sure that the V-Class is spacious, comfortable, technologically advanced and comes packed with features ready for your next adventure.
The V-Class can be personalised to suit its owner - ambient lighting allows the driver to choose between three colours to suit their mood. The driver and front passenger seats also swivel to turn the vehicle into a home.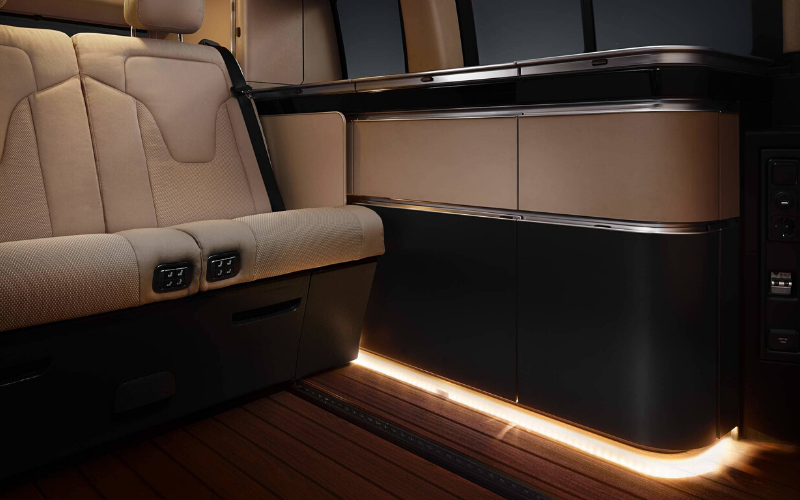 The fitted kitchenette houses a fold-out table; it comes with a cooker with two gas hobs, refrigerator box, sink, and other various stowage compartments.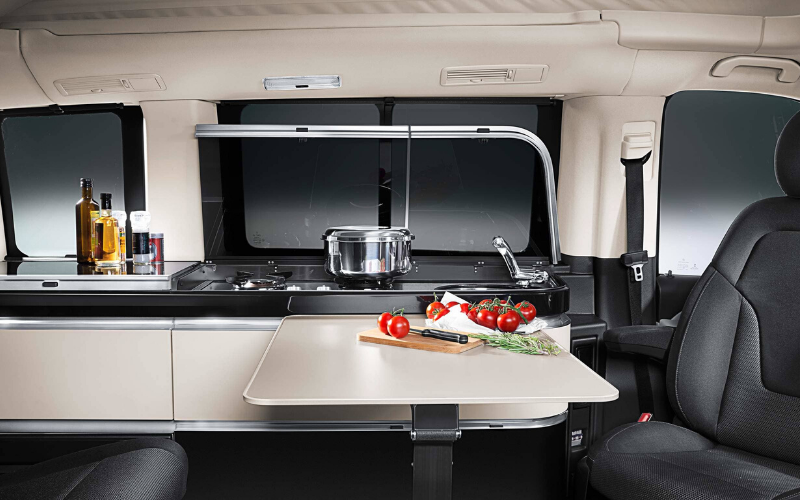 The easy-up pop-up roof with two-seater bed expands the living quarters – there's room to sleep wherever the driver parks-up.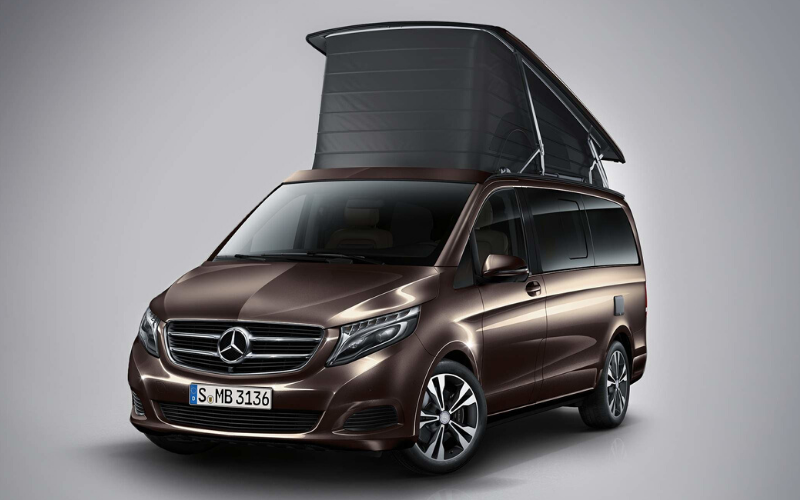 In addition, the two-seater luxury couch also comes with a bed extension; the multi-functional rear seats can be used as a luxury couch as well as a bed.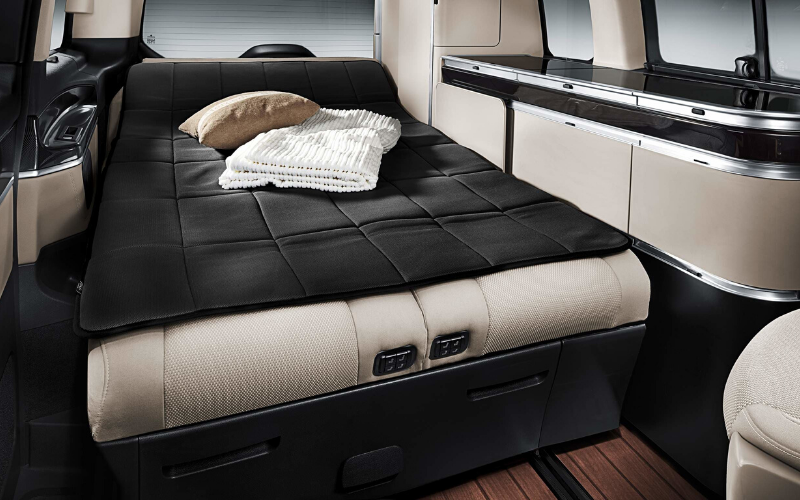 To give a home-from-home experience, the V-Class holds external connections for power and fresh water. The driver just simply plugs in what they need – you could be watching the TV whilst cooking up a storm, all in the perfect, idyllic spot.
Safe and Sound
To make the V-Class an ultimate MPV, Mercedes have incorporated specific equipment packages so that the driver and their passengers can be completely confident during any journey.
The Driving Assistance package contains a range of highly intelligent features – they make the drive more effortless by warning of any danger, and by taking steps to protect you in an emergency. It includes Blind Spot Assist, Distance Pilot DISTRONIC, Lane Keeping Assist and the PRE-SAFE anticipatory safety system.
The Lane Tracking package includes Blind Spot Assist and Active Lane Keeping Assist - these highly intelligent features alert the driver to any emergency or danger on motorways or in other multi-lane situations. Having this package gives extra peace of mind, especially when manoeuvring through busy journeys.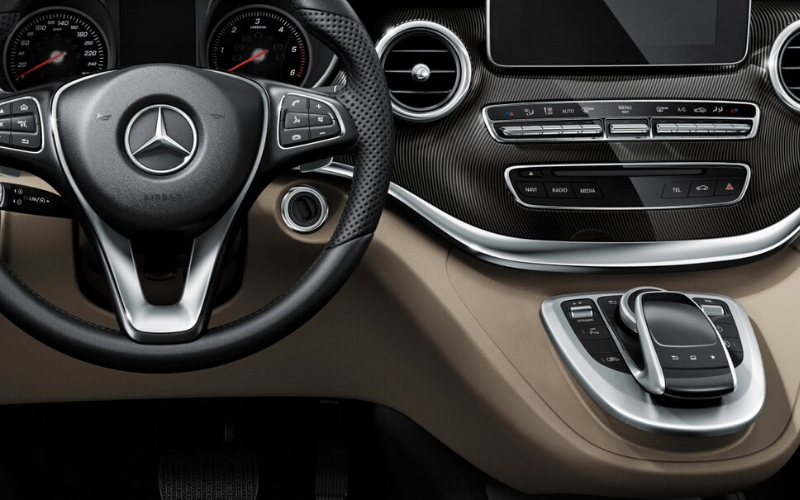 The V-Class is built to make memories for a lifetime; it's reliability, luxury and technology will make sure that your next adventure is not one to be missed. You can find out more about the V-Class range, here.
Deals on the New Mercedes-Benz V-Class
If you're in the market for a great deal on the all-new Mercedes-Benz V-Class, take a look at the great offers we have available on the Mercedes-Benz V-Class, here at Vertu Motors.
Why not book a test drive at your local Vertu Mercedes-Benz dealership? Enquire about the model you're interested in today; our friendly team of experts are ready to find you your perfect V-Class. Take a look at our great range of offers on the V-Class, here: