Why Vertu Motors Loves The BMW 3 Series Saloon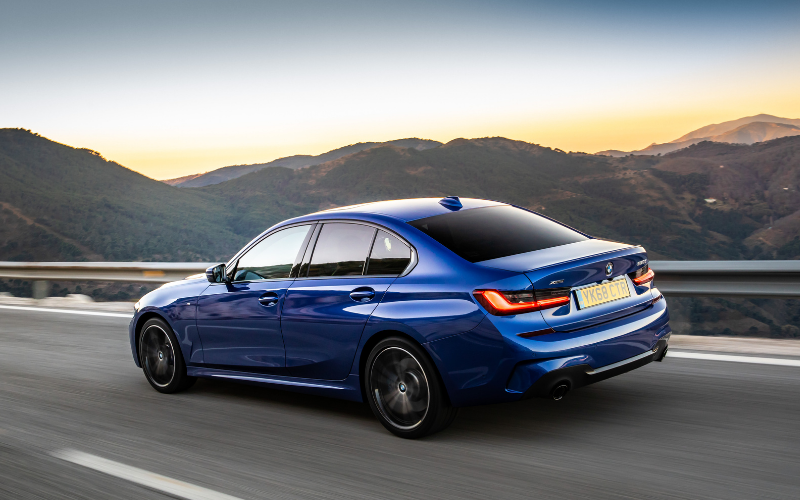 The latest generation BMW 3 Series Saloon comes with something for everyone. From a range of impressive powertrains to BMW's intuitive and intelligent on-board technology, it's a Saloon that's more than ready for a busy day's schedule.
For all the following reasons and more, discover exactly why we're in love with the latest BMW 3 Series Saloon...
The BMW 3 Series Saloon combines sophistication and innovation.
Whichever 3 Series variant you choose, you're guaranteed a comfortable, spacious and an all-round impressive luxury car.
The new BMW 3 Series Saloon blends sleek styling with cutting-edge technologies and impeccable build quality. Its wide and powerful stance not only affords it a greater presence on the road but also increases the new Series 3 Saloon's overall stability.
Intuitive and advanced, the new 3 Series Saloon offers an array of intelligent BMW assistance systems to enhance your driving experience. In addition, interior details and features such as ambient lighting with 11 dimmable designs, offers the perfect driving environment to tackle a busy day's schedule.
The BMW 3 Series Saloon takes safety seriously.
Vertu Motors particularly loves that the new BMW 3 Series Saloon is a sleek, athletic and luxury vehicle that still features top levels of safety.
The BMW 3 Series Saloon received the maximum 5-star rating in Euro NCAP's safety tests, offering outstanding crash protection and scoring very highly in all categories with just its standard features intact.
As well as the usual safety mod-cons of a new car, including a rear parking camera and all-round sensors, the BMW 3 Series Saloon comes with a range of innovative assistance systems, such as Lane Assist and Speed Assist. That means it will automatically keep a look out for - and avoid if possible - potential dangers on the road.
The BMW 3 Series Saloon can offer you excellent efficiency.
If great drive performance with better fuel economy is your thing, then why not choose your BMW 3 Series Saloon as a plug-in hybrid?
Experience uncompromised performance, with lower running costs and reduced fuel emissions. The PHEV 3 Series Saloon is also available with xDrive, BMW's advanced all-wheel drive system. This variant currently offers a combined range of 372 miles and a 0 to 62mph acceleration of just 6.5 seconds.
Equally, you can choose a mild hybrid version of the 3 Series Saloon. Available on the 320d and M340d models, BMW's mild hybrid technology cleverly recovers kinetic energy during braking and acceleration. It also reduces the Saloon's fuel consumption and emissions, whilst enhancing the Start/Stop function.
The BMW 3 Series Saloon can tailor your driving experience to how you like it.
With the optional Intelligent Personal Assistant, which learns and remembers driver behaviour, all you have to do is say 'Hey BMW' to start personalising every journey to suit you perfectly.
Add to this the BMW Live Cockpit Professional's 12.3-inch instrument display, plus the 10.25-inch Control Display, available as standard with M Sport and M Sport Pro Edition models, and your drive will simply come alive.
The BMW 3 Series Saloon offers outstanding performance.
The new BMW 3 Series Saloon offers a thrilling drive every time you get behind the wheel. Despite being incredibly spacious and really comfortable during even the longest of journeys, it's an athletic and highly capable car.
Thanks to its tightened suspension, expect sportier handling through every turn, whilst you feel more in-tune with the road conditions.
You can also choose your BMW 3 Saloon extra punchy too; powered by a TwinPower Turbo 4-cylinder petrol engine, packing 258hp, the BMW 330i Saloon is able to sprint from 0 to 62mph in just 5.8 seconds.
You can watch the latest BMW 3 Series Saloon in action, below. Turn up your volume and enjoy the smooth, yet powerful, roar of the engine:
The BMW 3 Series Saloon is hard to beat, especially if you're looking a car that perfectly combines high-quality materials, luxury comfort, an athletic performance and unparalleled safety technology.
If you'd like to take a look at our extensive range of great deals on the incredible BMW 3 Series range, click the link below:
Equally, if you'd like to take a check out our current stock of used and Approved Used BMW 3 Series vehicles, click the link below: