The all-new NSX represents the convergence of timeless sports car values and advanced technology in a pinnacle supercar.
To bring back the legendary NSX the global development team has innovated in the critical, timeless areas of frame and aerodynamics in addition to tirelessly refining its key advanced technology - the state-of-the-art hybrid power unit. The NSX has many innovative components, but the basic recipe is simple: timeless sports car values blended perfectly with advanced technologies that deliver a new sports experience.
Ted Klaus, chief engineer and global development leader of the new NSX,
"Our goal is to create something altogether new and exciting, something that advances the concept of a next generation supercar in the spirit of the original NSX," said Klaus. "In order to provide NSX-level value, we needed to push ourselves to experiment with, refine and then realize many new technologies."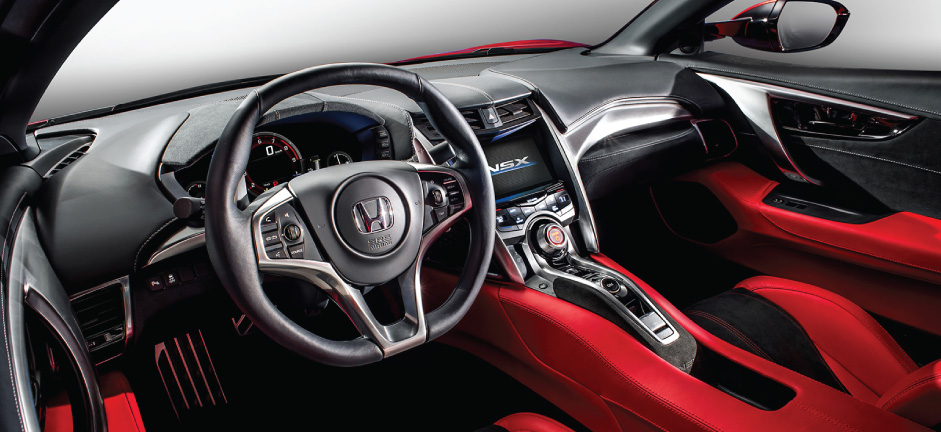 Significant technical revelations concerning the NSX include:
The NSX includes Acura's first use of a revolutionary multi-material space frame design that delivers class-leading body rigidity while remaining lightweight.
World's first automotive application of new ablation casting* technology resulting in world-class body rigidity for ultimate handling and control.
World's first use of a three-dimensionally formed, ultra-high-strength steel A-pillar, supporting class-leading rigidity and crash performance while providing outstanding outward visibility.
The NSX achieves top-in-class aerodynamics targets without the use of active aerodynamic elements, while its three-motor Sport Hybrid power unit is cooled through 10 heat exchangers all thanks to a total airflow management strategy that maximises the flow of air around and through the NSX.
Displacement of the NSX's all-new twin turbo V-6 engine was confirmed to be 3.5 litres.
The NSX will mark the introduction of the most capable and highest torque capacity Super Handling All-Wheel Drive system in Acura's history.
The latest proprietary logic advances Acura's two decades-long pursuit of Super Handling that proactively responds to driver inputs, allowing the NSX to achieve a new level of line trace while at the same time intelligently supporting the driver in changing environments.
*Ablation casting is co-developed for this world's first automotive application with the original inventor of the process, Alotech Limited.
NSX achieves top-class aerodynamic balance and supercar aerodynamic downforce without the use of active aero. Aerodynamic drag is minimised, even while moving large airflows through NSX as it inhales and exhales. Aerodynamic downforce is created through the total airflow management focus on utilising airflow through each vent, as NSX exhales, and through more traditional aerodynamic shape optimisation.
NSX has undergone extensive testing at the company's state-of-the-art wind tunnel in Raymond, Ohio, using ultra-detailed 40-percent-scale models that replicate the entire intake and exhaust vents, heat exchangers and major under-hood components. These highly accurate scale models replicate drag and lift performance with near perfect approximation. It has been verified and put through its paces at the company's full-scale wind tunnel in Japan, and on real and simulated proving grounds throughout the world.

Register your interest
Your Details