5 Reasons The MINI Hatchback Makes A Great First Car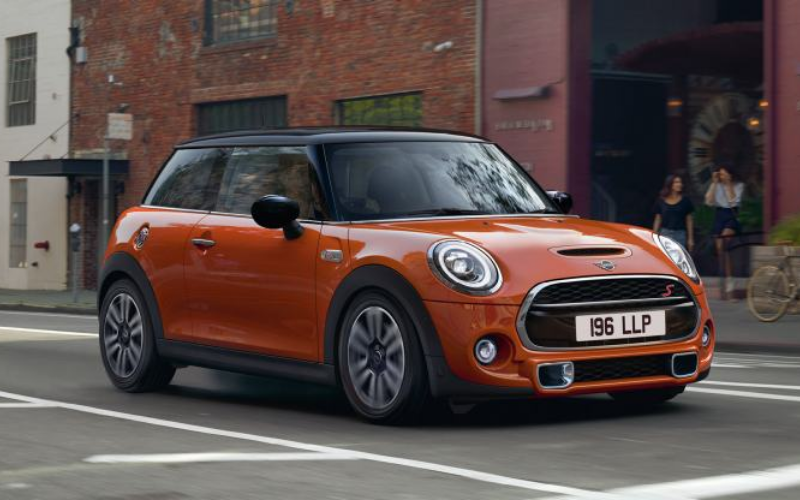 When you first take to the roads, it can be really daunting – you need your car to be completely reliable, safe, easy to drive and to come with all the bells and whistles to look after you.
The search for the perfect first car can be hard - you'll want a lot from it, all while being not too expensive to run.
Luckily, the MINI Hatchback is definitely a car that fits the bill.
Its iconic design, intelligent technology, great performance and cheaper running costs make it an ideal starter car.
Here's exactly why you should pop your green 'P' pass plates on the new MINI Hatchback:
The MINI Hatchback is award-winning.
Over the years, the popular MINI Hatchback has accumulated quite a few accolades. Recently for instance, it was crowned AutoTrader's car that's 'Most Fun To Drive' at the AutoTrader New Car Awards.
The MINI Hatchback has proven it's a fantastic all-rounder time and time again, praised for being a great compact city car and yet a luxury, well-performing vehicle that you just can't help but love to get behind the wheel of.
With the brand's continued innovation, the MINI Hatchback range is expected to claim more esteemed titles in the near future.
The MINI Hatchback comes packed with advanced technology.
The latest MINI Hatchback comes with a slick 6.5-inch touchscreen infotainment system with crisp graphics and responsive, intuitive menus.
From live traffic predictions to synced up Spotify playlists, plus loads of other tech as standard, the MINI Hatchback was designed and engineered to keep you connected and entertained on the go.
The Bluetooth hand-free function and steering wheel controls make it easy to stay in touch, whilst LED mood lighting sets the ambience for a stress-free journey.
The MINI Hatchback can also come with Android Auto and Apple CarPlay connectivity, making it easy to mirror your smartphone's features you know and love.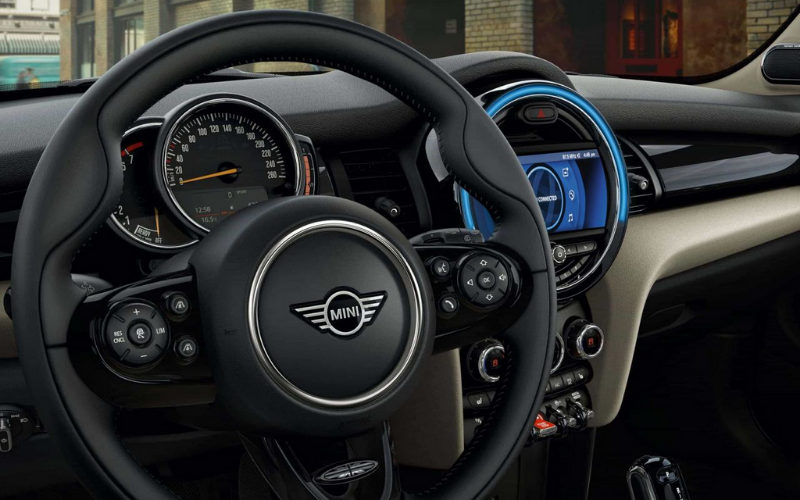 The MINI Hatchback is sporty, stylish and sleek.
As a Hatchback, it's unsurprising that it's a supermini that looks super sporty – even with the 3-Door Hatch, the athletic look of a single door on either side make it a car that's raring to go.
The MINI Hatchback is a car that not only comes with iconic, high-class looks and a confident bold on the road, it offers its driver so much inside too. The Hatchback has a smart, spacious and upmarket cabin; it feels impressively well built for such a compact vehicle.
It's easy to get comfortable inside the MINI Hatchback, as there's plenty of seat adjustment on the front seats and more headroom than you'll find in some alternatives. You can even choose your front leather seats to be heated, for an extra touch of MINI luxury.
Things are equally comfy in the back, with spacious seats ready for extra passengers if needed.
If you fancy personalising your new MINI Hatchback a little, you can pick from a selection of 10 colourful paint hues - ranging from a sporty Starlight Blue, to a loud and proud Solaris Orange. You can also decide on four contrast roof and mirror cap colours, creating a combination to your style and liking.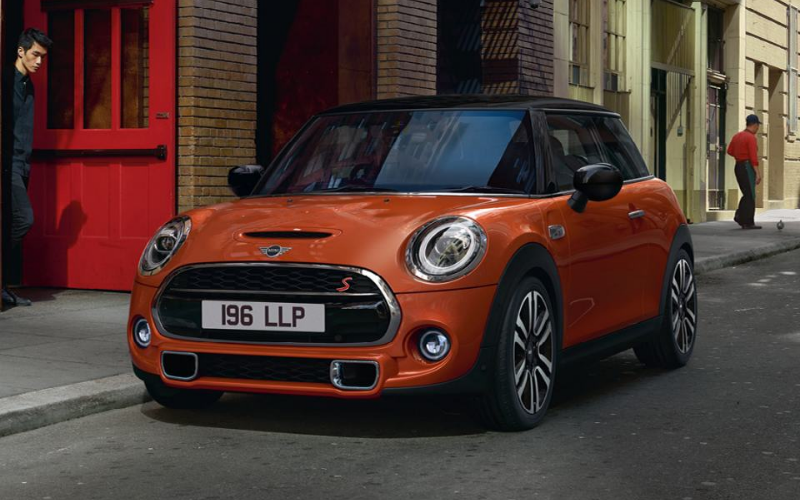 The MINI Hatchback is 'parent-approval safe'.
With MINI's latest intelligent safety technology, the Hatchback comes with a host of great features to keep you and any passengers as safe as possible.
But don't just take our word for it... The Euro NCAP is an independent organisation to judge a car's safety, producing yearly reports on all the latest models. Having reviewed the MINI Hatchback, Euro NCAP declared the vehicle to have an impressive 4-star safety rating out of 5, with just its standard features intact.
As well as the usual safety mod-cons of a new car, including parking sensors and a rear-view camera, the MINI Hatchback comes with an Intelligent Emergency Calling function (e-call). This means that if help is unfortunately needed, it will already be on its way.
In addition, the MINI Hatchback comes readily with the brand's Crash Test Genius feature. In the event of an impact accident, the doors unlock, the interior and hazard lights turn on and the fuel pump shuts down. When a car can think for itself in the event of an accident, you know it's pretty brilliant.
With the optionally added Assistance systems you can also ensure that your MINI will automatically keep a look out for, and avoid if possible, potential dangers on the road. This definitely gives a first-time driver peace of mind when they're new to the roads!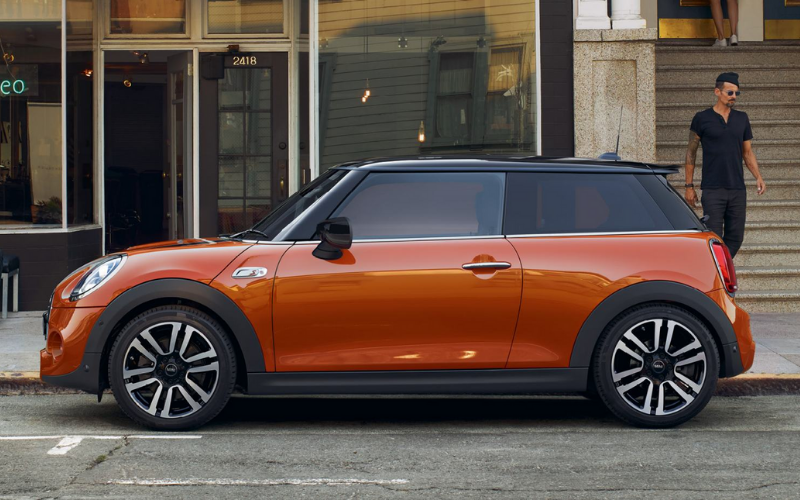 The MINI Hatchback comes with affordable running costs.
The MINI Hatchback is arguably one of the most economical cars you can buy! All models achieve an average of around 49mpg, making it a practical choice for getting around on a budget.
Less frequent stops at the petrol station, means less time reaching into your wallet. In addition, if you pick your MINI with a smaller engine, you'll be surprised how reasonable it will be to insure too, despite it being your first year on the road!
What's also worth noting, is that the MINI Hatchback does well to hold its resale value against its class' competitors – the iconic badge and great reliability definitely has some weight! You'll not lose out on a guaranteed quality purchase.
If you're interested in buying a new MINI Hatchback, take a look at our great deals by clicking the link below:
Equally, if you'd like to find a fantastic deal on a Used MINI Hatchback, click the link below to browse our stock: