A Vehicle Tour of the BMW i4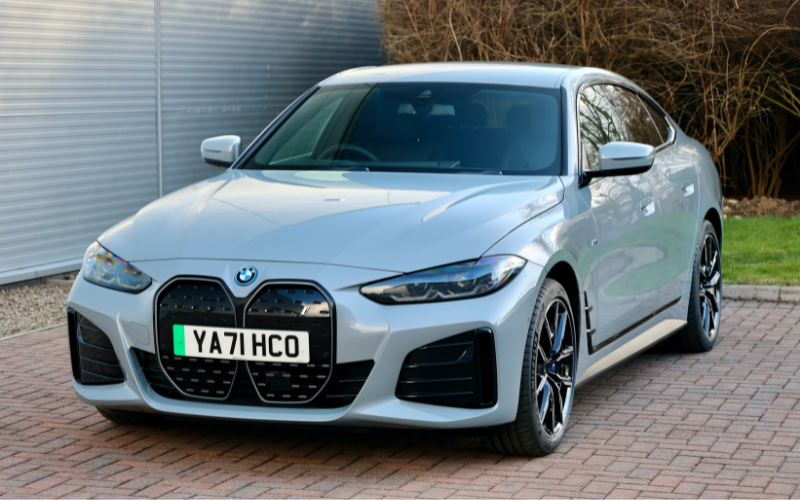 The heavily anticipated BMW i4 has arrived, offering an exceptional driving experience that combines next-level performance with luxurious style. Plus, you can cruise around in the knowledge that you're emitting zero tailpipe emissions, thanks to its innovative electric motor.
It's safe to say we love it! Watch our full video tour below, or read on to find out why.
Exterior
In terms of style, the i4 couldn't be much further from BMW's first electric vehicle, the i3. It doesn't scream 'electric vehicle' – in fact, it looks almost identical to the 4 Series Gran Coupe.
From the front, the i4 certainly stands out from the crowd with its gloss black, aerodynamically styled kidney grille that houses the parking cameras and sensors. Small 'i' badging gives a subtle nod to its electric nature too.
Moving around the side of the vehicle, our model had smart 19-inch, Y-spoke, jet black alloy wheels with blue M Sport callipers. Flush door handles give the vehicle a sleek, sporty appearance, whilst also helping aerodynamics.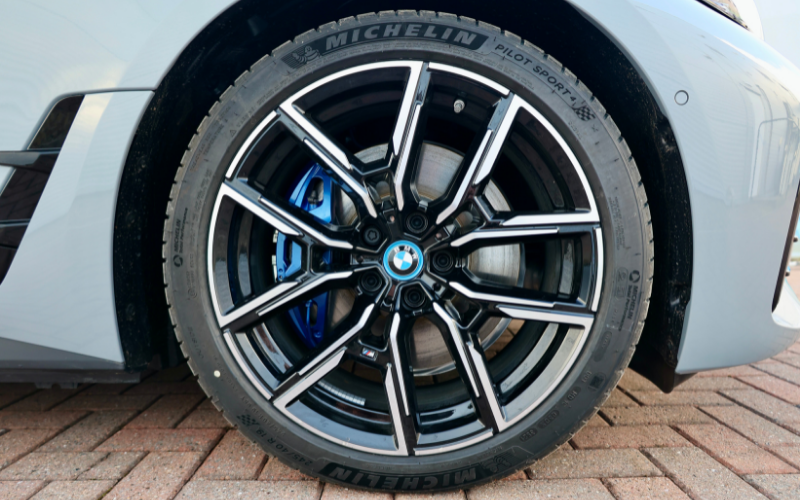 At the rear, sweeping taillights tie in beautifully with the dark shadow diffuser, and the reversing camera (which comes as standard on all models) sits within the BMW badge.
You can open the boot either by pressing the button or sweeping your foot underneath the vehicle – an ideal feature if you have your hands full when it comes to loading.
The exterior design is sleek, sporty and characteristically BMW. If you like the existing 4 Series styling, you'll be delighted with what the i4 has to offer.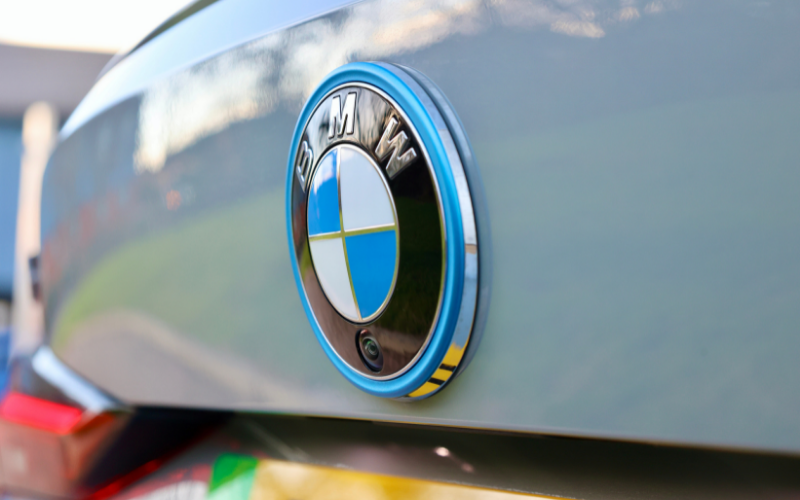 Interior
The well-designed interior is filled with plush materials, as you'd expect.
In the front, a curved touchscreen display spans from the dashboard to the centre console. It's fully customisable, meaning you can choose what information is displayed, from weather updates, sat-nav directions and general vehicle information. Featuring BMW's latest iDrive technology, the infotainment system in the i4 is superb, and certainly one of the best in its class.
As a result of the intelligent infotainment package, there are far fewer physical buttons on display, which helps the interior feel clean and clutter-free. However, the handy rotary controller seen in the 4 Series remains if you prefer to toggle with this.
The smart Head-Up Display is a really useful feature too; you'll be able to view data such as your speed and any directions if you have a route in progress, without having to switch your line of vision from the road ahead.
There's ample storage room around the cabin as well as the boot, which has 470-litres of cargo space to fit your belongings.
In the back, there's a generous amount of space for passengers, and plenty of useful features such as ISOFIX attachments, an armrest with large cupholders, two USB charge ports and climate control switches.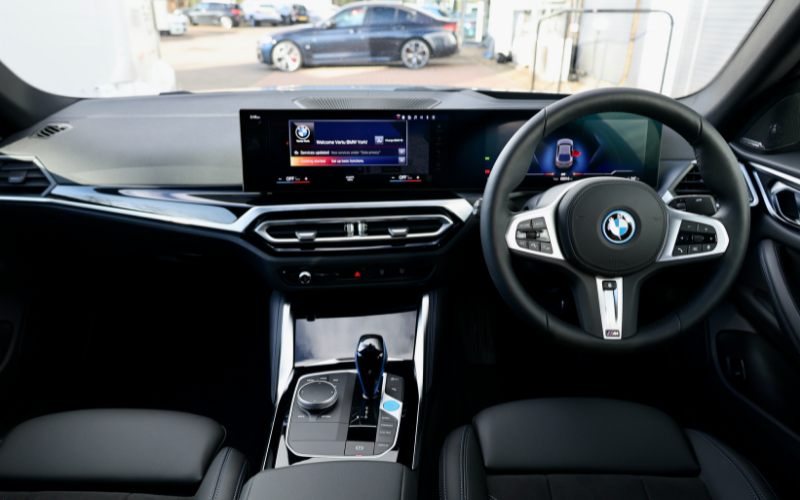 Driving and Performance
The BMW i4 is the perfect transition vehicle if you're looking to change from petrol or diesel to electric. With its instant power, it still feels characteristically BMW to drive and it's proof that you don't have to choose between the planet and performance. It has an electric range of around 345 miles (WLTP) from a single charge, and with 340bhp, it packs a powerful punch.
The BMW i4 has two charge ports; giving you the flexibility for standard AC, or rapid DC charging. Using the DC port, you can charge the i4's battery from 10-80% in just 30 minutes.
Due to the lack of engine, it's quiet when driving, which makes for a peaceful and smooth ride. However, if you are looking for a bit of rev noise, switching to Sport mode evokes an engine sound that gets louder as your speed increases.
The BMW i4 delivers a perfect combination of practicality, performance and efficiency. If you're looking for a luxurious, electric saloon that offers an outstanding driving experience, then look no further than the BMW i4.
Follow the links below for more information on the BMW i4.