Highlights of the BMW i4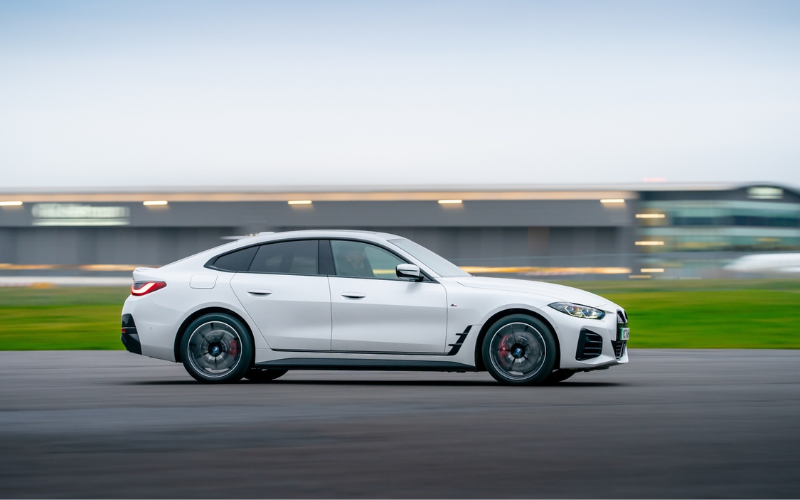 The BMW i4, the first all-electric Gran Coupe, or as BMW describe it, "The first-ever BMW i4".
'Born electric' is also another phrase from Germany, and it's very apt; this has been designed from day one to be BMW's flagship performance full-electric saloon.
Reading through the specification, you can see just what the engineers (and designers) have been capable of achieving – the days of electric vehicles being compromised by their weight are well and truly over.
The Power of Action
With up to 544 horsepower on tap, the performance is impressive – the 0-62 mph dash happens in just 3.9 seconds, which is firmly in the 'sports' category of saloon cars. Of course, let's not forget that it all happens with zero tailpipe emissions. There's also an impressive 365-mile range*.
Couple that with M Adaptive suspension, and regenerative braking, and it's clear that BMW has just one goal with the i4 – to be the best electric performance saloon. We'd also imagine that it won't be too long before they're looking to take that honour regardless of motive power source.
The Power of Technology
As you'd expect from a state-of-the-art performance car, the i4 is bristling with technology.
With systems such as the Driving Assistant, or the Pro version, (both use a combination of cameras and radar tech to work), you have a suite of intelligent technology to make life easier. Approach Control Warning, Cross Traffic Warning, Lane Change Warning, Rear Collision Prevention, Evasion Assistant, Steering and Lane Control Assistant, and there's even an option for a Head-Up Display.
And when it comes to infotainment, BMW has it covered too. You can expect ultimate flexibility and freedom at your fingertips, thanks to BMW ConnectedDrive. Offering a suite of class-leading technologies and connectivity features, your BMW ensures you have everything you need before, during and after every journey.
Sustainability
BMW's sustainability program runs deeper than offering vehicles with zero emissions; BMW has a specific design principle in place, which means that any use of rare earth materials is avoided. The focus on sustainability also means that around 25% secondary steel, up to 50% secondary aluminium in certain components, and up to 20% secondary thermoplastics are used throughout the production process.
Further still, BMW has partnered with Off Grid Energy to create a sustainable second-life program for their electric vehicle batteries.
Design of the Times
Pieter Nota, BMW AG Management Board for Customer, Brand and Sales commented: "With its sporty looks, best-in-class driving dynamics and zero local emissions, the BMW i4 is a true BMW. It makes the heart of the BMW brand now beat fully electric."
BMW are at great pains to highlight the flexible architecture as the basis for the i4; it has been derived from the moment of conception for the purely electric vehicle, which means that the i4 has a sturdy body structure which also minimises weight. It also gives the i4 a long wheelbase and wider track, which enhances the optimised aerodynamics.
The exterior styling is all about efficiency too, well, efficiency and brawn. All models have aero wheels fitted (to help with overall drag efficiency), and if you choose the M Sport version, there's a sportier style, but even the entry-level i4 is 'muscular'.
If you'd like to know more about this stunning electric sports saloon, get in touch with us today.
*Mpg (l/100km): Not applicable. CO₂ emissions: 0g/km. Electric miles/kWh. The i4 eDrive40 Sport electric range: 347-365 miles. The i4 eDrive40 M Sport electric range: 337-352 miles. The i4 M50 electric range: 258-318 miles. *Electric range : 258 to 365 miles. These figures were obtained after the battery had been fully charged. The BMW i4 is a battery electric vehicle requiring mains electricity for charging. These figures are for comparability purposes. Only compare electric range figures with other cars tested to the same technical procedures. They may not reflect real-life driving results, which will depend upon a number of factors including the starting charge of the battery, accessories fitted (post-registration), variations in weather, driving styles and vehicle load.