A Vehicle Tour of the Mercedes-Benz C-Class Saloon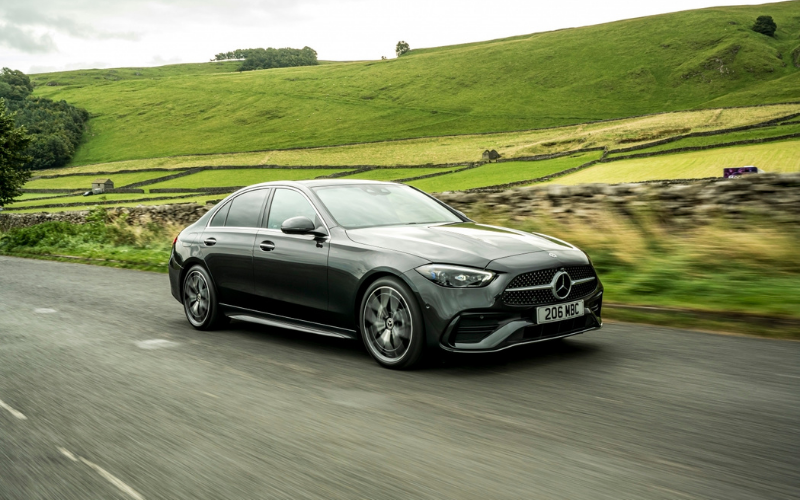 Mercedes-Benz is known for creating upmarket motors that deliver smart looks, smooth driving dynamics and incredible interiors. The C-Class executive saloon is a prime example of this, and following a recent set of updates, it offers even more than ever before.
Watch our video tour below, or read on for more information.
Exterior
The very first C-Class had a distinctive, boxy look back in 1993 when it first hit UK roads. This shape has evolved over time to leave a C-Class comprised of sleek lines and curved edges. The characteristic saloon styling effectively combines sportiness, sophistication and fittingly... class.
At the front, it's hard to miss the new Mercedes grille which is patterned with mini-Mercedes logos. Innovative headlamps that will give you the best possible vision at night (and also come with anti-dazzle technology), plus parking sensors and the 360 camera finish off a tech-focused front end.
Moving around the side of the vehicle, your eyes will be immediately drawn to the large alloy wheels on offer - our model had smart 19-inch multi-spoke alloys, but you will be able to select from a number of options to suit your taste.
At the rear, the light units have been separated so each fitting is effectively split between the vehicle body and the boot, in a styling update from the Mercedes design team.
Chrome detailing and other sporty exterior elements give the C-Class sleek appeal.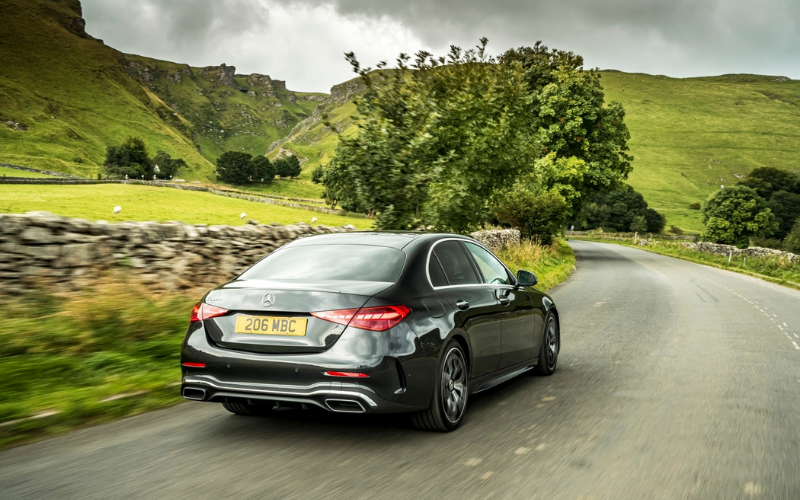 Interior
Stepping inside, you will immediately sense the luxuriousness of the cabin, which is filled with plush materials, including vegan-friendly leather as standard.
The large central touchscreen comes with second-generation MBUX technology. It looks and feels like the future, thanks to sharp, high-definition graphics and responsive functionality. From here, you will be able to access media and vehicle settings, as well as the intelligent Sat Nav that comes with real-time traffic updates, showing you the fastest and least disruptive route at all times.
There is ample space for driver and passengers too, with more leg and headroom than previous versions. As the car has been built with long motorway trips in mind, comfort comes in abundance - four adults will be able to sit with heaps of leg and headroom.
Plenty of practical storage compartments can be found throughout the vehicle too, and with a boot capacity of 455 litres you should have plenty of room for your luggage.
Snazzy ambient lighting, intelligent voice command functionality and handy features such as a wireless charging pad, cupholders and USB-C ports make the interior of the C-Class a very accommodating place to be.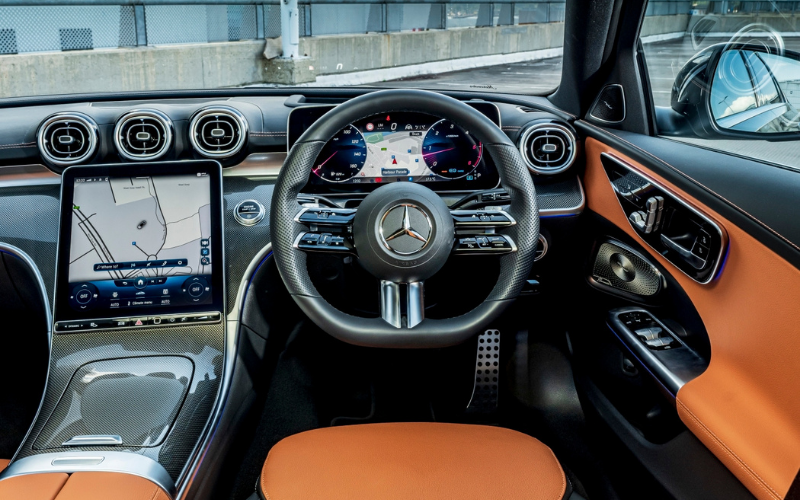 Safety Features
The Mercedes-Benz Intelligent Drive System works hard to keep you and other road users safe using information from systems such as the vehicle's 360-degree camera.
A PRE-SAFE system works to emit a hissing sound when the vehicle detects a potential hazard approaching. The noise has been developed as it evokes a natural protective reaction in humans which means faster action and response times.
Advanced technology such as Autonomous Braking, Blind Spot Assist and Lane Changing Assist all work to help prevent potential accidents too.
Driving and Performance
Available in a choice of efficient petrol, diesel and plug-in hybrid powertrain options, the C-Class provides maximal versatility.
- Petrol variants begin at 1.5 litres and come with a small motor which helps reduce fuel consumption.
- The diesel option comes in a powerful 2 litre form.
- The plug-in hybrid variant has an electric range of 35 miles, which makes it ideal for commuting and city driving. The battery can be fully topped up in just 90 minutes via a normal mains power socket.
All powertrain options provide a smooth and quiet ride for maximum driving pleasure. Being an executive saloon, the C-Class will feel at home on long stretches of road. The soft suspension and responsive steering contribute to the excellent driving experience.
So, if you're looking for a compact and comfortable executive saloon that oozes luxury, you've found it right here with the Mercedes C-Class.
Follow the links below to learn more.
Contact Your Local Mercedes Dealer