All-Electric Volkswagen ID.3 Crowned A Double Winner
The Volkswagen ID.3 is on a roll and has won two major awards in less than a week.
The ID.3 has demonstrated its multiple talents, winning Carbuyer's 'Best Family Electric Car' title, as well as being crowned 'Game Changer of the Year' by TopGear.com.
The ID.3 was praised by the TopGear.com judges for its ease of use and classy styling, as well as its overall appeal. The ID.3 offers a long range, technological innovations, intelligent connectivity and provides an engaging drive with every journey, with all of these components following the 2016 I.D. concept.
Carbuyer commended the ID.3 for its spacious and comfortable interior, as well as its availability in different specifications. The ID.3's ease of use was also highly praised, along with its diversity and appeal attributes that make it so alluring to customers.
Richard Ingram, Editor of Carbuyer.co.uk, commented: 'The Volkswagen ID.3 is the closest we've come to zero-emission motoring for the masses. It's spacious, good to drive and so easy to live with – whether you're new to EVs or a hardened electric car convert.
Furthermore, with a wide range of batteries and specs to choose from, there's an ID.3 for everyone. Congratulations to Volkswagen on a well-deserved win.'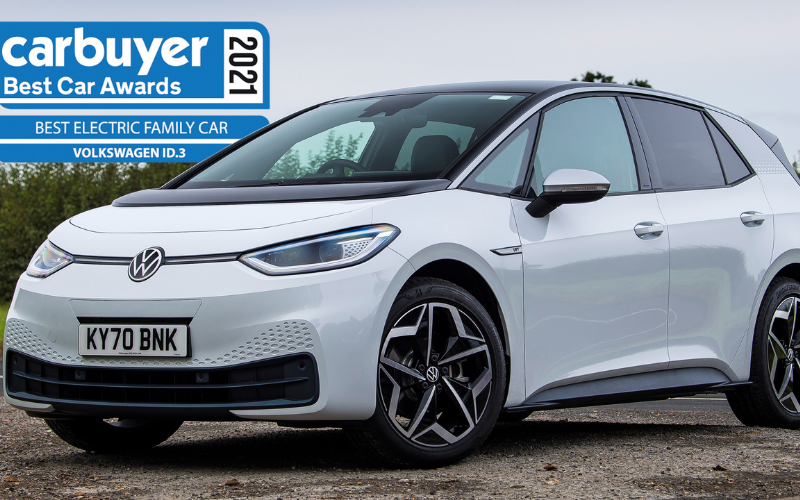 The model is available in a variety of variants, with all ID.3's featuring state-of-the-art technology, the ID.Light car-to-driver light communication system, Adaptive Cruise Control, an interactive 10-inch navigation touch-screen infotainment system, and an extensive range of comfort features.
Jack Rix, Editor of TopGear.com, said: 'The ID.3 doesn't dazzle you with experimental technology or shout about the fact that it runs on batteries instead of fuel, it's just a practical, well-engineered family hatchback that happens be an electric car.'
The ID.3 is not unaccustomed to being praised and awarded, as it has previously been given Carwow's 'Most Wanted' Award, as well as being named GQ's Best Family Car at the 2020 GQ Awards.
Keep an eye out for more Volkswagen related news in our newsroom and why not take a look at the extensive range of Volkswagen ID.3's vehicles we have available?