Apple Adds Electric Vehicle Charge Routing To Maps In Upcoming Apple Update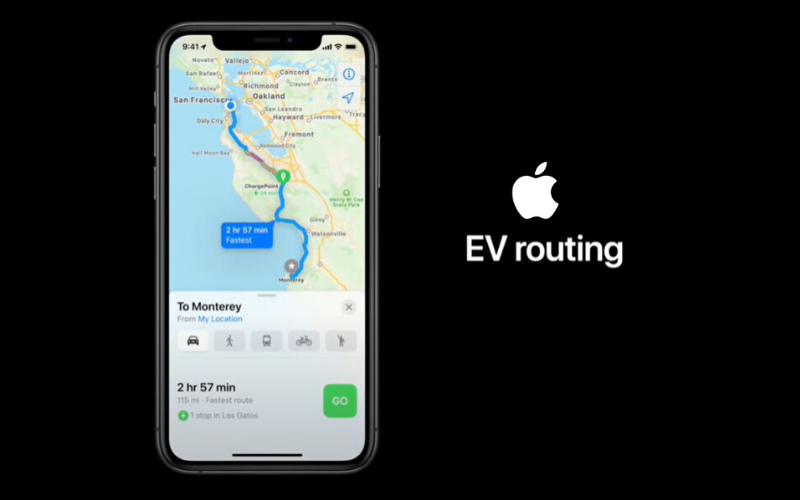 Apple has added a routing feature to Maps that's designed for electric vehicle owners. The EV routing feature, which will be available in the newest version of iOS, is one of several improvements that Apple is making to Maps.
Apple unveiled the new feature this week, during a virtual version of WWDC 2020, the company's annual developer conference. The updates were revealed by Apple's Senior Director, Stacey Lysik.
The new Maps EV routing aims to eliminate range anxiety - the fear of running out of charge - by showing charging stations compatible to a user's electric vehicle along their route.
Maps on iOS 14 will track the user's current charge level and factor in whether to automatically add charging stops along their route.
Maps will even keep track of what car you're driving and know what kinds of chargers you can use. Maps will be able to route you to the right chargers for your vehicle. It will also take into account elevation and weather, both of which can affect range.
Apple declared that it's working with a number of EV manufacturers to support easy routing in their vehicles. Lysik stated that more manufacturers will be added in the near future.
Apple have also revealed that Maps will incorporate location accessibility more in the future update. Some cities around the world have implemented 'green zones' or 'congestion zones' where driving certain types of cars is restricted, or where there is an additional charge for driving cars at certain hours or on certain days. Apple will be adding those zones to Maps so that drivers can be properly routed through or around these areas, depending on their vehicle and preference.
To continue the updates, Apple revealed that CarPlay will gain an additional 'EV Charging' category for charging-related apps. For users who'd prefer to traditionally decide their route to a charging point, rather than have Maps route a trip for them, this should prove useful.
Equally, CarPlay's new EV category could be helpful for people who are just looking for a nearby charger to their parking spot, who don't desperately need a charge to make a trip work, but who would like to top-up when they'll be somewhere for a while.
For those that are apprehensive about electric and plug-in hybrid vehicles, Apple's latest updates should help calm any fear relating to longer journeys or 'running out of' charge.
There are sure to be many more EV progressions like this in the coming years, as electric vehicle technology continues to innovate and grow in popularity.
If you'd like learn more about electric and hybrid vehicles, click the link below: