Audi E-Tron GT Named Best GT At The Top Gear Electric Awards 2021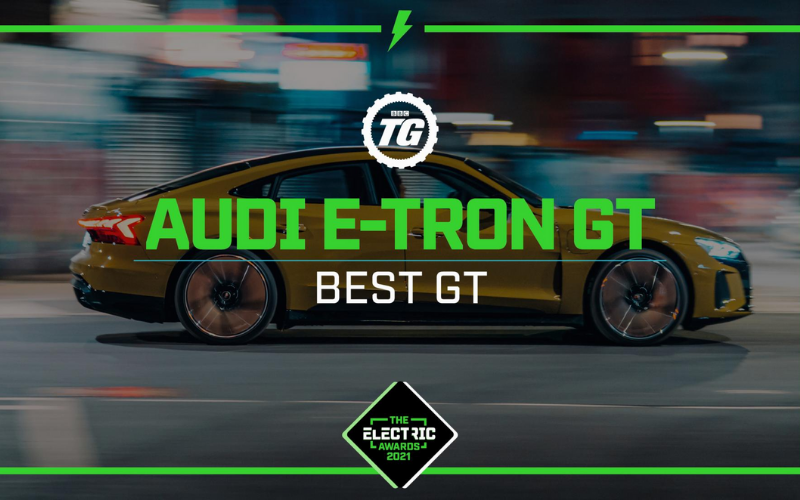 Top Gear has announced this year's winners of their annual Electric Awards, crowning the best-of-the-best EVS across a range of categories.
It comes at no surprise to us that they've crowned the all-new Audi e-tron GT their Best GT electric vehicle for 2021.
Highly anticipated, the all-new and outstanding e-tron GT is Audi's first purpose-built electric car that isn't an SUV.
It's incredibly sleek and agile looking, whilst also available as a high-performance RS e-tron GT, which is the first Audi RS electric car ever made.
Jack Rix, Editor of TopGear Magazine, commented: '[The Audi e-tron GT is] a little more laid-back than the Porsche and, let's face it, better looking, it's the kind of car you could cross Europe in.'
The new e-tron GT boasts a sleek four-door-coupe silhouette, and is prepared to turn heads wherever it goes.
Hosting two electric motors, there's one to drive the front wheels and one to drive the rear wheels, which together produce 476hp.
The rear motor comes with a two-speed gearbox, which uses 2nd gear most of the time, but it switches to 1st gear when you engage 'launch control', ensuring it'll sprint faster off the mark.
To pack an extra punch, the e-tron GT also comes with a 'boost mode', which increases the power to 530hp for 2.5 seconds.
Every Audi e-tron GT model houses a 93kWh battery, giving you around 300 miles of pure electric range on a full charge.
With launch control and boost mode enabled, the new Audi e-tron GT will rocket to 62mph from a standstill in just 4.1 seconds.
Click here to learn more about the all-new Audi e-tron GT and e-tron RS.
The all-new Audi e-tron GT is available to order now. Prices start from around £110,000 for this luxury, all-electric performance vehicle.
Click the link below to view our deals across the new e-tron GT range online:
Equally, if you'd like to learn more about hybrid and electric vehicles, click the link below:
Learn More About Electric Vehicles
Here at Vertu Motors, we'll make sure to keep you in the loop with all the latest Audi updates, as and when we get them – stay tuned!