Meet The 2021 Audi E-Tron GT And RS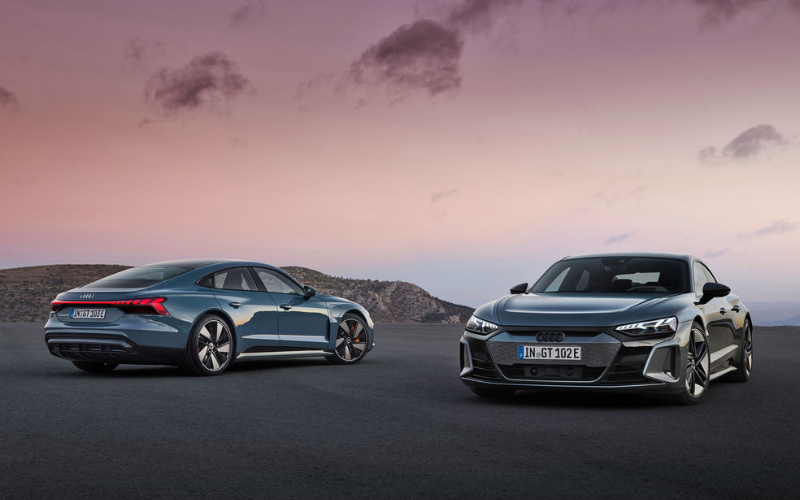 Highly anticipated, the all-new and outstanding Audi e-tron GT is the brand's first purpose-built electric car that isn't an SUV.
It's incredibly sleek and agile looking, whilst also available as a high-performance RS e-tron GT, which is the first Audi RS electric car ever made.
You can watch the official launch, as Audi talks to their designers, engineers and the visionaries who brought the car to life, here.
But what do we know about the e-tron GT, what makes it special and what does it look like? Read on to find out.
Design
Bold, sophisticated and athletic, the all-new e-tron GT looks very similar to the concept Audi revealed a few years ago.
Just as it was back then, it's incredibly impressive to behold.
Taking inspiration from the RS7 Sportback's rear end, the new Audi e-tron GT sports a full-width brake light.
The slatted rear diffuser looks suitably aggressive, without any pretend exhaust pipes. It is a powerful electric car after all; it doesn't need to appear strong - it just is.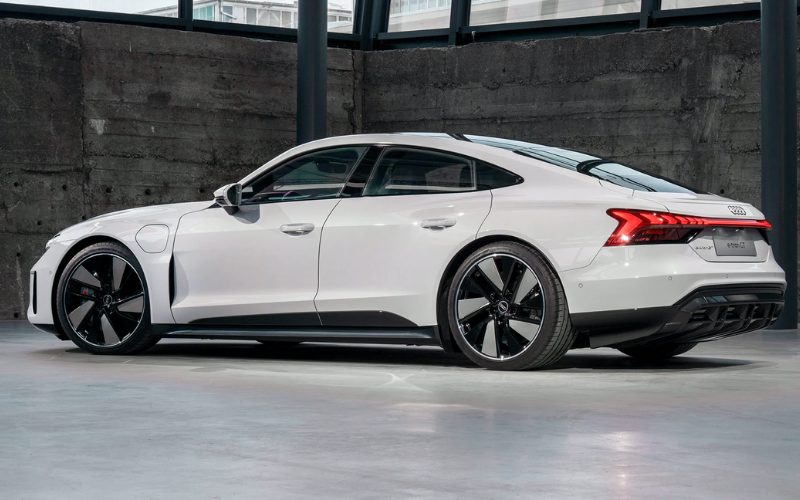 The new e-tron GT boasts a sleek four-door-coupe silhouette, and is prepared to turn heads wherever it goes, looking as good on the open road as it will on a driveway.
The e-tron GT is almost as long as a Q8, but it's lower than the Audi RS7 Sportback. This, combined with its flat floor and air-slicing 20-inch alloy wheels, mean it delivers very little drag at higher speeds.
Performance
Audi has upped the electric game once again. The all-new e-tron GT comes with adaptive damping as standard and a limited-slip rear differential.
Upgrade your model and you can have it fitted with four-wheel steering to make it more manoeuvrable in town and more stable at speed.
Interestingly, the new e-tron GT hosts two electric motors. There's one to drive the front wheels and one to drive the rear wheels, which together produce 476hp.
The rear motor comes with a two-speed gearbox, which uses 2nd gear most of the time, but it switches to 1st gear when you engage 'launch control', ensuring it'll sprint faster off the mark. To pack an extra punch, the e-tron GT also comes with a 'boost mode', which increases the power to 530hp for 2.5 seconds.
With launch control and boost mode enabled, the new Audi e-tron GT will rocket to 62mph from a standstill in just 4.1 seconds.
Driving
To make sure you can tailor your drive to suit you and your journey, the e-tron GT provides a variety of driving modes as standard.
Dynamic mode offers maximum power from the battery and it stiffens up the suspension to make the EV even more agile.
Efficiency mode limits the top speed to 87mph and lowers the suspension, making the e-tron GT more aerodynamic. To really save energy, it can even switch off one of the two motors.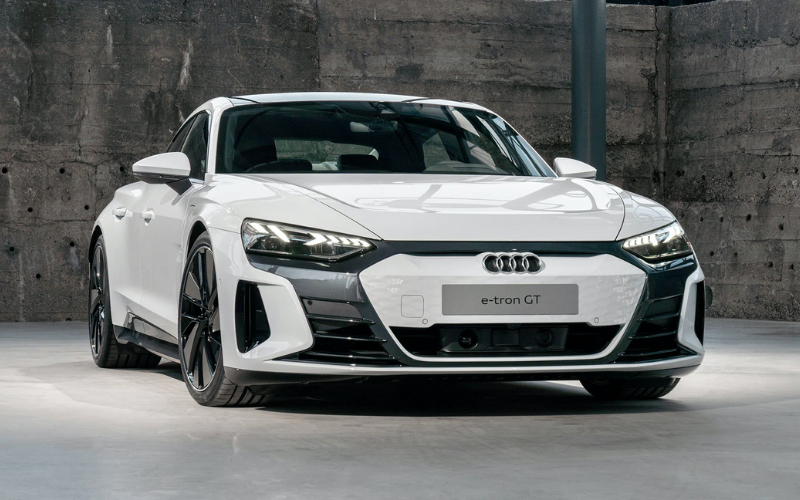 Charging
Every Audi e-tron GT model houses a 93kWh battery, giving you around 300 miles of pure electric range on a full charge. As the average daily commute in the UK is about 30 miles, we'd say having 10 times that is enough to satisfy most.
The e-tron GT is set to be compatible with 11kW AC chargers as standard, so you can fully charge it overnight using a wallbox at home.
Charging is also possible using a 270kW DC rapid charger – the kind found at most public charging stations. These will be capable of putting enough electricity into the e-tron GT's battery in just 5 minutes to give you around 60 miles of extra range.
Equally, they'll boost its charge from 5% to 80% in about 23 minutes.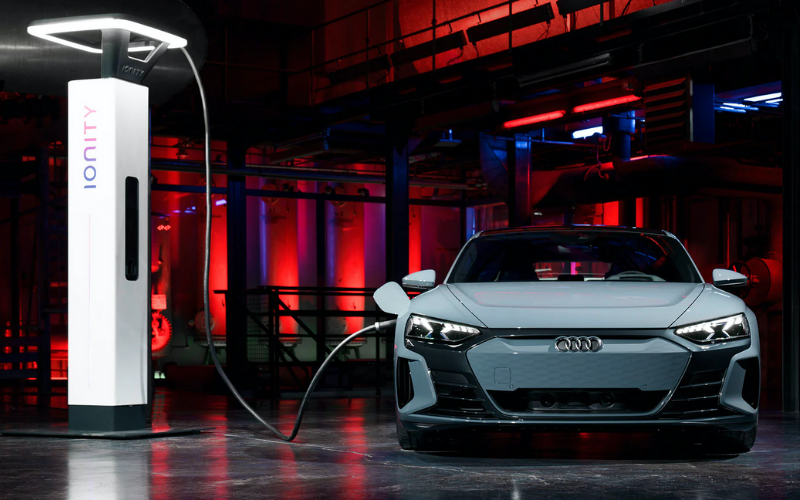 Interior
The Audi e-tron GT comes with a state-of-the-art, intelligent and tranquil cabin. From technology to design, it's set to provide an outstanding driving experience.
An intuitive touchscreen infotainment system – Audi's best yet – sits centre stage, ready to use at your convenience. A flat-bottomed steering wheel looks sporty and inviting too.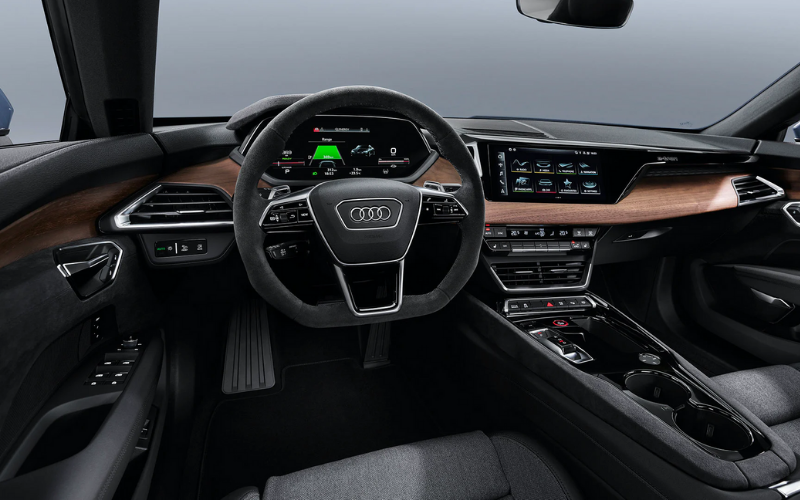 Exclusive to the e-tron GT, it also comes with eight-way electrically adjustable sports seats. When looking at the higher variants, you can expect 18-way adjustments!
If desired, the interior of the new Audi e-tron GT can be completely sustainable too. From a vegan-friendly blend of faux leather to man-made wool, plus a trim made from recycled plastic bottles, the latest e-tron model can be as 'green' as you want it to be.
The RS E-Tron GT
Packing an exceptional amount of power and mechanical upgrades, Audi have also revealed the RS version of the new e-tron GT.
From an active rear differential to adaptive air suspension as standard (both optional extras on the e-tron GT), the RS e-tron GT is set to rule the road.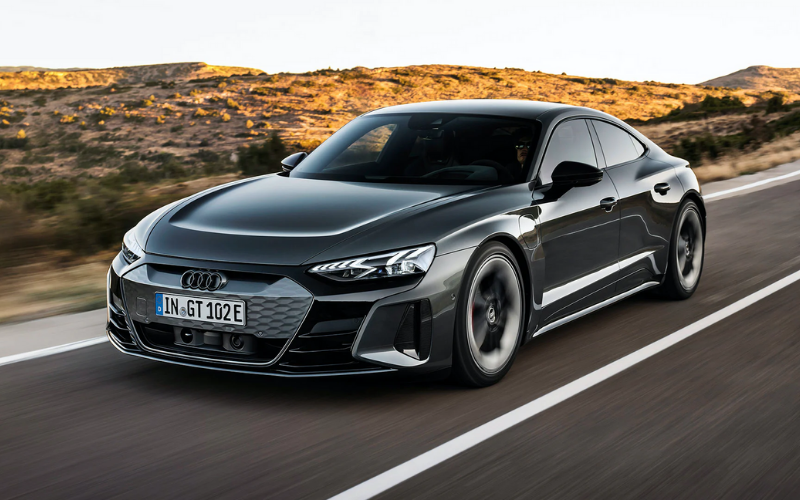 Expect a more powerful electric motor at the back too; instead of the standard e-tron GT's 476hp, the RS produces a total of 598hp. With 'boost mode' engaged, this goes up to 646hp.
The new RS e-tron GT is said to be capable of sprinting 0-60mph in an incredibly impressive 3.3 seconds.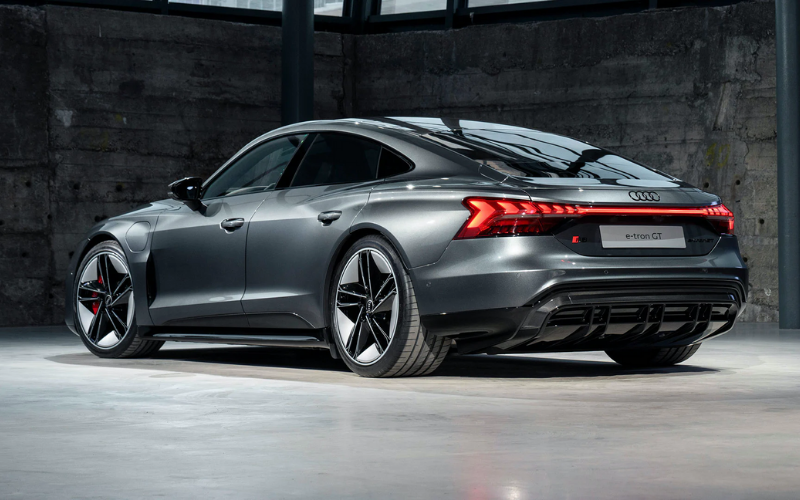 Coming very soon, the all-new Audi e-tron GT will be priced from around £87,000, whilst from £120,000 for the RS variant.
Stay tuned for more updates, as and when we get them.
If you'd like to register your interest in the all-new Audi e-tron GT, get in touch today: