Get To Know The All-New Audi Q4 E-Tron And Q4 Sportback E-Tron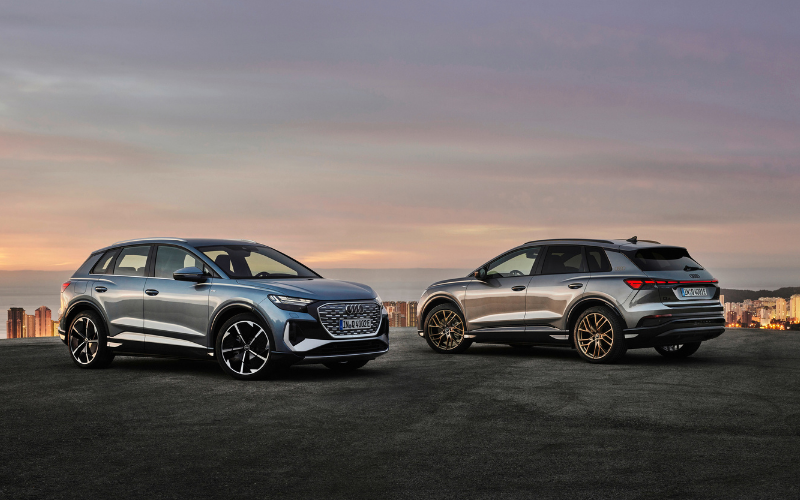 Meet Audi's new dimension of e-mobility, as the freshly revealed Q4 e-tron far exceeds the current class' boundaries.
Following on from Audi's large SUV models, the e-tron and e-tron Sportback, as well as the sporty e-tron GT, the all-new Q4 e-tron plays a key part in the brand's electrification strategy.
From an airy and progressive interior to impressively advanced on-board technology, Audi's latest all-electric compact SUV sets the bar even higher for those in its segment.
The Audi Q4 e-tron also comes with outstanding space and an excellent range – what's not to love when you're after an EV that not only looks athletic and confident, but can also deliver the goods when it comes to a busy week's schedule?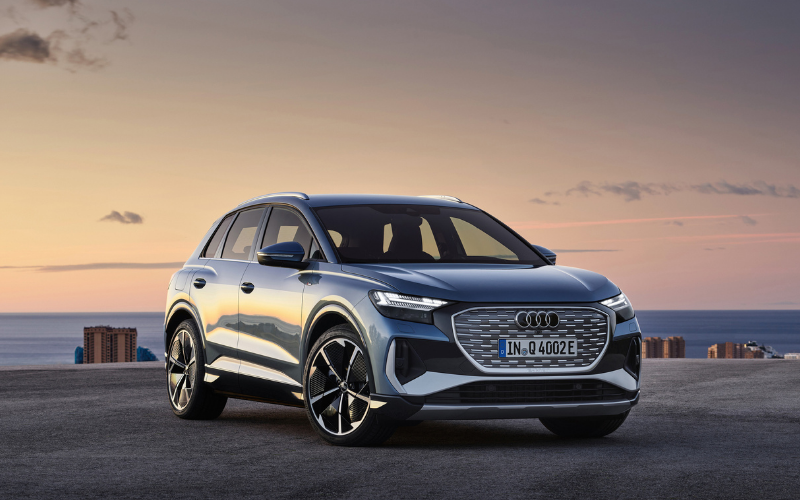 The new Audi Q4 e-tron is capable of up to 323 miles of all-electric driving. That's more than enough for most, considering the average daily commute is around 30 miles.
Thanks to a maximum charging capacity of 125 kW, you'll even be able to juice up the Q4 e-tron to 80 miles of range in just 10 minutes! You can do this using a rapid charging point - the kind found at most public charging stations.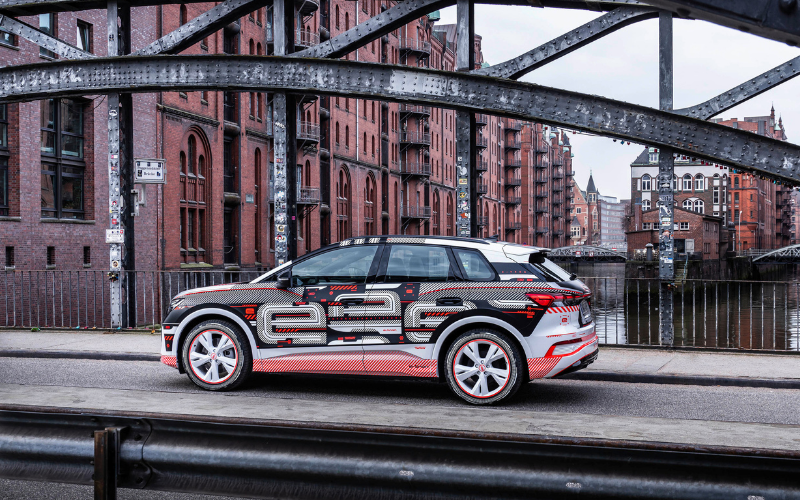 Rapid off the mark, expect the Q4 e-tron to be quite nippy too. Audi has really worked hard on providing the brand's peak performance, despite a much more efficient source of power.
Supported by a low centre of gravity, a long wheelbase and optional adaptive suspension, the new Audi Q4 e-tron is set the feel sporty and strong to drive, almost like an electric version of the SQ5.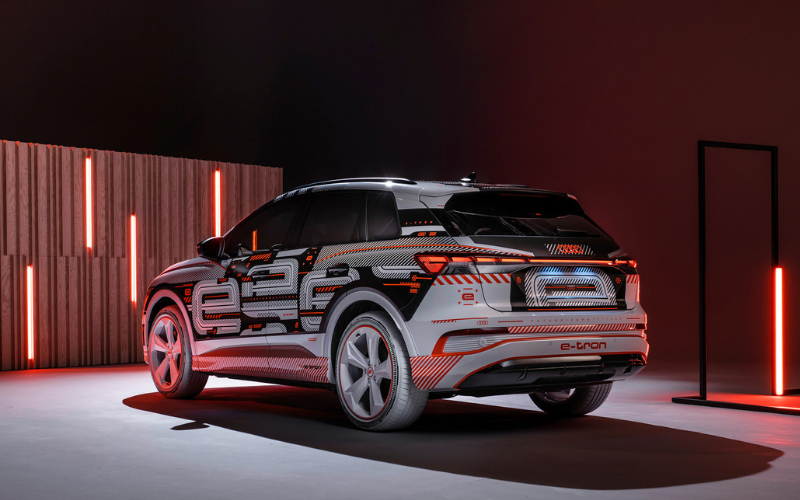 Step inside the new Q4 e-tron, and you'll not be the slightest bit disappointed. From the front to the back of the cabin, enjoy premium, quality materials throughout.
A new sporty and unique steering wheel sits pride of place before the driver, beckoning a fun and agile drive.
A fully digital instrumentation is standard and Audi's well-known 10.1-inch MMI touchscreen makes accessing the Q4 e-tron's useful information and host of features easy and accessible.
An all-new 11.4-inch screen with higher resolution graphics is optional, and if desired also, more sustainable, recycled and vegan trim options are available than ever before.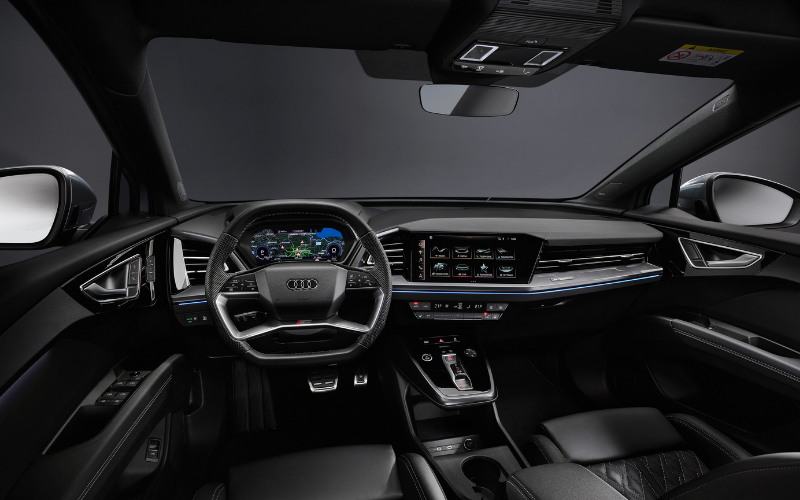 Notably, you'll also be impressed by the Q4 e-tron's storage and sheer spaciousness; with no transmission tunnel and the wheels pushed right to the car's extremities, the level of space inside feels vast. Rear passengers can almost expect as much legroom as you'll find in the Q7.
For families that come with a lot of luggage to get through the day, you'll be pleased to discover the Q4 e-tron's clever solutions.
From bottle holders in the door to a 520-litre boot (with all seats still in place), there's a place for everyone's essentials... and then some!
Both the standard Q4 e-tron and its Sportback counterpart are able to tow trailers weighing up to 1,000 kilograms (braked, at 12% incline), with the quattro versions even able to pull up to 1,200 kilograms.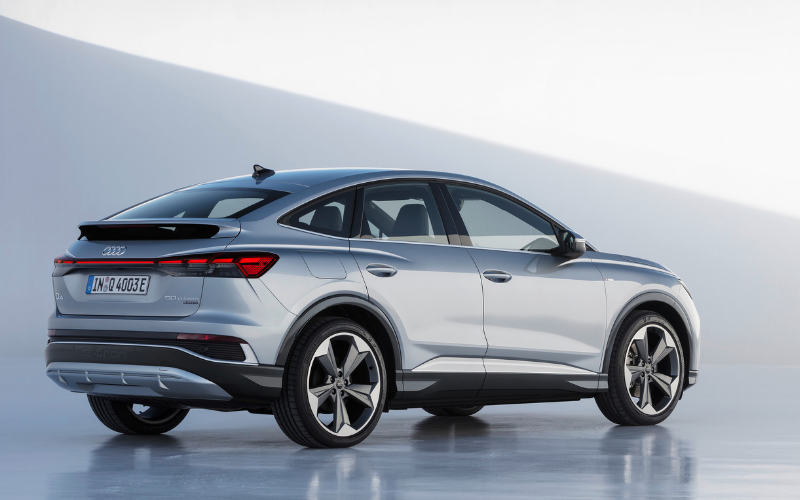 With the all-new Q4 e-tron range, an augmented reality Head-Up Display makes its debut. Projecting onto the windscreen, this new system creates virtual graphics and prompts that appear to float about ten metres ahead of the car.
Even the navigation system has become more intelligent and intuitive: directions are supported by an arrow out ahead of the bonnet, whilst it also works with the Q4 e-tron's driver assistance systems like the Lane Keep Assist and Adaptive Cruise Control, showing you other cars' position in lane and your distance from them ahead.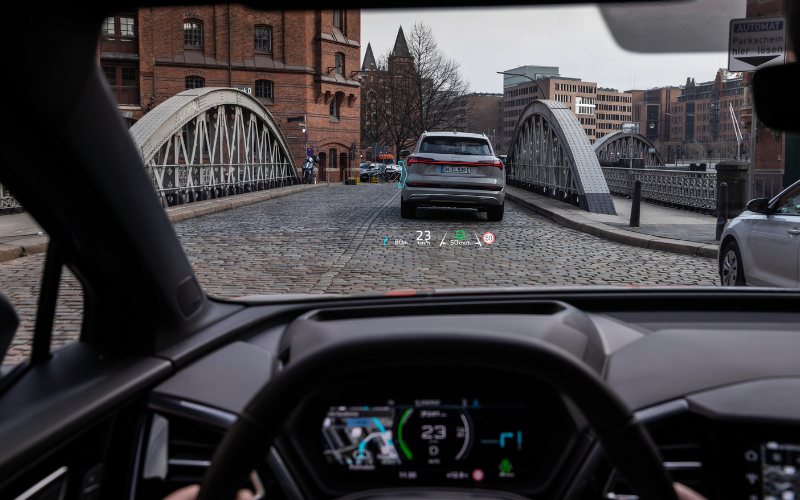 The new Audi Q4 e-tron and Q4 e-tron Sportback will be reaching showrooms later this year, with orders set to open June 2021.
We will keep you in the loop with updates, as and when we can.
If you're thinking about making the switch to the Q4 e-tron, you can click the link below to find out more on all things electric:
Learn more about Electric and Hybrid Vehicles
You can also get in touch with us to register your interest, right here: