Auto Trader Names Jaguar As Car Brand With The Best Tech 2020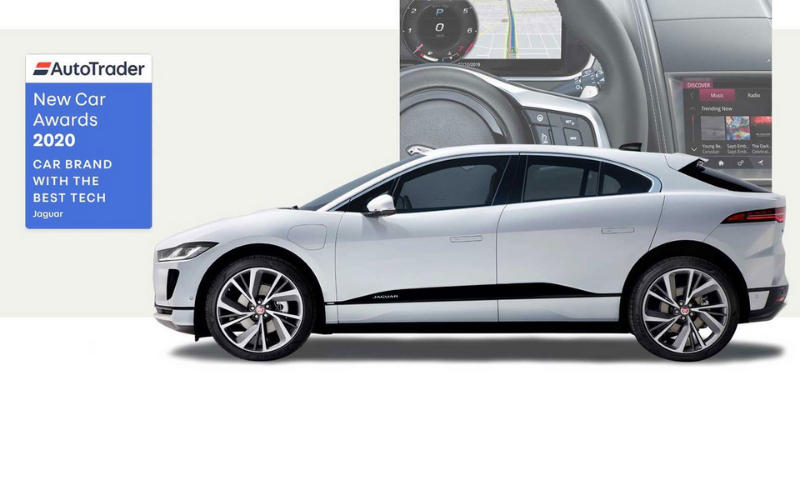 Find out why The Auto Trader New Car Awards 2020 named Jaguar as the winner of the Car Brand with the Best Tech category.
Auto Trader is an established group that buys and sells used cars, by working with manufacturers and retailers. This week however, they revealed the winners of their Auto Trader New Car Awards 2020.
The annual awards have been decided by the public – the winners were voted for by over 181,000 UK car buyers.
From this year's awards, Farnell Jaguar are proud to share that Jaguar achieved the Car Brand with the Best Tech title, beating many worthy competitors in its category.
Auto Trader published the following reasons as to why Jaguar won:
'Tech is an increasingly important motivation for any new car buying decision and manufacturers are falling over themselves to distinguish themselves from the competition by offering ever-increasing functionality in their cars. But who's doing it best?
'Kia and Volvo were both commended but the winner is Jaguar, a brand that's successfully navigated the transition from classic 'old man's car' into a technology leader. An impressive feat.
'The speed with which Jaguar is pushing ahead with new tech is embodied by its all-electric I-Pace, already leading the way with its touch-screen controls and connected features but recently updated with an all-new infotainment system to make the interface between car, smartphone and wider world even slicker.
'Across the range even the little stuff like keyless entry scores well with owners, too.
'"The interior is top class, with superb driver aids and tech on hand," said one typically enthusiastic Jaguar owner. "The iPhone app is a boon, especially being able to start the car remotely on cold days."'
Here at Farnell Jaguar, we are delighted to stock all the latest and greatest Jaguar vehicles, including their fantastic on-board features.
If you're in the market for a Jaguar that comes packed with safety systems, infotainment features and driver technology, then you're in the right place.
To take a look at our great deals on a new Jaguar, click the link below:
If you're looking for a great offer on a pre-owned Jaguar, click the link below: