Auto Trader Names The Kia Sorento As Best Car for Towing 2020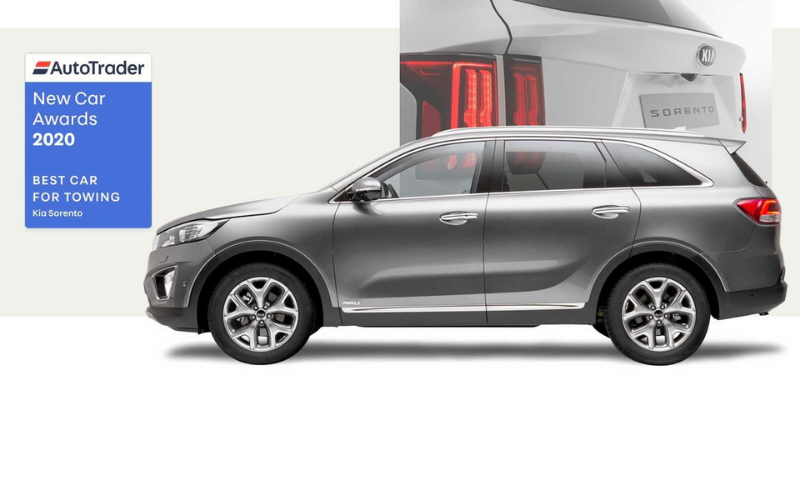 Find out why the Auto Trader New Car Awards 2020 named the Kia Sorento as the winner of the Best Car for Towing category.
Auto Trader is an established group that buys and sells used cars, by working with manufacturers and retailers. This week however, they revealed the winners of their Auto Trader New Car Awards 2020.
The annual awards have been decided by the public – the winners were voted for by over 181,000 UK car buyers.
From this year's awards, we are proud to share that the Kia Sorento achieved Best Car for Towing, beating many worthy competitors in its category.
Auto Trader published the following reasons as to why the Sorento won:
'Putting that overseas holiday budget into a caravan staycation and need a car to tow it somewhere nice? You're likely not the only one with that train of thought, cars with the power to tow likely to feature high on the shopping lists of many motorists.
'Volvo has been a consistent contender in many of our award categories this year and the XC60 only narrowly misses out on the prize here in another strong performance for the Swedish brand.
'It's pipped to the top spot by the Kia Sorento, though, the Korean brand's no-nonsense SUV showing its pulling power with a convincing victory.
'Against rivals the sole choice of a 2.2-litre diesel engine counted against it in our Expert Review but for towing duties this muscular engine comes into its own, the reassurance of Kia's seven-year warranty another point in its favour.
People tend to put long hours in at the wheel when towing, too, so the Sorento's comfort was also widely praised. "The heated steering wheel and seats in the winter", "build quality inside and out" and "ability to tow effectively and efficiently" were all things you liked, along with stability.
'With a top score in all but five of the 16 categories the Sorento was a clear winner and should be top of the list for anyone seeking a tough, powerful and reliable towing car.'
If you're in need of a great vehicle for towing, why not choose the Kia Sorento? Come and see what makes the new Kia Sorento special for yourself; it's available now to test drive.
You can also view and shop the amazing deals we have on the Kia Sorento, right here: