Clarkson's Farm Proves Viewers Officially Prefer Clarkson Without Cars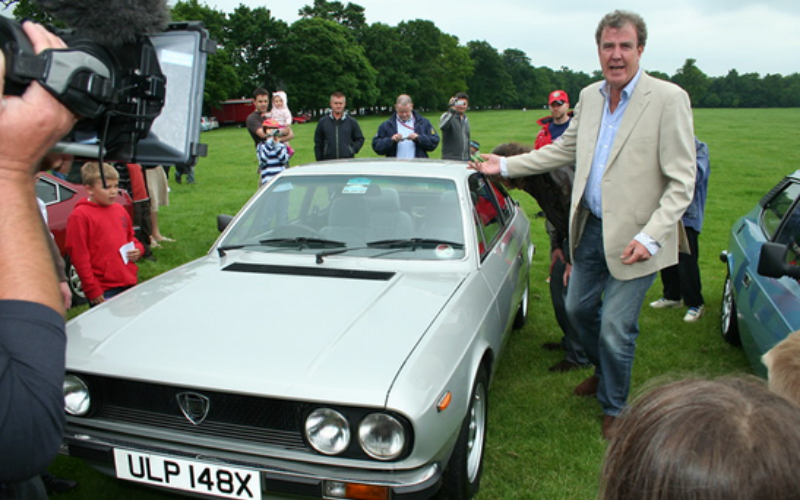 Jeremy Clarkson vows to keep his Grand Tour co stars OFF Clarkson's Farm as James May is revealed as viewers favourite.
With his army of fans rejoicing at the news that Clarkson's Farm will officially return to Amazon Video for series 2, new research conducted by Vertu Motors shows Jeremy Clarkson isn't actually the most popular of his Grand Tour co-stars.
Jezza has certainly been keeping busy since his abrupt exit from Top Gear in 2015, writing books, appearing on panel shows and, of course, presenting TV series.
Yet, aside from his triumphant Grand Tour return, his new shows have shifted from the car-heavy focus that made him so famous – and Clarkson's Farm is the latest success that Jezza has enjoyed away from the motoring world.
But how does Clarkson's foray into farm work compare against his work on Top Gear and The Grand Tour? And just how popular are his Top Gear colleagues, James May and Richard Hammond?
Is the real reason Jeremy Clarkson vowed on Twitter to never allow his Grand Tour co-stars onto his new hit show because Clarkson already knows the answers to who's the most popular?
To find out, Vertu Motors collated IMDB data for all TV series presented by one of, or all of, the famous three. For fairness, we didn't include any shows where they were just a participant (so no QI, we're afraid) – only series that included Clarkson, May or Hammond as a core presenter.
How does Clarkson's Farm compare to Top Gear and The Grand Tour?
Despite only being released a few weeks ago, Clarkson's Farm has earned universal acclaim from IMDB audiences – more so, in fact, than Clarkson's work on Top Gear and The Grand Tour.
Considering the legacy and popularity of these two high budget motoring shows, this is no mean feat. Clarkson rose to household fame over 22 series of Top Gear and transferred many of those loyal fans to The Grand Tour. Yet, Clarkson's Farm is rated 9% more favourably than The Grand Tour and 13% more favourably than his run on Top Gear.
These figures might be somewhat surprising to stalwart motoring fans, but it points to the continued popularity of Jeremy Clarkson himself, who's shown he can eclipse his own success by moving away from his tried and true roots of cars.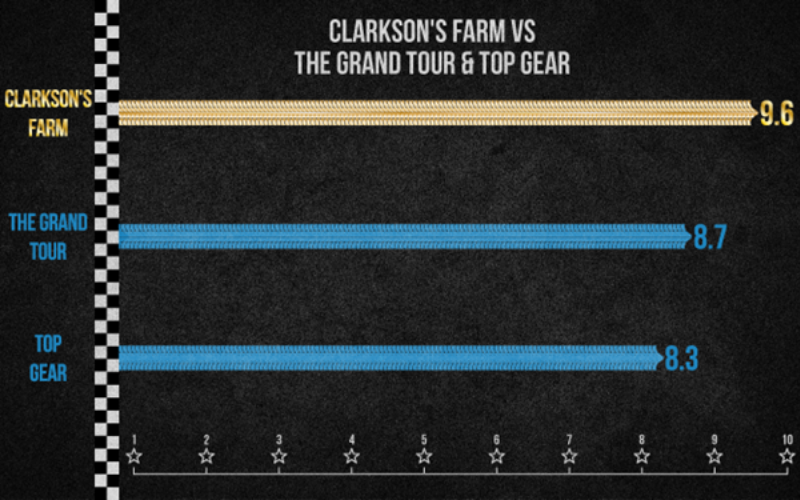 How does Clarkson's Farm compare to James May and Richard Hammond's individual ventures?
Of all the TV shows that the Top Gear trio have presented, Clarkson's Farm is the highest rated series on IMDb with an eye-watering 9.6 out of 10. The next two most popular entries from these motoring middle-aged marvels are The Grand Tour (8.7) and James May's Cars of the People (8.4).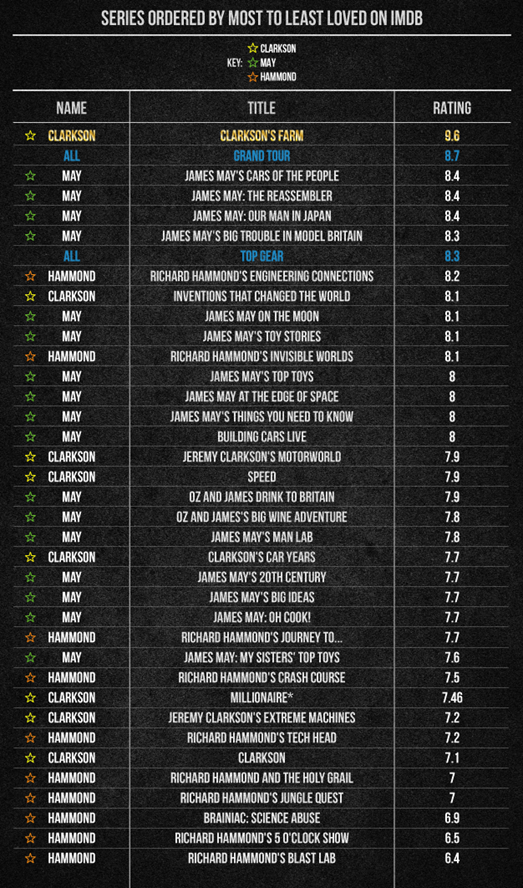 In fact, most of the independent TV shows from the Top Gear trio are rated extremely high, with 92% of their TV projects scoring a 7 or above on IMDB. A testament, no doubt, to the enduring popularity of all three of Clarkson, May and Hammond!
James May is a more consistent viewer-favourite than Clarkson
Despite the success of Clarkson's Farm, James May is by far the most well-received presenter of them all. With Cars of the People, The Reassembler (8.4) and Our Man in Japan (8.4) all breaking the top 5 highest rated shows on our IMDB list, he's a bona fide hit.
Even pre-Top Gear exit, his solo shows have always struck a chord with audiences; an impressive 70% of the shows in the top 10 of our list feature James May as a presenter!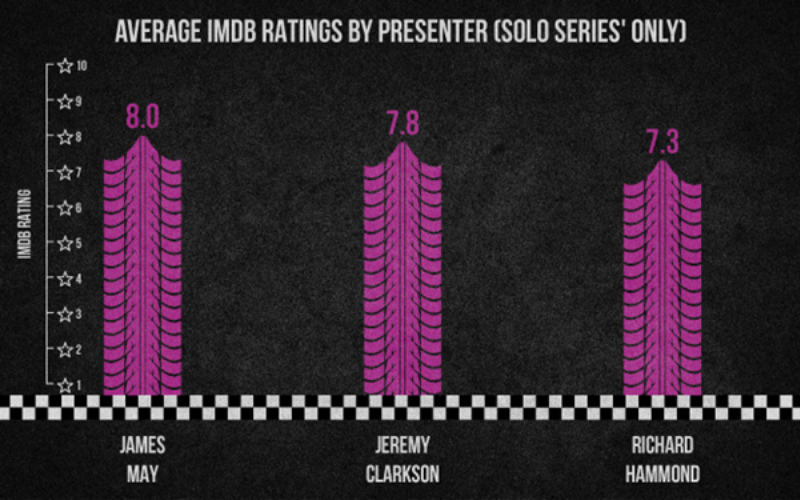 Richard Hammond, on the other hand, hasn't been favoured so well by viewers. His only solo series since Top Gear is Richard Hammond's Jungle Quest, which scored 7 out of 10.
In fact, the five worst-rated shows from this TV trio are all Hammond-led programmes, with Science Abuse (6.9), 5 O'Clock Show (6.5) and Blast Lab (6.4) failing to score a 7 or higher from audiences.
Do men or women prefer Clarkson, May or Hammond?
We see a similar story of universal popularity when we look at the breakdown of IMDB ratings by demographic, with both male and female audiences responding positively to the Top Gear trio.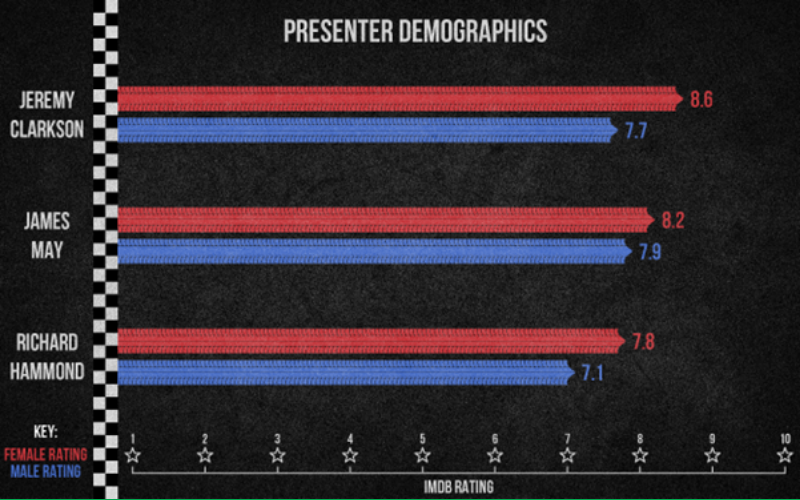 Surprisingly, females are more receptive to Clarkson & co, rating them 6.3% more favourably than males do.
The presenter that women are most likely to enjoy watching is Clarkson, with a strong 8.6 female rating (could this be swayed by his most recent non-car smash-hit, perhaps?), while May ranks best with males, accruing an enviable 7.9 rating. Hammond, once again, is bottom of the rankings, but does still churn out impressive viewer scores.
Biggest hits and flops by presenter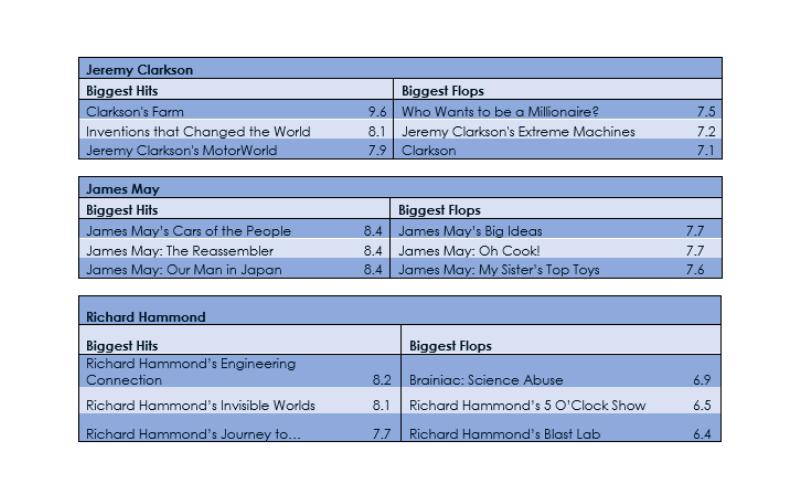 As much as we adore Clarkson's Farm here at Vertu Motors, our hearts are yet to linger tractor-side; we're still very much on the side of cars! They're not road-worthy after all.
To find yourself a new or used motor that has just as much star potential as the Top Gear trio, shop with Vertu Motors today!
*Top Gear ratings were calculated based only on the series that Clarkson, May and Hammond presented together.
Image credit: https://www.flickr.com/photos/tonysphotos/2541897647