Farnell Land Rover Guiseley Sales Executive Named As Retail 'Rising Star'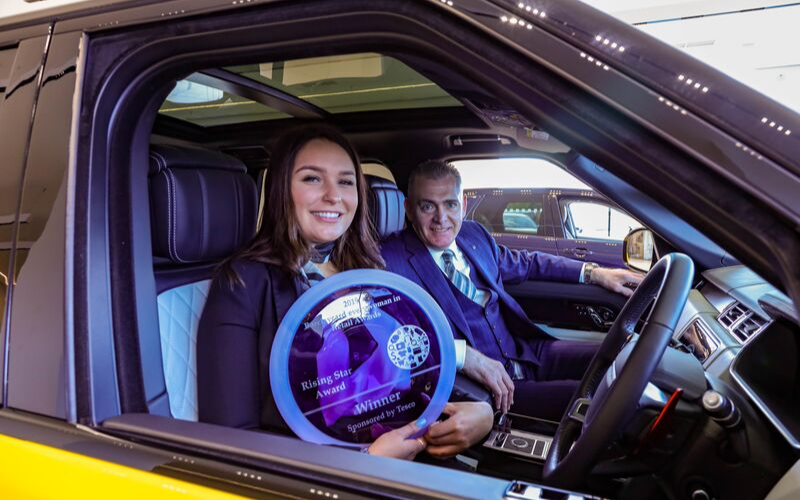 Philippa Haigh, a senior sales executive at Farnell Land Rover in Guiseley has been recognised with a prestigious national award.
23-year-old Philippa won the 'Rising Star Award' at the Barclaycard Everywoman in Retail awards, which is awarded to a woman aged under 30 who is excelling in her retail career, making a valuable contribution to her organisation.
Philippa started at Guiseley Land Rover at 19 years of age and has been identified as a rising star within the business for her fundamental work in helping the company achieve a higher than average customer service index nationally.
Philippa's achievements at only 23 are outstanding. The judges admired her ability to turn down previous jobs that didn't align with her values and her laser-like focus on what she wants to do.
The Barclaycard Everywoman in Retail Awards are for those who possess the qualities, attitude, hard work ethic and commitment to supporting other women that makes them a credit to the industry and the organisations they work for. They are the talented women who have exceeded expectations as well as inspired success in others.
Steve Whitaker, head of business at Farnell Land Rover Guiseley, said: "Philippa is an incredibly talented colleague and she is a worthy recipient of this award. We are very proud of her achievements during her short career. Vertu Motors is dedicated to the development of its colleagues and we will continue to support Philippa as her career progresses."
Philippa Haigh, senior sales executive at Farnell Land Rover Guiseley, said: "I was overwhelmed and shocked to be nominated in the first place and then to win was more than I could have expected. Since joining the company, I have progressed through different roles and a mixture of hard work and support from my head of business has played a big part in my career development. I am very proud to be working for a company like Vertu Motors and Farnell Land Rover, that takes the development of its colleagues so seriously."