Fifth-Generation Jeep Grand Cherokee: The Most Advanced and Luxurious Yet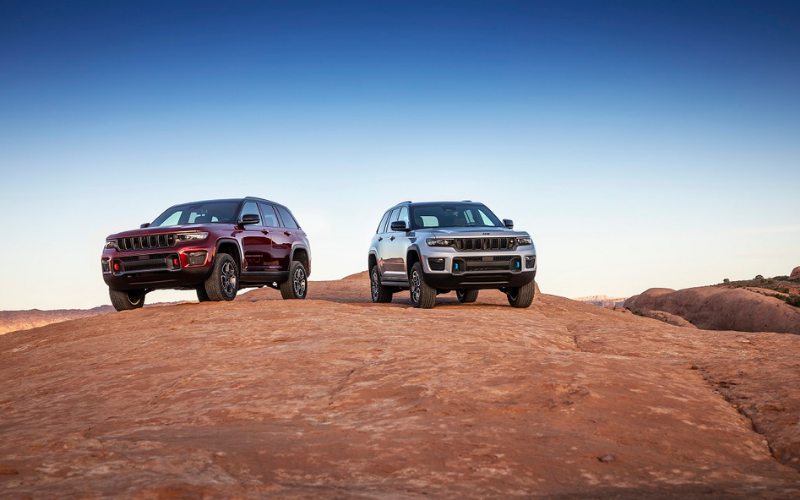 In a celebration year for Jeep as it marks its 80th anniversary, it has released information on the first electrified Jeep Grand Cherokee 4xe and the ultimate off-road Grand Cherokee, the new Trailhawk.
The first Cherokee was introduced in 1992. Widely hailed as a breakthrough SUV, its launch event literally involved the vehicle driving up the steps of Cobo Hall in Detroit and breaking through a glass window to make its mark. Off the back of this, the Cherokee soon built its reputation for premium style and next-level capability, reflected in an impressive seven million-plus sales worldwide.
The fifth-generation Jeep Grand Cherokee will build on the success of its previous versions, which have earned the legacy of most awarded SUV ever. Expect all-new architecture, all-new exterior design, and an all-new interior featuring first-to-market technologies - plus the highly anticipated plug-in hybrid powertrain option.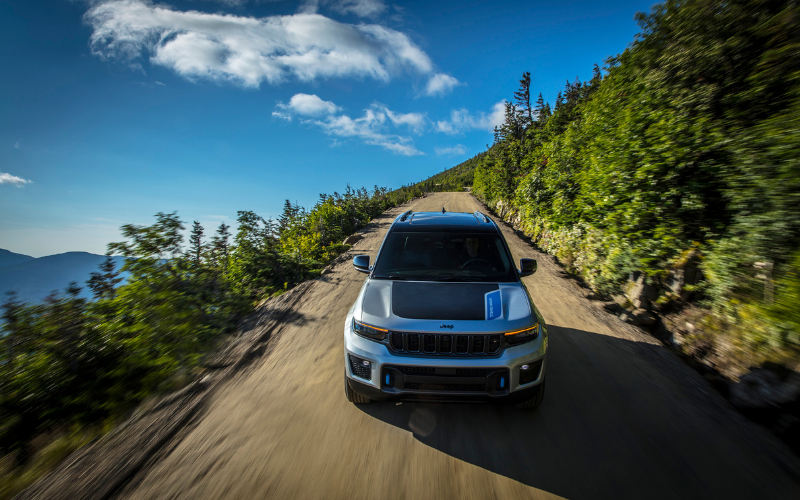 Delivering More
The latest iteration of the Grand Cherokee has been engineered to deliver even more of what has made the model an icon in the premium SUV segment:
- More powertrains – 4xe plug-in hybrid technology will deliver roughly 25 miles of all-electric range, 57 miles per gallon equivalent, and a combined driving range of over 440 miles, making it the most capable and sustainable Grand Cherokee yet
- More capability – the new Trailhawk 4xe completed the Rubicon Trail in full electric mode
- More technology – including a segment-first front passenger screen, HD rear-seat entertainment system and Active Driving Assist systems
- More space – the new 2022 Jeep Grand Cherokee will provide enhanced levels of comfort and spaciousness
- More innovation – the new Grand Cherokee features a whole new architecture, design and interior, as well as independent front and rear suspension systems and a whole host of impressive tech
- More class-leading craftsmanship – which has led to the creation of the most luxurious Grand Cherokee ever. The Summit reserve trim has a Palermo leather interior and an outstanding audio system
- More safety – over 110 advanced safety and security features help make the all-new Cherokee a truly safe space for drivers and passengers
The all-new architecture and aerodynamic body style contribute to improved vehicle performance, safety and reliability as well as reduced weight, noise and vibration.
First-ever Grand Cherokee 4xe
The all-new 2022 Grand Cherokee 4xe is the first Grand Cherokee to offer a plug-in hybrid variant, which signals Jeep's intent to deliver on their mission of "zero emissions freedom".
The 4xe plug-in hybrid technology adds to the fun, freedom and adventure associated with the Jeep brand, but at the same time manages to deliver unprecedented levels of performance, fuel economy and eco-friendliness. This propulsion system is available in Grand Cherokee Limited, Trailhawk, Overland and Summit Reserve models. It combines two electric motors, a 400-volt battery pack, a 2.0-litre turbocharged 4-cylinder engine and a TorqueFlite automatic transmission for maximum efficiency.
All high voltage electronics are fully sealed and waterproof – the Jeep Grand Cherokee 4xe is capable of water fording up to 61cm.
The charge port sits beneath a cover on the left front wheel arch, making it ideal for nose-in parking at charging points. The charge port features LED indicators to display charging status, and an LED battery level monitor sits on top of the instrument panel, allowing users to check battery status during charging.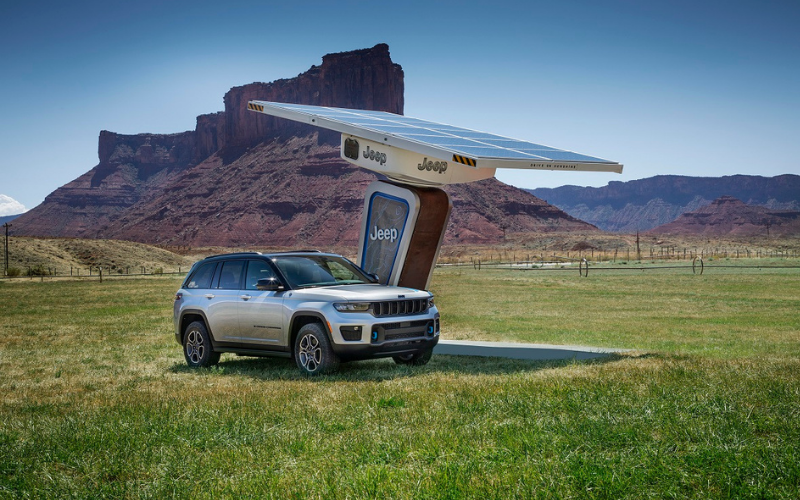 4xe E Selec Modes
The E Selec modes allow drivers to select the relevant powertrain based on trip type, for example, commuting, off-roading or long-distance travel. The powertrain modes can be toggled via buttons mounted on the instrument panel. They include:
- Hybrid – this powertrain will optimise battery and engine power to deliver balanced fuel efficiency and performance
- Electric – zero-emission power only, until the battery reaches the minimum charge, or the driver requires more torque (which will engage the engine)
- eSave – this prioritises the engine, to save the charge on the battery for later. In this mode, drivers can select 'Battery Save' and 'Battery Charge'
Trailhawk – the most capable Grand Cherokee
The new Trailhawk takes the 4x4 capability of the Grand Cherokee even further. Featuring all-terrain tyres, an integrated off-road camera, and Quadra-Lift air suspension with up to 28.7cm of ground clearance.
For the first time ever, the Grand Cherokee will offer the electrified Trailhawk 4xe, which combines 25 miles of all-electric range, returns an estimated 57 mpge and has an estimated total range of more than 440 miles.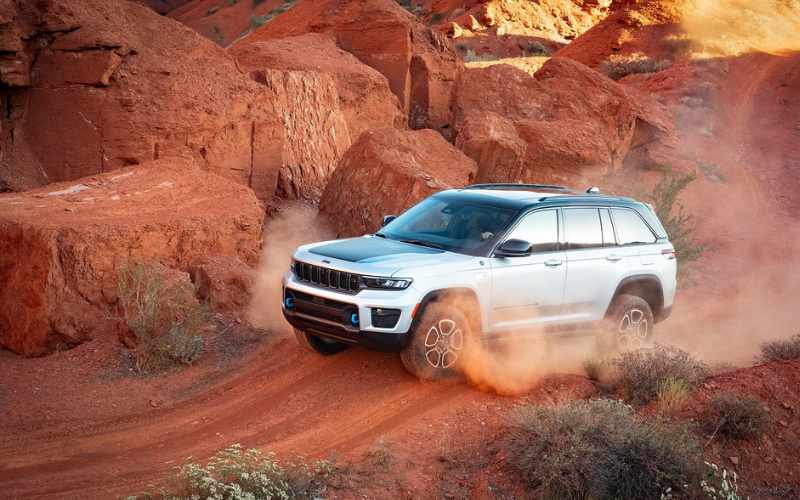 Available Powertrains
In addition to the advanced plug-in hybrid electric powertrain of the all-new Jeep Grand Cherokee 4xe, the 2022 Grand Cherokee line-up offers a choice of two powerful, fuel-efficient engines; a 3.6-litre Pentastar V6 engine with 293hp, or a 5.7-litre V8 at 357hp; both of which offer proven performance for any driving situation.
A Capable Line-Up
The all-new 2022 Grand Cherokee lineup consists of Laredo, Altitude, Limited, Overland, Trailhawk, Summit and Summit Reserve trims. The 3.6-litre Pentastar V6 engine is standard on all models, and the 5.7-litre V8 engine is available on Overland, Trailhawk, Summit and Summit Reserve trims.
The all-new 4xe powertrain, with 2.0-litre turbocharged I-4, two electric motors and eight-speed automatic, is available on Limited, Trailhawk, Overland, Summit and Summit Reserve trims.
The all-new Jeep Grand Cherokee is expected to arrive in European markets in the second half of 2022. Keep an eye on our Newsroom for further updates, or follow the links below for more information about Jeep.