Green light for £7.5m Farnell Land Rover Leeds dealership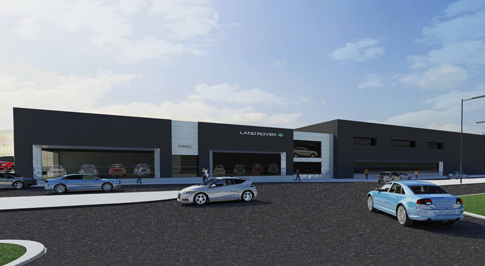 A growing Leeds Land Rover dealership has received planning approval to construct and relocate to a £7.5m retail development on the north side of the city.

Farnell Land Rover Leeds, which is currently located in the Hunslet area of the city, will move to the 90,000 sq ft site on the Sheepscar Interchange later this year to support unprecedented growth. The site was previously the BMW dealership in the city.

Farnell Land Rover, which is part of Vertu Motors plc, has received planning permission for the redevelopment of an existing showroom on site as well as the recladding of the main building. The new development will have a 'drive-through' service reception and drop-off enclosure.

The new dealership will incorporate the latest franchise standards and will also boast an in-house bistro serving customers hot and cold food throughout the day.

The three-storey building will house an additional upstairs showroom for premium models assisted by a highly-trained team of experts on hand to advise customers on all models across the dealership.

A state-of-the-art workshop, accommodating 27 vehicles, will be built on site allowing the dealership to offer a broader range of services and deliver the high quality service customers associate with Farnell Land Rover. Additionally, a regular VIP Range Rover shuttle service will regularly operate between the major Leeds shopping areas and the new dealership enabling convenience for customers, who will also be able to relax and socialise in the new bistro area.

Farnell Land Rover, which has operated in the Yorkshire region for 65 years, has already begun to grow its 100-strong team to support the move into the newly-built site later this year.

Jatinder Aujla, Group Operations Director at Farnell Land Rover, commented on the relocation: "Land Rover has experienced unprecedented growth and we are determined to maintain this momentum by building a facility that will be a true 'destination' site for our Farnell customers."

"Indeed, it will be more than just a car showroom. We will display almost 40 vehicles inside over three-storeys, offering our customers a huge variety of specifications and customisation options. Our dedicated team will be on hand to offer specialist purchasing advice to all our customers and we'll be encouraging them to make the most of the state-of-the-art facilities.

"The team here are really excited about the new site and the number of vehicles we will have to offer customers, we simply cannot wait to open."