Guest Review: BMW iX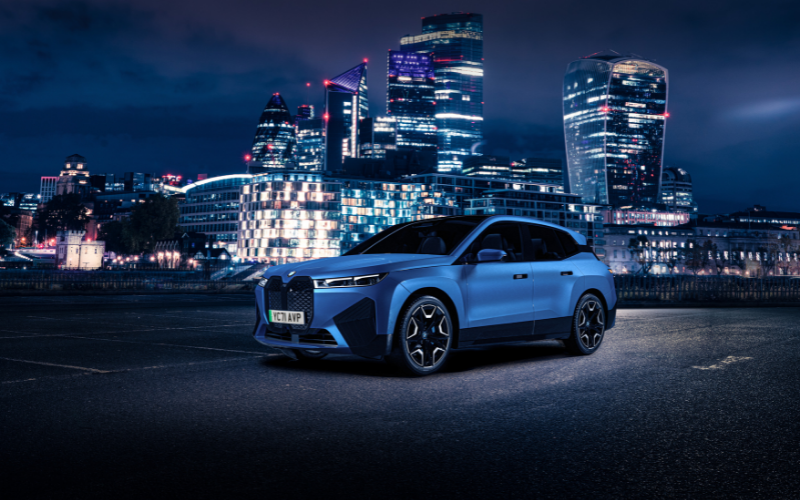 Motoring expert Graham Courtney reviews the BMW iX - which marks the start of a new era of cars from the manufacturer.
BMW PLAYS THE GENERATION GAME
The car you're looking at here is arguably one of the most important cars ever produced by BMW. Bearing in mind that you won't be allowed to buy a petrol or diesel powered car after 2030 (hybrids will be axed in 2035) this BMW iX marks the start of a new generation of cars from the German manufacturer.
Of course, they've already dipped a toe in the water with the quirky i3, but other Beemers with electric power have always been conversions of a standard model.
Not so with the iX. This is a ground-up design which no doubt began with a battery and some electric motors laid out on a piece of paper. Everything else was then designed around those key components. This car is the start of the future for BMW.
We went on the iX launch and, first impressions, it's brilliant.
You can choose from two trims - Sport and M Sport, and you can choose from two power plants called iX xDrive40 and iX xDrive50. We drove the latter because it's the most powerful and the most expensive... naturally.
The iX xDrive50 produces 523bhp (the 40 is 322bhp) which gives you a 0-60 mph time of 4.6 seconds. Bearing in mind that the BMW iX is roughly the same size as its X5 stablemate, this is hugely impressive. All-wheel drive (there's a motor on each axle) keeps things in check but you still get a bit of torque steer through the hexagonal steering wheel. Top speed is 124mph. The way the BMW iX rockets off the line is stunning. Don't forget, with a conventional engine you need to wait for revs to rise before reaching peak power. You need to go through the gears too. With electric cars you have 100 per cent power instantly.. and just one gear... well... two if you count reverse.
BMW reckon you'll get up to 380 miles from a single charge. Okay, cold weather and heavy use of the right foot will make that drop, but you should still get close to 300 miles before you need to top-up. You'll reach an 80 per cent charge in 30 minutes if you use a rapid charger.
The ride is extremely smooth thanks to the adaptive air suspension system which is an option on the iX 40. You tend to hear the thump of tyres over ridges and potholes rather than feel them in the cabin. Rear wheel steering also makes this hefty car feel agile because you really can hustle along country lanes. Having a battery slung under the floor also means there's a low centre of gravity.
Inside, the BMW iX is a techno work of art and the build quality is wonderful. This is a luxurious SUV. The 14.9-inch infotainment screen not only looks good, it works really well. There's 5G and Cloud connectivity. BMW has also stuck with its excellent rotary controller knob which is situated between the front seats. This allows you to type in sat nav directions for example without the need to dab at the screen. The instrument cluster is a 12-inch screen which allows you to personalise the info.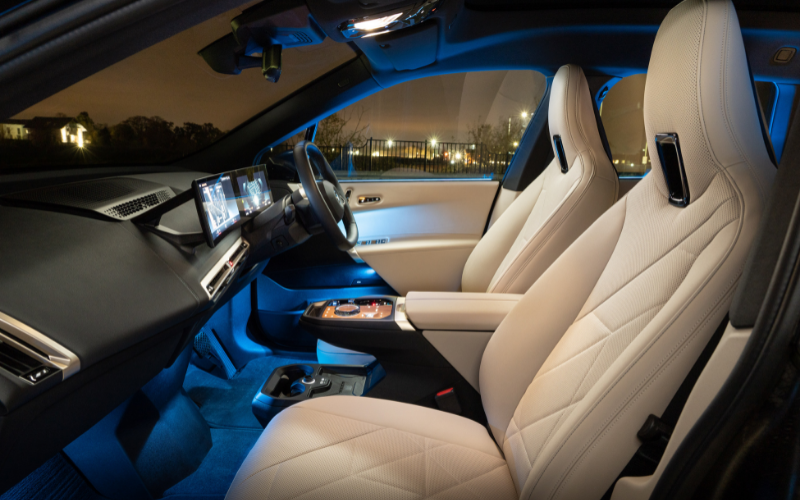 The iX has one of the best voice control systems we've ever tried. You don't quite have a conversation with the car when you need it to do something, but it responds really well.
The seats are extremely comfortable, and the boot will cope with family holiday clobber. There's also loads of legroom thanks to the flat floor (no exhaust or transmission tunnel).
We won't go into too much detail about what you get in terms of kit... because you get everything you could possibly need. The iX promises to be one of the safest cars on the road.
To find out more information about BMW iX, follow the below links:
Visit Your Local BMW Dealership