Honda Jazz Achieves Hat-Trick of Accolades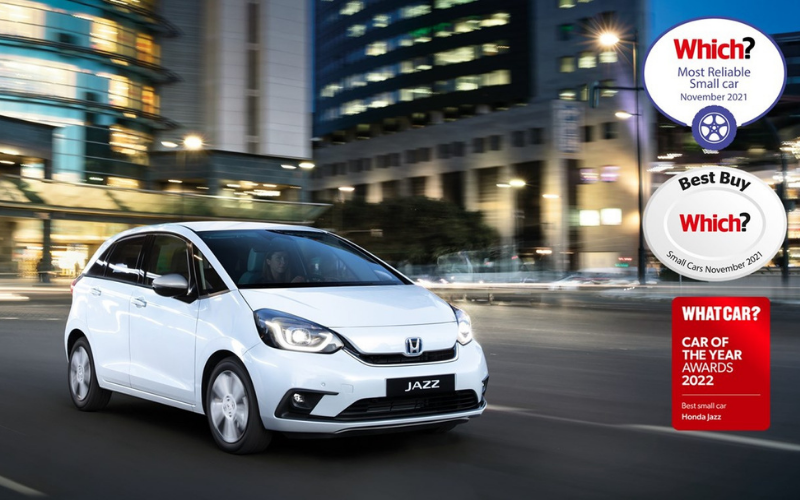 The small and mighty Honda Jazz has achieved a hat-trick of awards in recognition of its reliability, design and value for money.
Following success at the 2022 What Car? Awards, where it took the title of 'Best Small Car', the Honda Jazz has gone on to be recognised by judges at Which? Magazine for being the 'Most Reliable Small Car' as well as a 'Best Buy' in their 2021 – 2022 tests and surveys.
Steve Huntingford, Editor at What Car? Magazine said: "The Honda Jazz is a small car that feels like a big one, not only because of the sheer amount of space you get, but also because of the comfort and refinement that it offers."
The Jazz remains the best-selling model in the current Honda lineup, in the UK and also features amongst the most popular B Sector vehicles in the UK.
The product testing team at Which? commented: "Practicality is the Jazz's forte, with generous space for passengers, a decent-sized boot and Honda's famous 'Magic Seat' system."
Honda Magic Seats help to maximise the carrying capacity of the Jazz. You can think of them a bit like cinema seats that fold up when not in use, allowing items to be stored in the main cabin of the car, which leaves the boot free for a whole load of other items.
The Honda Jazz is great value for a vehicle of its nature, with pricing starting at £19,910. It comes with a panoramic windscreen, a boot capacity of 304 litres, plenty of safety kit as standard, and comfortable anti-fatigue seats to make longer journeys less tiring.
Honda has a sustainability commitment to electrify all of its mainstream European models in 2022. The fourth-generation Jazz, which launched in 2020 is available exclusively with a hybrid powertrain.
Follow the links below to learn more:
Contact Your Local Honda Dealer