Introducing The All-New Toyota Aygo X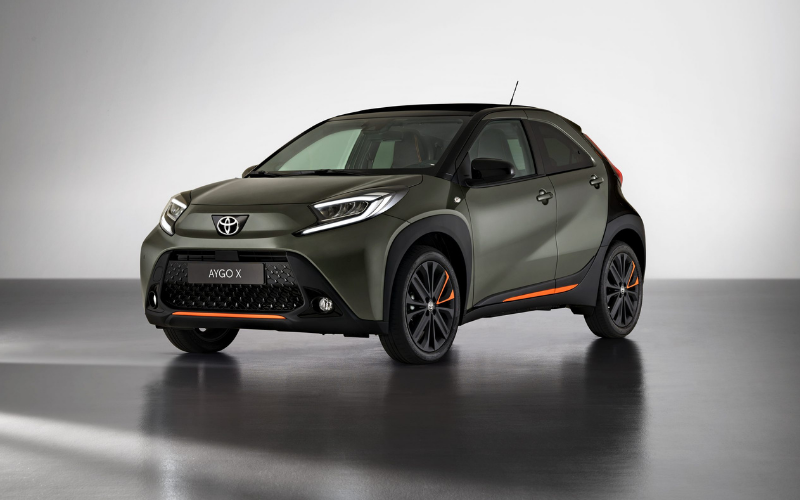 Toyota has unveiled an updated version of its super nippy compact city car, the Aygo, with some inspiring new colour concepts to look out for.
The all-new Aygo X is a stylish crossover that is unique to the A-segment; it is has been specifically designed and manufactured in Europe to meet the demands of European urban and suburban life. As part of the process of making this new model, Toyota listened to the demands of customers; who wanted a stylish, compact car that inspires confidence.
The all-new Aygo X is an agile car fit for the city or open roads. Offering great handling, and heaps of intelligent tech, it will appeal to a mass of consumers looking for a fun car, which is also economical to run.
Read on for more details on what to expect.
Variety is the Spice of Life
The design team at Toyota we're keen to bring some flair to Europe's compact car market, and sought to spice things up – in a literal sense! The Aygo has a youthful character and has a reputation for being fun to drive, which has attracted a style-conscious band of buyers. This knowledge has helped to drive the new spice colour concept, which has led to a unique range of colours being created to capture Aygo's personalities.
Cardamom – represents style and elegance, an understated aesthetic with a low green saturation
Chilli – an eye-catching and fiery colour with a warm reflection
Ginger – a sophisticated shade with a spirit of adventure
Juniper – youthful, with a touch of masculinity, the blue tones give the model an icy coolness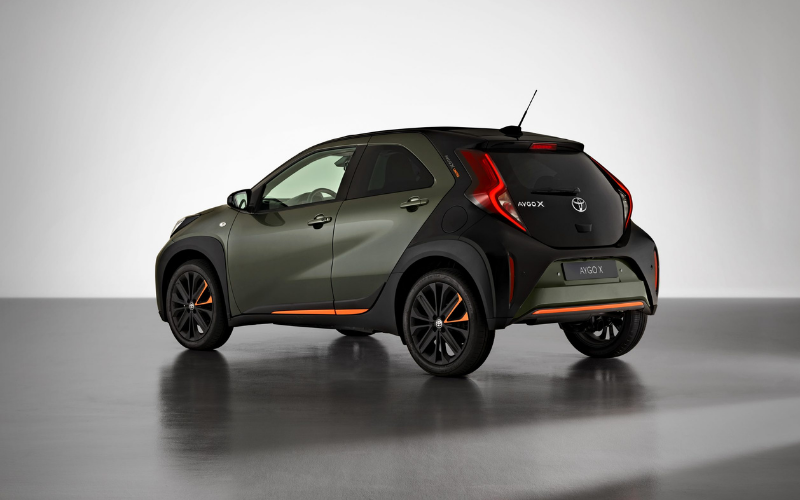 Each one of these colours contrasts perfectly with the instantly recognisable, Aygo bi-tone black roof. The colour profiles don't just apply to the exterior paintwork – interior highlights match the respective exterior finish, and the 'X' symbol is etched into the fabric.
Plus, an even spicier Limited Edition Aygo X in Cardamom will be made available for the first six months of sales. This model will feature matt orange Mandarina accents throughout, including decal stripes and detailing on the bespoke 18-inch matt black alloys. The Mandarina theme continues inside, on the interior panels and seat fabric.
The all-new Aygo X has a sportier image, thanks to a number of design elements, these include; a wedged roofline, high-tech lamps which sit on the bonnet to form a wing-like shape and a large front grille.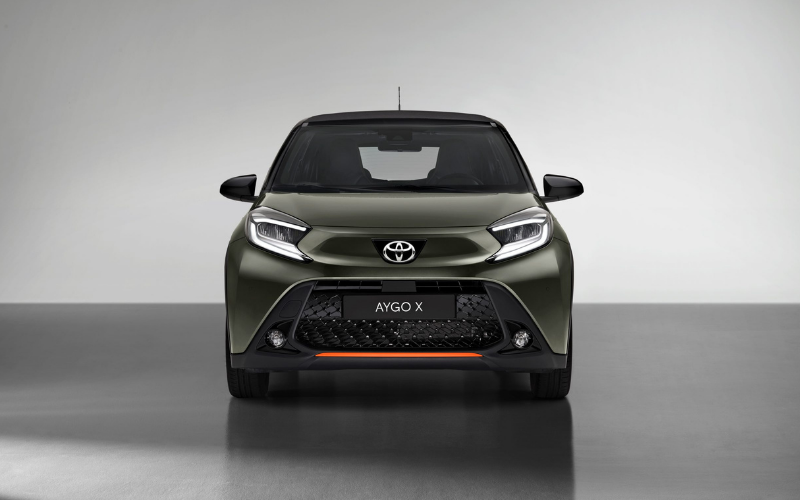 Detailing
Made for the smallest of streets, the Aygo X has a tiny turning radius of just 4.7m – one of the tightest in the A-segment. Whilst being compact on the outside, there's plenty of room in the boot for luggage, with 231 litres of space.
Ground clearance has been increased by 11mm and the seating position by 55mm, which gives drivers an amplified presence and vision of the road ahead. Larger wheels and improved suspension combine to provide an excellent ride with comfort guaranteed.
Inside the all-new Aygo X, sound-insulating materials have been used to minimise external noise to create a quieter cabin. Additionally, a premium audio system including four speakers, a 300W amplifier and 200mm subwoofer in the boot delivers a powerful and clear sound for music and radio.
An optional, retractable canvas top is also available – a first in the segment – this is designed to maximise driving experience, increasing visibility further than the standard rooftops.
Advanced Technology
The all-new Aygo X will allow owners to stay connected whilst on the move, thanks to the Toyota Smart Connect infotainment system which features a nine-inch HD touchscreen and the MyT smartphone app, which allows customers to monitor vehicle information such as fuel levels, warning alerts and driving analytics.
Toyota Safety Sense technology comes as standard and includes handy features such as Pre-Collision System, Pedestrian Detection, Cyclist Detection, Collision Mitigation Support, Intelligent Adaptive Cruise Control, Lane Trace Assist and Emergency Steering Assist, to help keep drivers, passengers and other road users as safe as possible.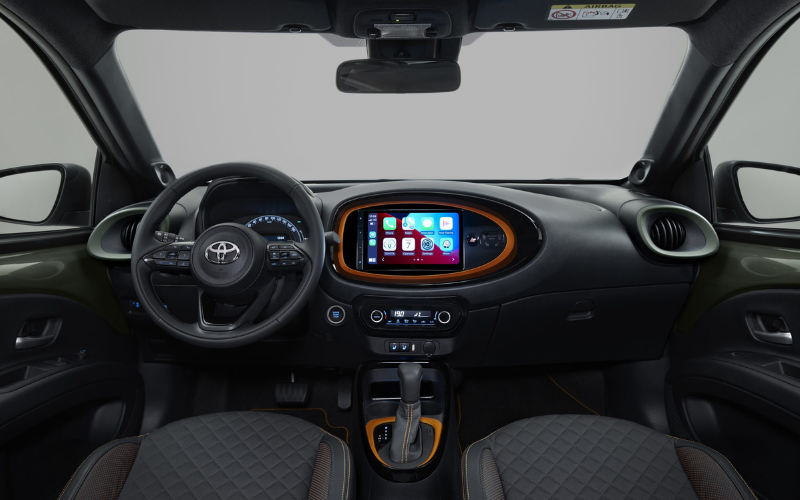 An Economical Drive
The all-new Aygo X has been designed to maximise economical performance. For example, it has the lowest body-in-white weight of any A or B-segment car, and front bumper and wheel arch mouldings serve to improve fuel economy by guiding airflow slightly out from the tyres, reducing turbulence.
Aygo X is powered by Toyota's multi-award winning one-litre, three-cylinder engine. This meets the latest European standards and offers high levels of reliability and performance.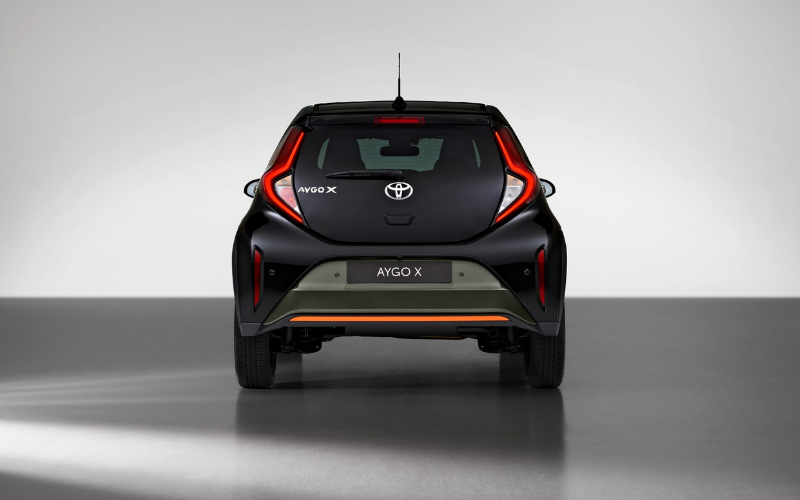 More information on the all-new Aygo X will be announced in due course, including pricing, specification details and availability to order. Keep an eye on our Newsroom for future updates, or if you can't wait, follow the links below for more information.
Contact Your Local Toyota Dealer