January Shortlists for the PFA Vertu Motors Fans' Player of the Month Awards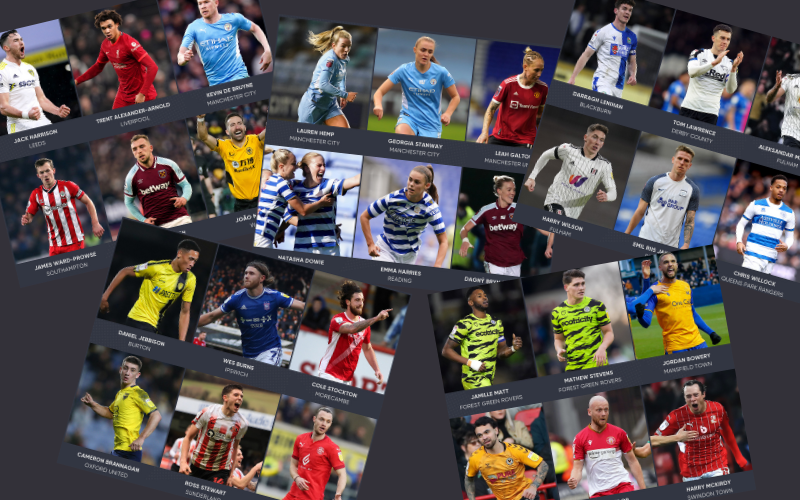 The PFA Vertu Motors Fans' Player of the Month award nominations have been finalised for January.
Six players from each of the top five professional leagues in England have been shortlisted for their outstanding performances on the pitch last month. Fans across the country are now able to cast their votes to determine who wins!
Check out the shortlists below for more information.
Made up your mind already? You're ready to vote!
Premier League
Nominees: Jack Harrison, Leeds United; Trent Alexander-Arnold, Liverpool; Kevin De Bruyne, Manchester City; James Ward-Prowse, Southampton; Jarrod Bowen, West Ham; Joao Moutinho, Wolves.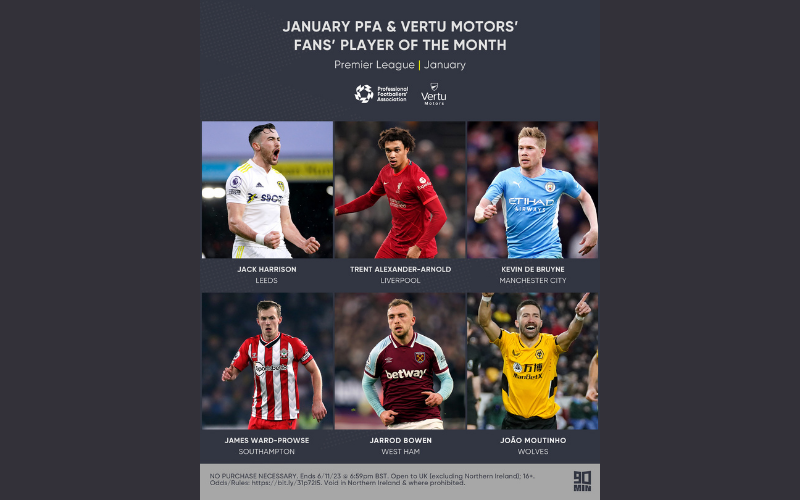 Jack Harrison scored all four goals this season in just two matches in January, including a hat-trick against West Ham. Meanwhile, Trent Alexander-Arnold was almost unplayable, collecting two more assists in an unbeaten month for Liverpool. At Manchester City, Kevin De Bruyne is firmly back in form, scoring a stunning goal against Chelsea and providing a crucial assist against Southampton. James Ward-Prowse scored a fantastic free-kick against Wolves - enough to make his January performance a memorable one. Jarrod Bowen's superb form continued into 2022, as he proved pivotal against Crystal Palace, Norwich and Leeds. Whilst Joao Moutinho scored exceptional goals against Man Utd and Brentford as well as providing an assist against the Bees.
Women's Super League
Nominees: Lauren Hemp, Manchester City; Georgia Stanway, Manchester City; Leah Galton, Manchester United; Natasha Dowie, Reading; Emma Harries, Reading; Dagny Brynjarsdottir, West Ham.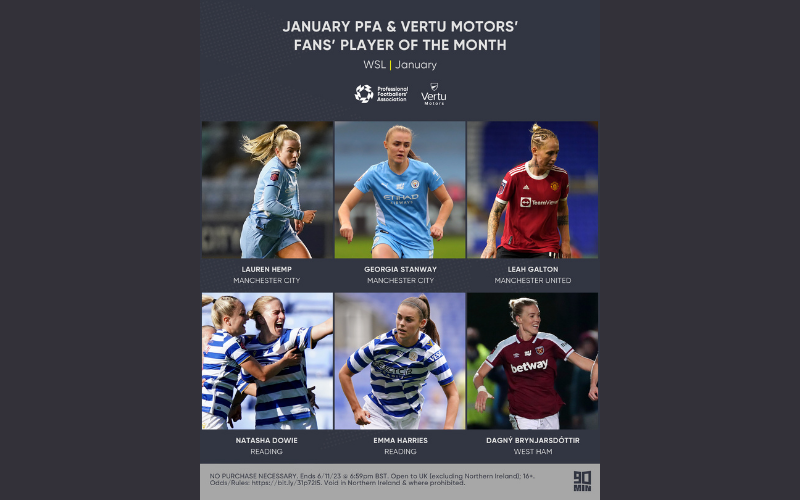 Lauren Hemp tore Brighton apart in Man City's 6-0 victory, scoring a fine goal and also providing an assist in their draw against Arsenal. Also in blue, Georgia Stanway scored against Brighton and showed a combative side of her game as City nearly beat Arsenal. Across the city, Leah Galton is back to her best with three goals and an assist in two Man Utd wins. Elsewhere, Natasha Dowie played decisive roles in two more Reading wins, with two goals in January. Emma Harries scored Reading's winner in a comeback win over Birmingham. And Icelandic star, Dagny Brynjarsdottir impressed in a more attacking role, with an assist against Tottenham and a goal against Everton.
EFL Championship
Nominees: Darragh Lenihan, Blackburn; Tom Lawrence, Derby County; Aleksandar Mitrovic, Fulham; Harry Wilson, Fulham; Emil Riis Jakobsen, Preston; Chris Willock, QPR.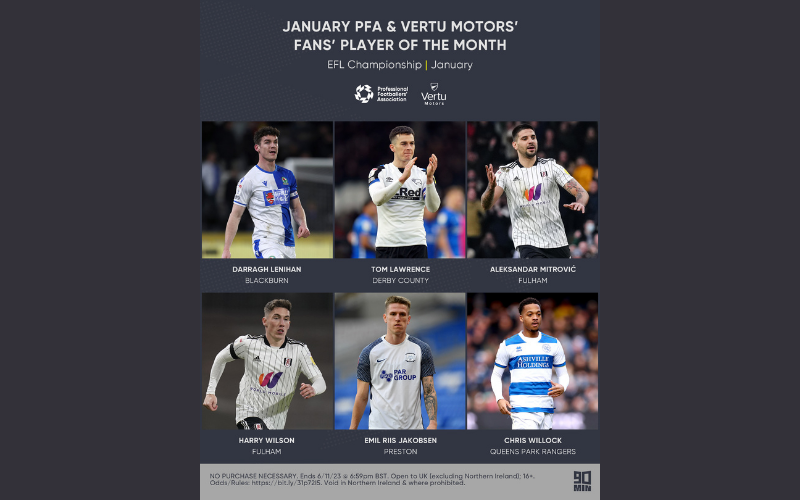 Blackburn didn't concede a single league goal in January, with Darragh Lenihan contributing to five clean sheets. Tom Lawrence grabbed three goals and an assist for Derby County. Serbian star Aleksandar Mitrovic continued his sensational form with six goals last month. Harry Wilson bagged two goals as well as three assists. Danish star Emil Riis Jakobsen had a great start to the year, bagging four goals in total. Whilst, Chris Willock got five assists last month.
EFL League One
Nominees: Daniel Jebbison, Burton Albion; Wes Burns, Ipswich; Cole Stockton, Morecambe; Cameron Brannagan, Oxford United; Ross Stewart, Sunderland; Will Keane, Wigan.
Daniel Jebbison signed off for Burton with three goals in January. Wes Burns claimed four goals for Ipswich in a spectacular January performance. There were four goals and an assist in January for League One's top-scorer, Cole Stockton. Cameron Brannagan scored four penalties in one game with a special performance at Gillingham. Ross Stewart scored three goals and got an assist. And Will Keane enjoyed a superb January, scoring five goals for Wigan.
EFL League Two
Nominees: Jamille Matt, Forest Green; Mathew Stevens, Forest Green; Jordan Bowery, Mansfield; Dominic Telford, Newport; Jake Taylor, Stevenage; Harry Mckirdy, Swindon.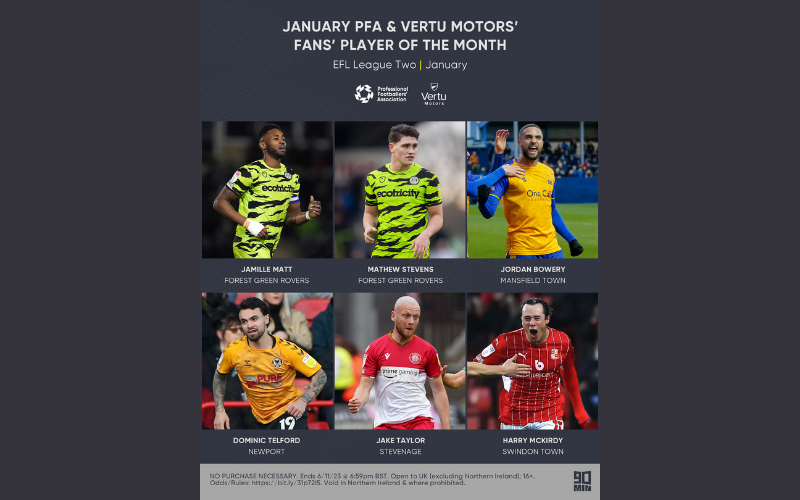 Jamille Matt has had another brilliant month and is looking for a third PFA award this season. Mathew Stevens, the December award winner, continued his form with three goals in January. Jordan Bowery scored or assisted in every January game for Mansfield last month. Dominic Telford netted six more goals in January for Newport. Jake Taylor had an outstanding month, with three goals and an assist. Whilst Harry Mckirdy scored a whopping seven goals and provided an assist for Swindon Town.
With the shortlists complete, it's now time for the fans to decide the winner of the PFA Vertu Motors Fans' Player of the Month award for January, celebrating the very best that the English game has to offer.