Jeep to unleash Polar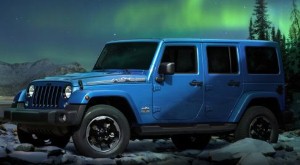 A limited edition model of the iconic Jeep Wrangler series is set to be released, with the manufacturers naming the 4x4 Polar.

The model will feature all the best aspects of the Wrangler, but will include a new front grille, hard spare-tyre cover, and gloss black alloy wheels. Furthermore, the car will come in Hydro Blue, Billet Silver Metallic or Bright White and will be able to tackle the most extreme driving conditions.

Jeep has said the Polar will feature exclusive styling cues throughout and will be made available on the European market at the start of 2014.

It will be available in both two- and four-door versions, with the vehicle powered by a 2.8-litre turbo diesel engine.

The Polar is able to deliver 200hp at 3,6000 rpm and 460 NM of torque at 1,600rpm, which can be increased to 2,600 rpm if it is paired with a five-speed automatic transmission.

Drivers will also benefit from automatic climate control and technology such as the UConnectTM multi-media infotainment and navigation system, as well as a 6.5-inch touchscreen display.