Limited Edition Honda Civic Type R Sets New Lap Record On Iconic Suzuka Circuit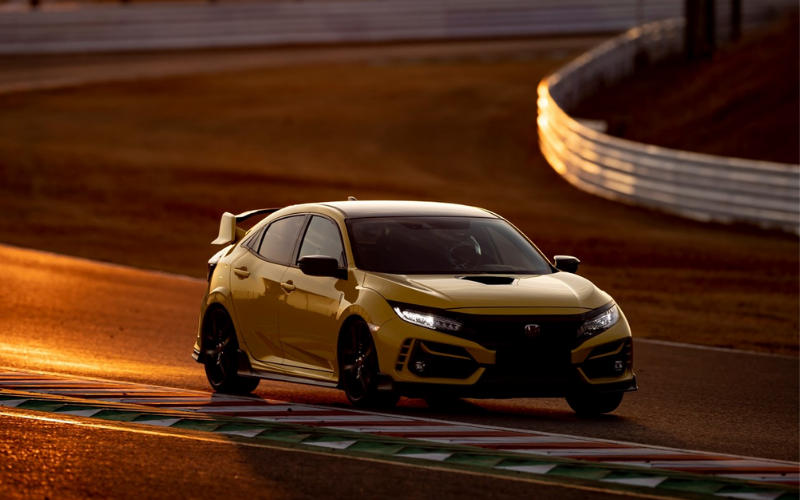 Honda's most extreme Type R yet - the Civic Type R Limited Edition - has set a new 2 minute 23.993 seconds lap record for a front-wheel drive car at the world-renowned Suzuka Circuit in Japan.
Renowned for high-performance and great power, it's no surprise the sporty Civic Type R has made history on an iconic track.
The Suzuka Circuit is a 5.8 km circuit famous for its high-speed chicanes and challenging corners, incorporated in a 'figure eight' layout that includes a long 1.2 km back straight that passes over an earlier part of the circuit.
With its lightweight components, suspension and steering upgrades, and a stripped-back, driver-focused interior, the Civic Type R Limited Edition has pushed the boundaries of what's possible from front wheel drive, on one of the most demanding tracks in motorsport.
Widely regarded as a highlight in the Formula 1 calendar, Suzuka has been an important test bed for developing performance Honda vehicles and engines since 1962.
It was built on the instruction of company founder and president, Soichiro Honda, who famously said: 'Automobiles cannot be improved if they are not put through their paces on the racing circuit.'
The record-breaking lap was achieved by a Type R Limited Edition development car as it underwent its final performance evaluation in February 2020.
The development car featured the same technical specifications representative of the production version, with no modifications or performance enhancements.
The Honda Civic Type R Limited Edition is on sale across Europe now. Just 100 of the Type R Limited Edition will be built for Europe, each benefitting from the standard Type R's outstanding driving dynamics and performance.
The new Limited Edition features lightweight 20-inch forged BBS alloy wheels with high grip Michelin Pilot Sport Cup tyres. These are designed exclusively for outstanding circuit performance but still deliver exceptional on-road performance.
Hideki Kakinuma, Civic Type R Project Leader commented: 'The Type R Limited Edition reflects Honda's dedication to refining the essence and driving pleasure of Type R as a sportscar and exceeding the expectations of our customers.
'The engineering team and I embraced a racing spirit that has been passed down for generations, and it's this strong passion that's driving the evolution of the Civic Type R towards becoming the ideal sportscar.'
To take a look at our great deals on the outstanding new Honda Civic Type R, click the link below: