Mercedes-Benz Have Extended Their RAC Roadside Assistance Contract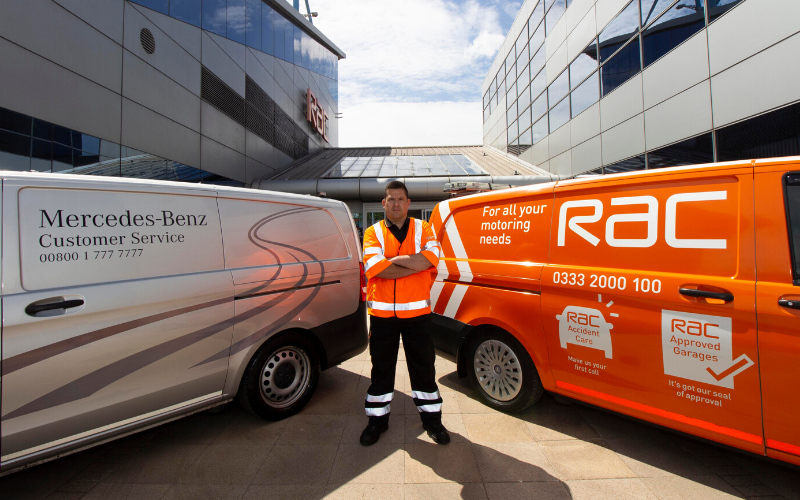 For a further five years, Mercedes-Benz Cars UK are keeping their RAC contract for provision of Roadside Assistance.
The contract extension continues the RAC partnership that has been running with Mercedes-Benz Cars UK since 2017.
With immediate effect, the breakdown specialists will now also look after the smart road assistance programme, ensuring support for customers 24 hours a day, 365 days a year.
Customers in need of assistance will either be met by the RAC's Mercedes-Benz-branded technicians, all equipped with both Mercedes-Benz and smart diagnostics equipment and parts, or by the RAC's standard patrol technicians.
The RAC will always work to ensure that Mercedes-Benz and smart customers are kept mobile, providing a courtesy car when required.
Sally Jones, Customer Services Director for Mercedes-Benz Cars UK said: 'Our customers are at the centre of everything we do, which is why we're completely committed to keeping Mercedes-Benz and smart customers mobile at all times.'
RAC managing director of Business Roadside, Phil Ryan, added: 'We are delighted to be both renewing and extending our relationship with Mercedes-Benz Cars in the UK.
'Its customers rightly expect a first-class, 'complete peace of mind' roadside assistance service, something we are committed to providing via our skilled technicians and our industry-leading breakdown technology.
'The new contract is also a recognition of the hard work put in week-in, week-out by our teams, working closely with those within Mercedes-Benz to deliver exceptional service. We are also very pleased that smart customers will now be able to benefit from this strong partnership for the first time.'
All new Mercedes-Benz and smart models come with comprehensive and complimentary UK and European Roadside Assistance coverage for three years. This is automatically renewed for a year, up to a maximum of 30 years, upon the completion of a service by a Mercedes-Benz or smart retailer.
Mercedes-Benz Approved Used cars and smart approved used cars both also benefit from this Roadside Assistance for 12 months, which is again renewed upon completion of each service.
Vertu Mercedes-Benz are proud to uphold Mercedes-Benz UK's endeavour to put every customer first – looking after you from Sale to Aftersales.
If you'd like to browse our current deals on all the latest and greatest Mercedes-Benz cars, click the link below:
If you'd like to browse the current offers on our great range of Approved Used Mercedes-Benz stock, click the link below: