New Land Rover Defender Wins At Auto Express Awards 2020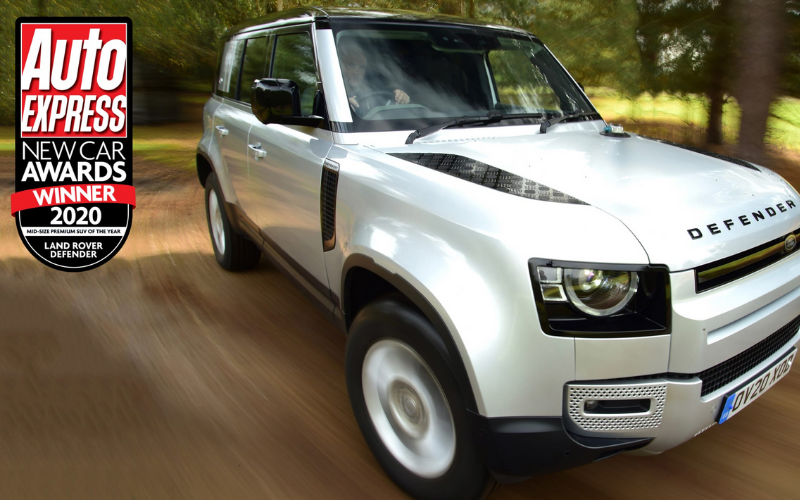 At this year's Auto Express New Car Awards, the new Land Rover Defender was crowned the title of 'Mid-Size Premium SUV of the Year'.
Auto Express's annual new car awards featured more than 25 automotive categories, honouring an extensive range of vehicles and manufacturers.
With winning the 'Mid-Size Premium SUV of the Year' award, judges particularly praised the Defender's 'personality'.
It's different to many other premium SUVs on the market, including the rest of the Land Rover vehicle family, yet luxury and comfort aren't sacrificed.
Auto Express also highlighted that the new Land Rover Defender is completely rough, tough and ready, but also capable of navigating urban environments just as well. Clever technology, such as ClearSight Ground View, helps on tight city streets, just as it does on rocky mountain trails.
Sean Carson, Auto Express's chief reviewer, commented: 'The Defender is one of the stars of 2020, so it's no surprise to see it claim an impressive win at this year's New Car Awards.
'It almost has a foot in two camps, because in 110 form it can seat up to seven people.
'Clever nods to the original version of this British classic, such as a very useful storage ledge above the glovebox, mean that form still follows function, and it's not just design for design's sake with the new Defender.
'It's undeniable that Land Rover knows its market in 2020.'
Due to current circumstances, this year's awards were held through a special socially distanced ceremony, which was streamed online.
You can watch the full 2020 Auto Express New Car Awards, here:
Why not make an enquiry or to book a test drive? Discover what makes the all-new Land Rover Defender truly special for yourself.
If you'd like to take a look at our fantastic deals on the award-winning Defender, click the link below: