Plymouth Argyle Secure New Academy and Women's Team Base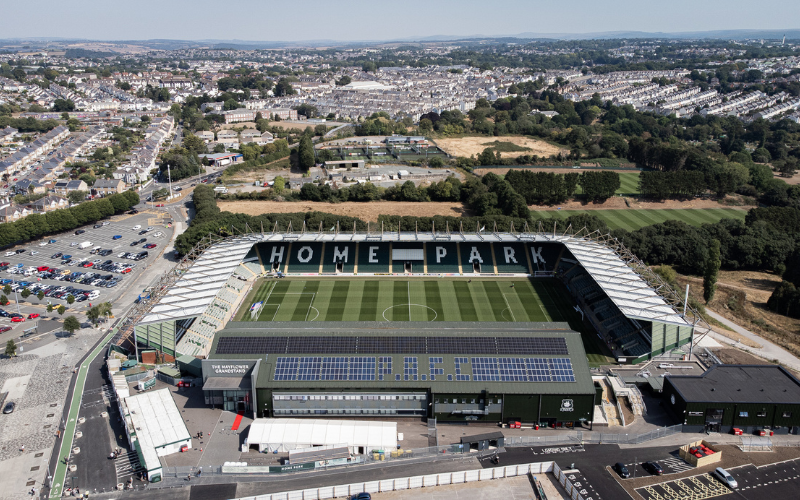 Plymouth Argyle Football Club has announced plans to transform an under-utilised sports complex into a new training base for its youth academy and women's team.
The £21m investment in the Brickfields site in Devonport will include a full redevelopment of the leisure centre and sports pitches. The deal is a joint agreement between Argyle, the Argyle Community Trust, Plymouth City Council, Plymouth Albion RFC and Devonport Community Leisure Ltd.
Further details on the project will be released in due course. The initial plan is to include:
- An improved set of football pitches, comprising grass and 3G facilities
- A new academy building with classrooms, office space, a gym, changing rooms, and a lounge for parents and carers
- A rubber crumb pitch for public use
- Improved access and parking
The exciting development plans will directly benefit the club's ambitious academy and women's teams. It will also provide fantastic facilities for the community to enjoy too.
The work is set to commence in 2024, subject to approval where necessary.
Andrew Parkinson, Chief Executive Officer and Trustee of the Argyle Community Trust said: "This is a significant milestone in the club's proud history, and provides great excitement for the future of Argyle, with the prospect of a permanent academy base taking us one step further in our strategic vision to see the club attract, retain and develop the region's best young talent.
"Regenerating the site to provide first-class facilities for our academy and other elite sports addresses a need, not only for Argyle, but other stakeholders, including Plymouth Albion RFC.
"The proposal will also provide significant benefit for the Devonport community, allowing the Argyle Community Trust to use redeveloped facilities to manage a thriving community hub, providing members of the public with access, support, and equipment to reduce health inequalities and promote wellbeing."
Councillor Pat Patel, Cabinet Member for Customer Services, Culture, Leisure and Sport at Plymouth City Council, said: "This is an extraordinary deal that will unlock millions of pounds of investment to provide incredible facilities to nurture talent in this city as well as expand the offer to local people.
"We have been talking extensively to the people who use Brickfields, as well as groups and individuals in Devonport, about what facilities and activities they want to see. At the moment the entire site is not being used as well as it should be.
"We have a plan for sport that the city's clubs and organisations helped create and this proposal really fits the bill. Together we are working to increase participation – opening up opportunities to get more people involved in sports and physical activity.
"But this is also about pride; locating the Argyle Academy in Brickfields strengthens the links between the city and Argyle, as well as creating a sense of aspiration for the young people living nearby. We will not see a deal of this scale for many years to come."