The A-Class Has Won Best Family Hybrid At The What Car? Electric Car Awards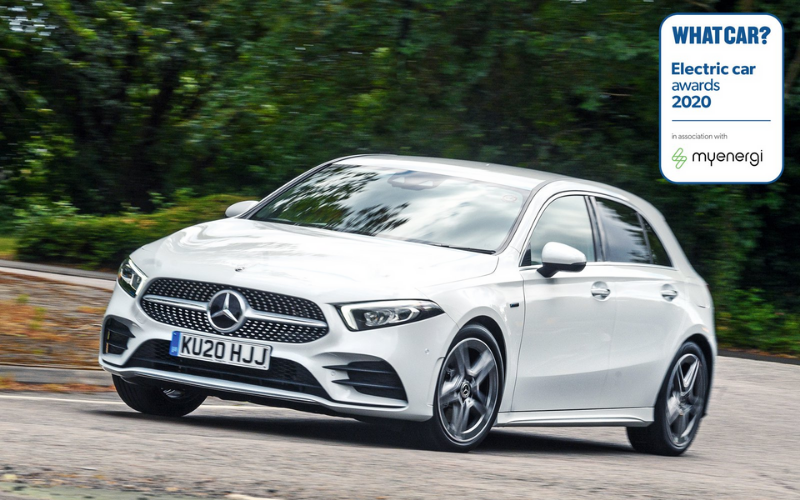 Automobile review site What Car? has announced its winners of the first ever 'What Car? Electric Car Awards', held in association with charging point provider Myenergi.
As electric cars becoming increasingly popular, What Car? have decided to crown their best models in every class.
The What Car? Electric Car Awards not only considered fully electric cars, but also hybrids that are capable of at least 20 miles of zero-emissions motoring between charges.
With this, the Mercedes-Benz A250e has been named the What Car? Best Hybrid Family Car.
According to What Car?, UK motorists bought more than 30,000 electric cars during the first six months of 2020 – a 159% increase on the same period last year. When you include all plug-in hybrid models too, the total electric cars sold rises to more than 50,000!
These number are only likely to increase in the future; a recent What Car? poll revealed that 26% of people are more inclined to go electric as a result of the changed environment we're now living in. However, with the number of EVs on the market growing all the time, it can be hard to know where to start your car search.
What Car? declared the A-Class: 'a comfortable ride that's troubled only by particularly vicious potholes and expansion joints'
They continued: 'A combined power output of 215bhp from its 1.3-litre petrol engine and electric motor makes it far swifter than other affordable plug-in hybrids. In electric mode, power is down to 100bhp, although that's still enough acceleration to keep pace with fast-moving traffic.'
What Car? went on to praise the A-Class' styling: 'Not only does it look striking, with big digital displays and turbine-style air vents, but it's also laid out in a very user-friendly way.
'Space in the front and rear seats is unaffected by the addition of the hybrid technology, although boot capacity takes a hit compared with other A-Class models.'
What Car? commented on the A-Class' technology and concluded why they picked it as their winner: 'The infotainment system is impressive, offering a variety of ways of interacting with it, plus quick responses to inputs and easy-to-fathom menus.
'Overall, then, the A250e is a fine car in its own right, and one that has some serious financial benefits whether you're buying with your own money or receiving one from work.'
The award-winning Mercedes-Benz A-Class A250e hybrid is available to order now:
Shop New Mercedes-Benz A-Class Deals
If you'd like to find out more about hybrid and electric vehicles, click the link below: