TikTok's Top Motors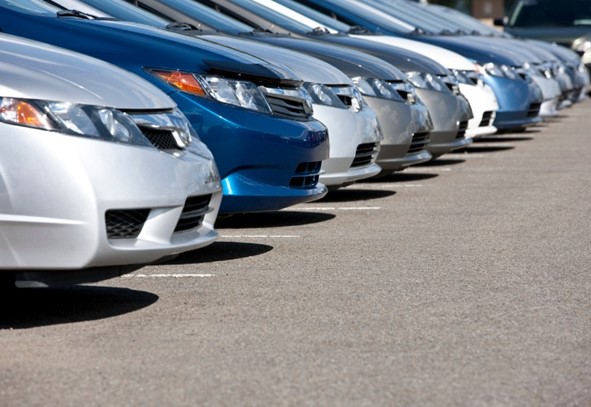 Did you know that by the end of this year around 10 million Brits will be uploading, sharing, and tagging posts on TikTok? That's as many users as Pinterest; a huge leap for a nascent social platform.
And of course, wherever there is a captive audience, so too will there be car brands promoting their slick, shiny motors to the masses. To attract users, however, car companies have had to change gear dramatically.
Rather than captivating users with tried and tested content, its young demographic of Gen Z and Millennials – of whom already make up 40% of car owners on the road – demand absorbing videos and exciting viral challenges that cut through the faff (and take them straight to the 'share' button).
So, which car brand has achieved the most TikTok success so far? To find out, we analysed the frequency of TikTok views for everyday car brands (the kind you're most likely to spot on the road), as well as supercars, and British-born types.
See our findings, below, to see which car brand is roaring to TikTok's finish line.
TikTok's Top Everyday Motors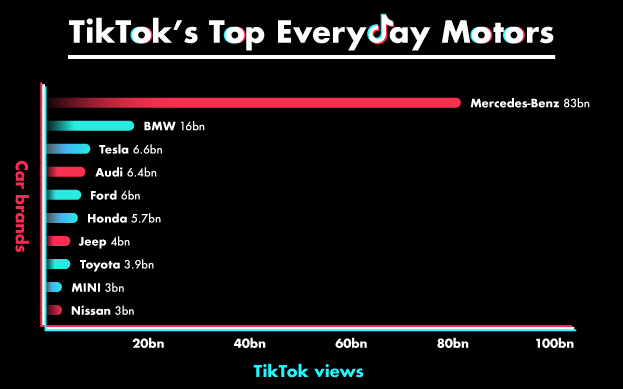 Despite BMW's irrefutable prowess for churning out a viral branded hashtag, Mercedes-Benz has earned its place at the top of the podium largely due to its #MBStarChallenge.
Singlehandedly collecting over 2.24m views, this branded hashtag asked users to re-envision its world-famous logo, with some seriously creative results. Think user participation is old news? Think again.
TikTok's Top Supercars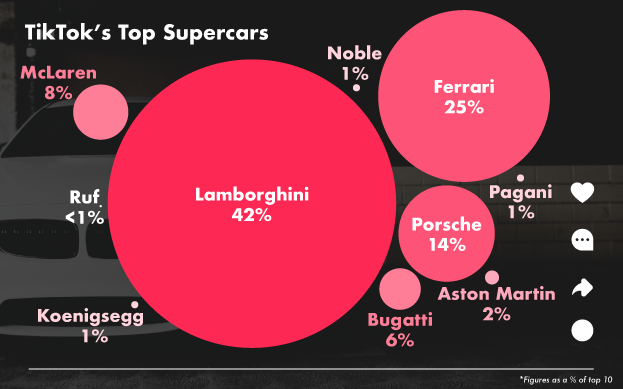 Not even TikTok could ignore the hotly contested Lamborghini vs Ferrari battle that drives the supercar industry forward. Yet in this particular fight for supremacy, Lamborghini wins by a country mile.
Claiming nearly twice as much TikTok interest and leaving Ferrari in the dust, it seems the love for Lamborghini knows no bounds. Especially considering they clocked up a staggering 3 million+ views on the platform with their first ever TikTok video alone!
TikTok's Top British Car Brands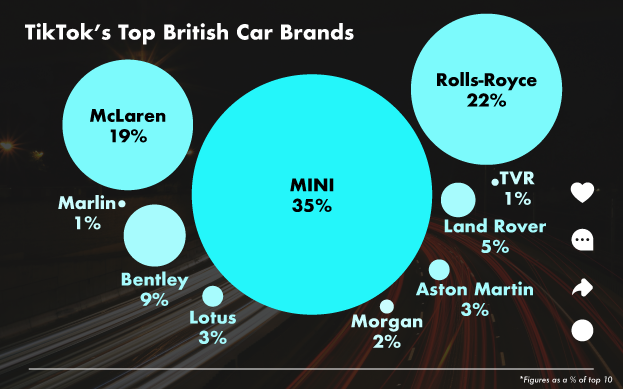 You don't need to be a luxury car brand to earn the adoration of young TikTok users – that's what MINI has proven, at least.
Waving off the likes of Rolls-Royce and McLaren, MINI's foray into the electric car market has set brand engagement rates soaring. Helped primarily by their slick promotional activity and targeted ads, they're able to make major waves online – even if their diminutive name suggests otherwise.
You've seen what TikTok thinks of the world's top motors, but what do you think is the best car brand on the market? To browse all the best new and used everyday car brands, take a look at the Vertu Motors range today.