Top Gear Reviews How The 2020 Land Rover Defender Tackles The British Landscape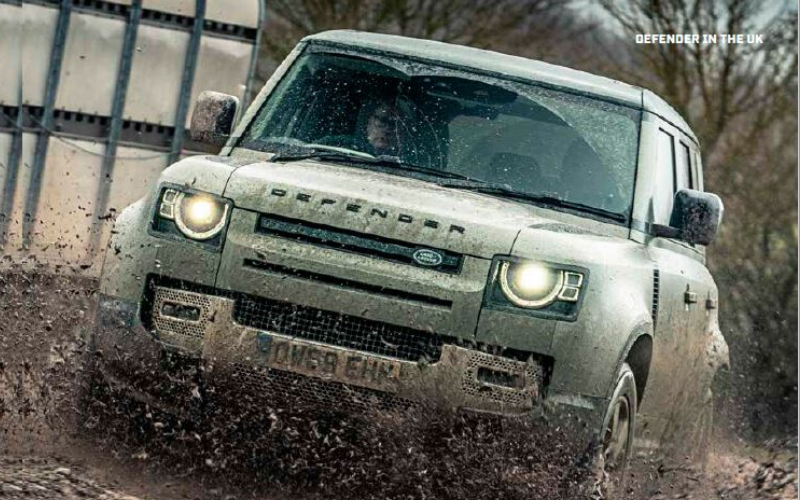 From countryside to city centre, Top Gear have documented how the Defender fares as a practical farming utility vehicle that can still inhabit your nearest town too.
Just after the first 2020 Defenders reached our showrooms and became available to order, the popular motor-enthusiast television series showcased what it's like to cross the British landscape.
Top Gear car enthusiasts Paul Horrell and Ollie Marriage review the all-new Defender, from Berkshire countryside to London's city centre.
The new Defender hosts a range of features that help it survive, both in rural and urban settings. You can read how Top Gear got on, here:
From Berkshire Countryside
'The Defender absolutely bursts with off-road capability.
'Starting this Berkshire day with muddy grass, a surface that simulates fresh snow surprisingly closely. The test car's tyres aren't cleated enough for the job and I got it stuck on a greasy uphill. Stopped. Engaged 'low-friction launch', and it alchemised traction from nowhere and proceeded to inch its way over the crest.
'You've also got superbly progressive throttle calibration. And the fab under-bumper camera system. LR does these electronics better than anyone, and backs them up with the right mechanics: diff locks and departure angles and a foot of ground clearance with the air springs. Independent suspension means they've no longer got low-hanging diff banjos.
'It's better again inside. You sit upright, alertly addressing the vehicle and the world beyond. The test car had washable rubber flooring under removable carpet foot-mats, a canny reversal of the norm.
'The interior door skins are structural, acting as an anchor for the window motors and door locks on their inner face. So it loses a trim layer, and you get extra elbow room. It's hugely roomy in the back seats.
'There's masses of storage, best of all the dash shelf below the magnesium crossbeam. It would take all the stuff my grandfather kept on the same shelf of his working Series II: claw hammer, six-inch nails, fencing staples, sheep dagging clippers, hank of baler cord, mole wrench, Murray mints.
'Heck though, I found myself loving this Defender. Its insanely great competence off the road and (spoiler alert) on it, does melt away the reservations.
'The way it feels and looks serves to reverberate with its spirit. If you owned it and did only one solitary trip into wild terrain, thereafter every tedious commute would carry the faint taste of adventure too.'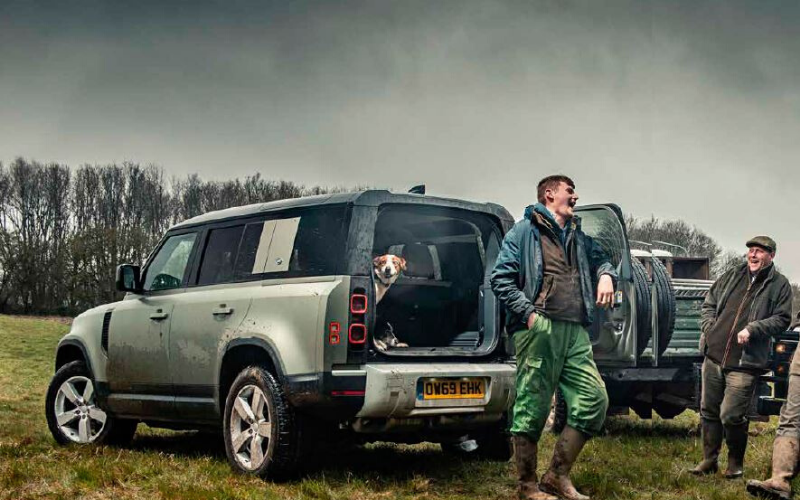 To the City Centre – Driving Through London
'It's a blustery day, and on the M40 I'm distantly aware the Defender is battling crosswinds, battering airflow. But only because my foot is an inch further into the throttle travel than I expected, and high speed acceleration tails off.
'I'd sit in here for hours. I find the cabin enthralling, plus it's so comfortable with a broad, generous cabin, upright windscreen, good passenger space, plentiful light and headroom.
'The ambience, the fact you climb in and immediately want to spend hours in it, off in pursuit of adventure? That's nothing less than inspirational.
'London, the grind and gnaw of teeth and traffic. It's an awful place to drive any car, let alone one over two metres wide and five long.
'But no other SUV does it better. Seriously.
'You have good visibility and upright flanks, so you know where the edges and corners are; the 360 degree camera system is a work of genius, so too the rear-view mirror that can be switched to a wide-angle camera view (I know, tech in a Defender).
'The turning circle is surprising, you're taller than taxis (that's important), see stuff coming in your periphery, are more aware. And you're piloting a machine that's very well calibrated to city use: steering weight, accelerator action, eight-speed auto gearbox – it's an easy car to drive.
'And people love it. They look up from their phones and notice it – run after it in one or two instances. It's the acceptable face of urban SUVs. But then it's not an SUV at all, it's a UV. And that positioning, although not new – is crucial.
'The Defender is good enough to be a catalyst for a new breed. Cross-breeding a sports car and an off-roader? When was that a good idea? But a car that has a commanding, reassuring presence, oozes calmness and capability? Rugged, but with the edges chamfered? That's the kind of car I want to put my family in.'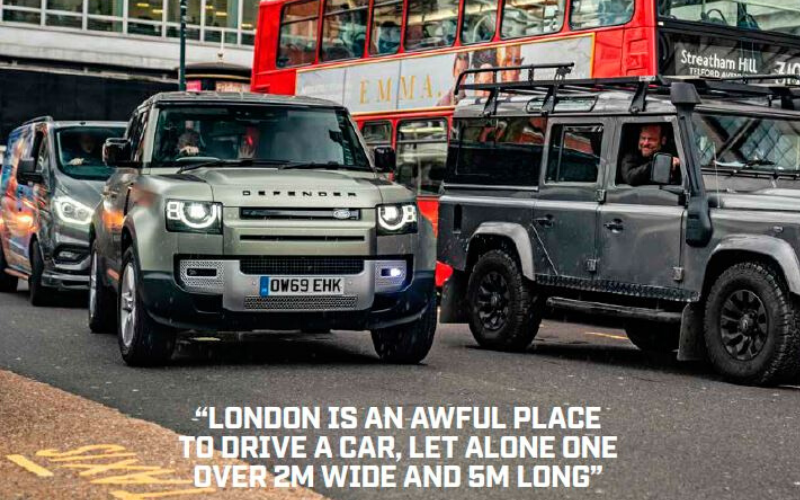 The Defender definitely impressed. From concrete jungle, to wild, rural terrain, the all new Land Rover Defender is an icon reimagined to fit into a modern 2020 lifestyle.
With the new 2020 Defender, you have the choice of three roof types: panoramic, solid metal or retractable fabric. Whatever way you want your Defender to look, it's possible with the personalisation features.
The new Land Rover Defender offers the largest choice of accessory packs too. The four packs are:
- Explorer
- Country
- Urban
Depending on your environmental needs, the accessory packs cater to you.
It has the ability to tackle any terrain like no other SUV, and with prices starting around £45,600 for the 110 5-door diesel, it really won't be long until the new Land Rover Defender makes its appearance on the roads (or fields!) near you. Orders are being taken now.
Why not come down to your local Farnell Land Rover retailer to experience the all-new Defender for yourself? Take your own test drive and see what makes it special.
To view the all-new Defender range and our amazing deals here at Farnell Land Rover, click here: