Vertu Motors Named Official Partner of Somerset County Cricket Club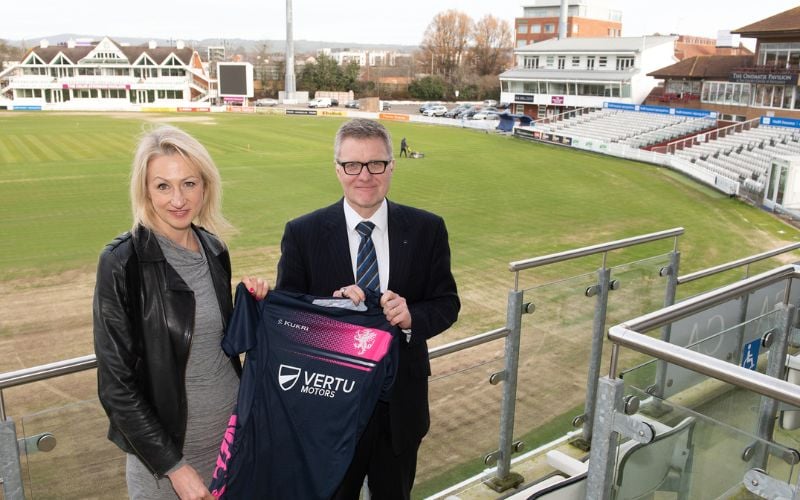 Vertu Motors has agreed a 12-month partnership with Somerset County Cricket Club.
The motor retailer, part of the wider Vertu Motors group, recently expanded its presence in the South West of England with the acquisition of 28 sales outlets from Helston Garages Group.
Vertu Motors branding will feature on the sleeve of the Club's LV= Insurance County Championship and One-Day Cup playing shirts.
Vertu Motors will also become a One-Day Cup Big Screen Boundary Partner and T20 Live Stream Partner, giving the retailer significant visibility at the Cooper Associates County Ground.
Robert Forrester, Chief Executive of Vertu Motors plc, said: "I am delighted to add Somerset County Cricket Club to our portfolio of sports partnerships for our Vertu Motors brand.
"The Group now has a major presence across the South West since we acquired the Helston Garages Group dealerships, and this is a fantastic way of establishing our brand, whilst also supporting a well-loved local institution and the communities around it.
"Somerset County Cricket Club has been home to some of the sport's greatest players, including Lord Ian Botham, Sir Viv Richards, Marcus Trescothick and 'Big Bird' Joel Garner. This is an excellent Club, to which we're all proud to be associated with; I am very much excited for the upcoming season and to be involved with the Club in all forms of the game."
Caroline Herbert, Commercial Director at Somerset Cricket Club, said: "We are absolutely delighted to be partnering with Vertu Motors for the 2023 season.
"As part of one of the largest automotive retailer groups in the UK, it is highly established with an excellent reputation for customer service. And with a renewed focus on the South West, it is the perfect partner for Somerset County Cricket Club.
"As part of our partnership, Vertu Motors will be utilising all our channels to bring their brand to life and to enhance our fans' experience. Vertu Motors is a very welcome addition to the Somerset Family."
The Vertu Motors retail brand holds a variety of partnerships across sport, including Sunderland Association Football Club, Middlesbrough Football Club, Burnley Football Club, Nottinghamshire County Cricket Club, Yorkshire County Cricket Club, as well as the Newcastle Eagles basketball team, and naming rights for the Eagles' Vertu Motors Arena in Newcastle.
Vertu Motors operates a number of dealerships in the South West including:
- Volvo Taunton
- Vertu Land Rover Taunton
- Vertu Jaguar Taunton
- BMW Bridgwater (soon to be Vertu branded)
- MINI Bridgwater (soon to be Vertu branded)