Why Vertu Motors Loves The New Volkswagen T-Roc Cabriolet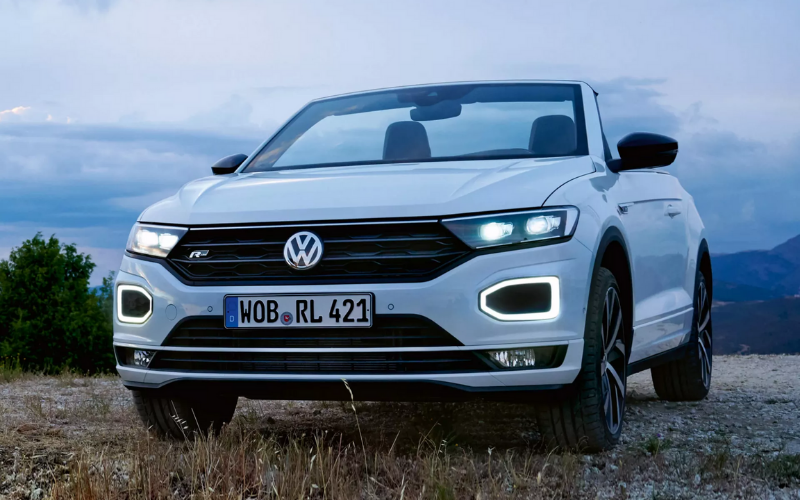 Volkswagen has launched the all-new T-Roc Cabriolet – a convertible version of one of VW's most popular SUVs.
Released just in time for summer, the new T-Roc Cabriolet is ready for you to make the most of those sunny, blue skies, setting out on the open road in comfort and in style.
The open-top Cabriolet combines SUV practicality with the exhilarating drive of a convertible – what more could you want!
There are many reasons why we love the Volkswagen T-Roc Cabriolet and we're sure you're going to love it too:
Style
The T-Roc Cabriolet's powerful looks give it a real presence on the road and will turn heads in every direction.
All aspects of the car have been strengthened to give you a solid, dependable drive whether the roof is up or down.
The Cabriolet's soft top roof opens in just nine seconds, making it one of the fastest available – feel the wind in your hair with the push of a button. And don't worry if the weather decides to take a turn, it only takes 11 seconds to get the rook back up over your head!
Technology
You have full control of the new T-Roc Cabriolet's digital dash-board.
Your 10.25-inch high definition display shows everything from speed and mileage to the name of the song from your favourite playlist – what you see is entirely up to you!
The optional Beats sound-system combines 6 loudspeakers so you can blast your favourite tunes throughout your stylish, new vehicle.
If that isn't enough, wireless App Connect transfers your smartphone apps onto the touchscreen infotainment system so you can stay connected whilst driving.
Finally, you can access your preferred streaming services whilst driving, meaning the best music is just at the tips of your fingers!

Performance & Drive
The T-Roc Cabriolet's versatility allows you to drive it your way with five different driving profiles, each having their own unique character.
The five driving profiles include:
ECO-mode uses fuel more efficiently.
SPORT-mode unleashes the T-Rocs Cabriolet full performance potential.
COMFORT-mode allows for a more relaxed journey.
NORMAL-mode reverts back to default settings.
INDIVIDUAL-mode allows you to customise your OWN settings and save them to this mode.
Safety
Don't just ask us - the Volkswagen T-Roc has a 5-star Euro NCAP safety rating.
The T-Roc cabriolet guarantees safety down to the last detail and advanced safety features means you're always prepared for the unexpected.
Park Assist provides audio alerts that warn you about vehicles, pedestrians and obstacles that are too close to your car, whilst Emergency Braking Systems reduce the risk of an incident and lessen the impact of a collision.
With the T-Roc Cabriolet, there's no need to worry about that pesky blind spot as the optional Side Assist Plus uses an LED display on the wing mirror to warn you if there's a vehicle you may not be able to see.
If the T-Roc's Front Assist detects a possible collision, it will alert you with an audible and visual warning and will prepare the vehicle for braking.
If you'd like to take a look at our fantastic range of deals for the new Volkswagen T-Roc, including the T-Roc Cabriolet, click the link below: