Why We Love The All-New Mercedes EQA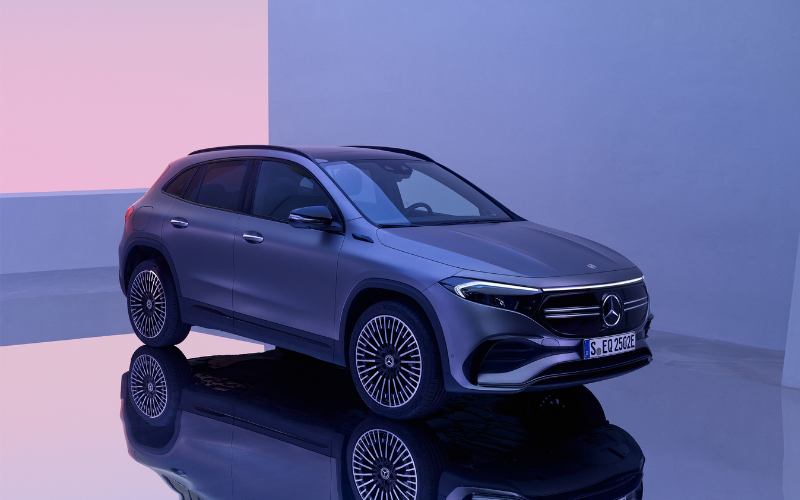 Based on the incredibly popular GLA, Mercedes-Benz's highly anticipated small electric SUV is here!
From an exceptional range and advanced on-board technology to subtle interior upgrades and outstanding performance, discover why we can't help but love it.
Watch our full vehicle tour:
Range and Charge
The all-new Mercedes-Benz EQA will be able to drive an incredibly impressive 263 miles on a full charge, according to the latest WLTP tests. This is slightly more than the larger EQC.
The EQA is set to use a 66.5kW battery that's fitted under the floor, taking up no boot space and creating a more spacious cabin.
The all-new EQA will take just under 6 hours to charge from 10% to 100% using an 11kW wall box. However, if you're using a rapid 100kW charger, the kind found at most public charging points, the EQA will go from 10% to 80% charge in just 30 minutes.
That's an ideal amount of time to take a break for coffee, have a snack and go to the toilet during a longer distanced journey.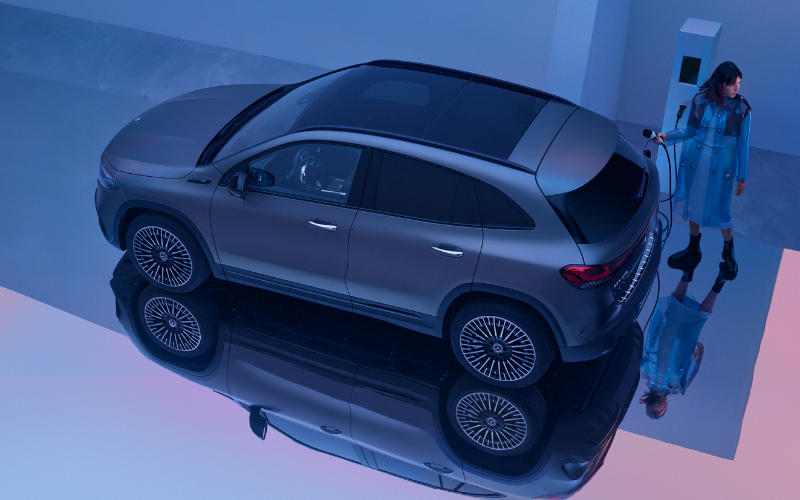 Exterior
Although the all-new EQA is based on the GLA, Mercedes-Benz has refreshed and adapted its appearance – the most obvious change being a new front-end.
Similar to the EQC, the grille has been replaced. In addition, the full-width daytime running light between the headlights has also been inspired by the EQC.
With a choice of 18-inch to 20-inch, the new EQA also comes with intelligently designed Alloy wheels to help you drive further between charges.
Interior
Inside the new Mercedes EQA, it's similar in premium quality and detail to the GLA's comfortable cabin. The EQA offers the same contemporary layout and an almost identical dual-screen infotainment system as standard – this gives you two 7-inch displays nice and clearly.
With the upgraded variants of the new EQA, expect 10-inch displays instead.
Despite being an added extra with the entry-level GLA, the new Mercedes EQA comes with 64-colour ambient lighting choices as standard, along with a new mood-lit dashboard.
To make navigating and using all of your on-board technology convenient, Mercedes have included the intuitive MBUX system into the new EQA. Just say 'Hey Mercedes' to start commanding your car to what you want.
Mercedes-Benz's intelligent sat-nav comes as standard too, and it'll let you program routes according to where the fastest charging points are located. Plus, the EQA is capable of taking into account how much charge you want to have in reserve when you arrive at your destination, factoring this into your route if needed.
Depending on which variant of the new EQA you go for, you can also get rose gold trim on the air vents. In addition, you can choose seats with matching trim made incredibly from recycled plastic bottles!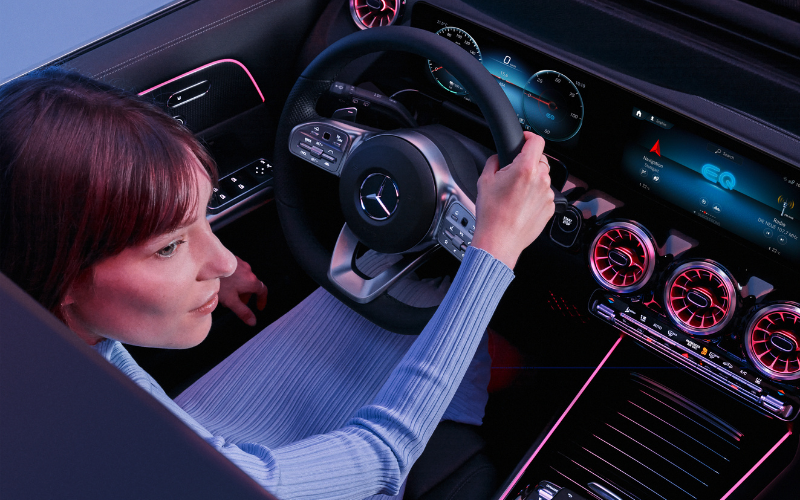 Safety
The new Mercedes-Benz EQA offers the brand's latest and greatest safety technology.
As standard, the new EQA comes with adaptive cruise control, automatic emergency braking and lane-keeping assist, as well as a system that'll spot pedestrians in the road and automatically brake if necessary, to avoid an accident.
The new Mercedes EQA looks out for potential dangers on the road, helping you to navigate busy urban streets with ease.
Performance
The new Mercedes-Benz EQA is set to provide a smooth, powerful, and intuitive drive.
For now, the EQA comes with one choice of electric motor and battery – the EQA 250. This will deliver a strong 190hp and 375Nm of torque.
The new EQA will be able to reach 62mph from a standstill in just 8.9 seconds, which is about the same as the standard GLA 200 petrol.
Incredibly capable, the EQA is a fully electric vehicle that still offers Mercedes-Benz confidence and agility. The new EQA will seamlessly adapt to its surroundings – giving you complete peace of mind with British driving conditions.
In addition, the EQA's regenerative braking will ensure you always get the most out of your full charge. Using data from the sat-nav, it adapts accordingly. For example, if you're coming up to a junction, it'll slow down for you, but if you're getting close to a hill, the EQA will coast along more so you don't lose your momentum.
Orders for the new Mercedes-Benz EQA are open now - prices start from £42,000.
Stay tuned for more updates on the all-new EQA, as and when we get them.
If you'd like to take a look at our fantastic offers available for the incredible EQA online, click the link below:
Equally, if you'd like to learn more about hybrid and electric vehicles, click the link below: