Exclusive Limited Edition Jaguar XE SV Project 8 At Farnell Jaguar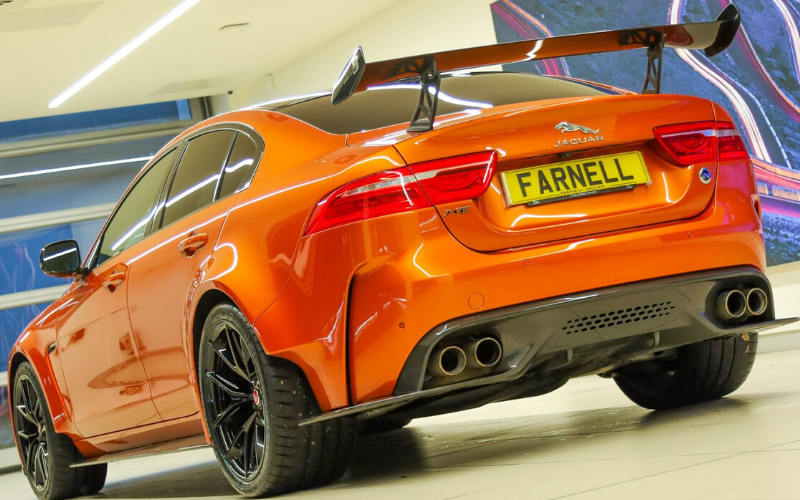 The Jaguar XE SV Project 8 is the most extreme performance Jaguar ever, taking on the Nurburgring Nordschleife with ease.
With only 300 editions ever made worldwide, Farnell Jaguar are proud to sell one of the performance Project 8's within our Leeds showroom. The Project 8 is the most powerful road-legal Jaguar in history.
Only for the bold, the XE SV holds a 592-bhp supercharged 5.0-litre V8 under the bonnet and sprints to 60 mph in a neck-snapping 3.3 seconds. Assuming there's a long enough straight, the Jaguar Project 8 can reach an eye-watering top speed of 200 mph.
The Limited Edition Project 8 Jaguar was made in four colours – Valencia Orange, Corris Grey Satin, British Racing Green, and the Velocity Blue – the end result is a super saloon with a sleek profile and all the same power.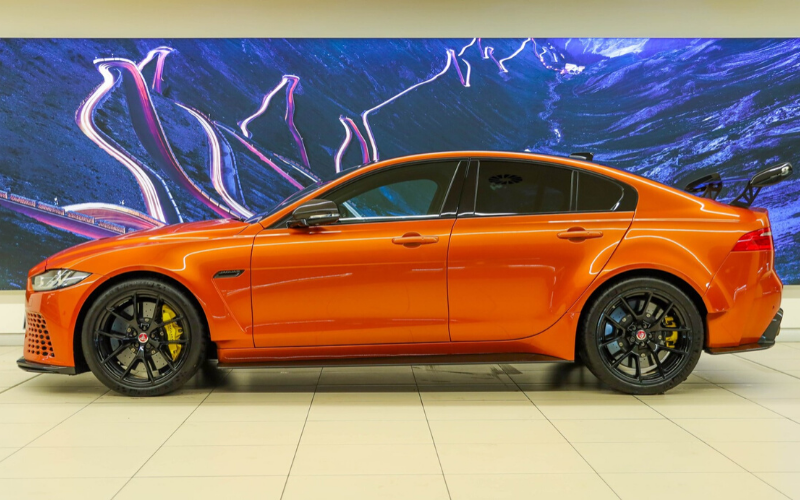 Each of these rare Jaguars have been hand-assembled at the SVO Technical Centre in Warwickshire, England.
SVO typically evolves ultimate Jaguars: the fastest, and the most luxurious, incorporating the highest levels of technology. SVO specialist engineers, designers and craftsmen enable the most discerning clients to indulge their passion for Jaguar. The result is always exclusive, desirable and collectible.
Prototype versions of the Project 8 have been running at proving grounds across Europe - the most famous of which is the Nurburgring Nordschleife. The Project 8 has achieved the fastest lap ever for a Jaguar on the Nordschleife, faster than any other four door production-intent sedan in history and faster than many renowned supercars.
'Project 8 has received outstanding critical acclaim since its launch, demonstrating the Special Vehicle Operations team's ability to create a compact Jaguar saloon with supercar-rivalling performance,' Jamal Hameedi, Engineering Director at Jaguar SVO notes.
'Touring specification extends the appeal of Project 8 to performance car enthusiasts and collectors who prefer a more discreet appearance, without compromising its driver-focused on-road dynamics.'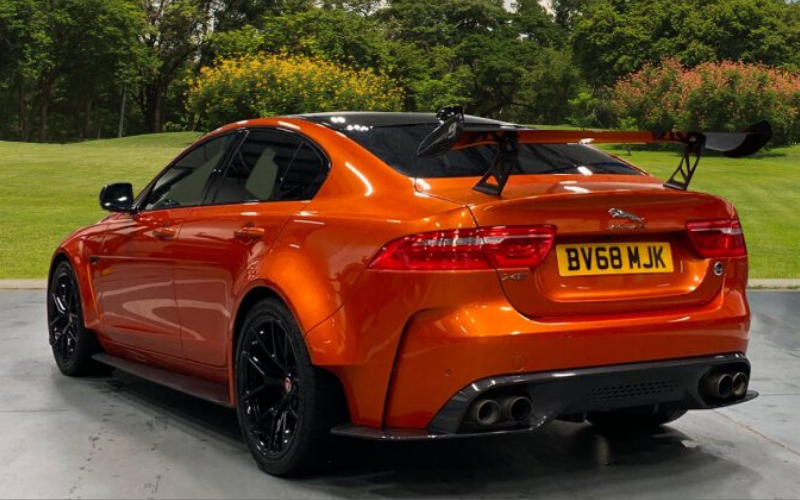 Engineered to be the world's most exhilarating sports saloon, Project 8 uses motor sport derived suspension and a modified All Wheel Drive system for outstanding driver feel and agility.
The Project 8 Comes With Significant Features:
The Bold Rear Wing
The Project 8's body has been extensively redesigned to offer aerodynamic performance essential for a 200mph car. This includes an adjustable deep front splitter, rear diffuser and a large adjustable rear aero wing.
The wing's angle of attack can be fine-tuned either to reduce drag or maximise downforce – producing up to 122kg of downforce once you reach 186mph.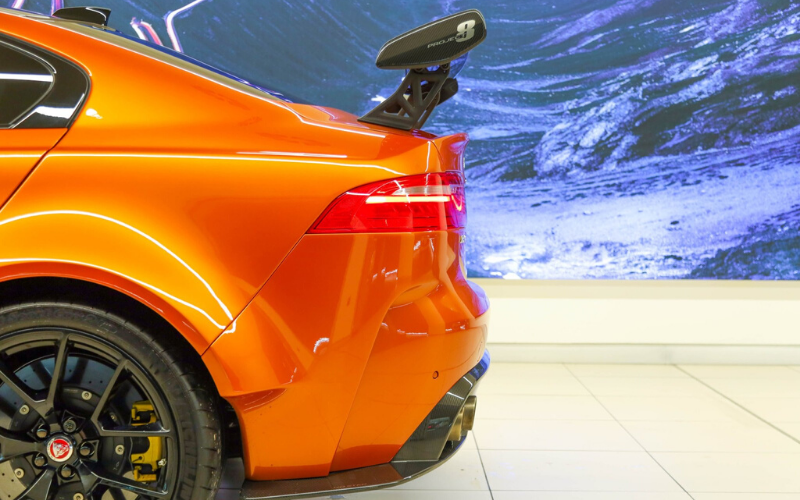 Outstanding Brakes
Saving 18kg, Project 8 has the largest and most technologically advanced brakes ever fitted to a Jaguar – vast 400mm carbon ceramic discs with huge 6-piston calipers up front.
Lightweight forged alloy wheels and specially developed Michelin Sport Cup 2 tyres combine superior handling with outstanding grip and comfort.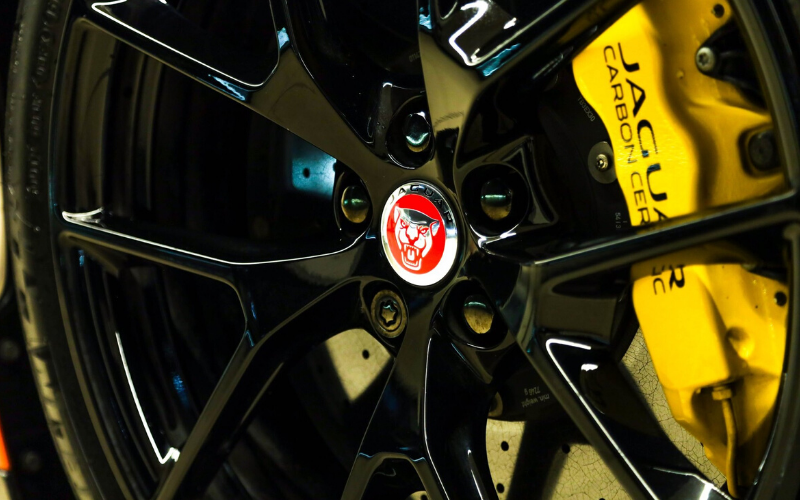 A Real Connection To The Road
All Wheel Drive ensures superb responsiveness, traction and agility. No Jaguar feels more 'alive'.
The handling is rear-drive biased, like a two-door supercar. The Intelligent Driveline Dynamics includes an Electronic Active Differential, as part of the advanced computer-controlled drive set-up.
For ultimate performance, Project 8's uniquely tuned version of Adaptive Dynamics includes a new Track Mode.
Premium Sport Seats
The performance-focused Project 8 features four sports seats trimmed in Ebony leather, with Oyster contrast embroidered stitching.
The front pair are special lightweight magnesium-framed Performance seats, optimising your driving position to really feel and see the road.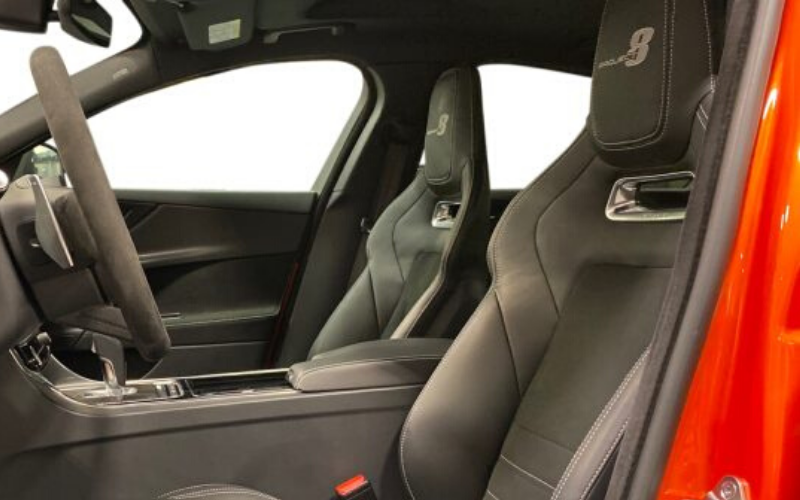 Exceptional Wheels
The special lightweight forged alloy wheels are stronger and lighter than conventional cast alloy, delivering superior handling.
The wheel's unique design reduces drag by 7 counts, while specially developed Michelin Sport Cup 2 tyres combine outstanding grip with comfort – making them perfect for road or track.
State-Of-The-Art Technology
The Jaguar Project 8 may perform and look like it belongs on a racetrack, however, the latest comforts such as an advanced infotainment Touch Screen system, Apple CarPlay and Android Connectivity are still installed, providing the driver with everything they need to keep in touch with the world.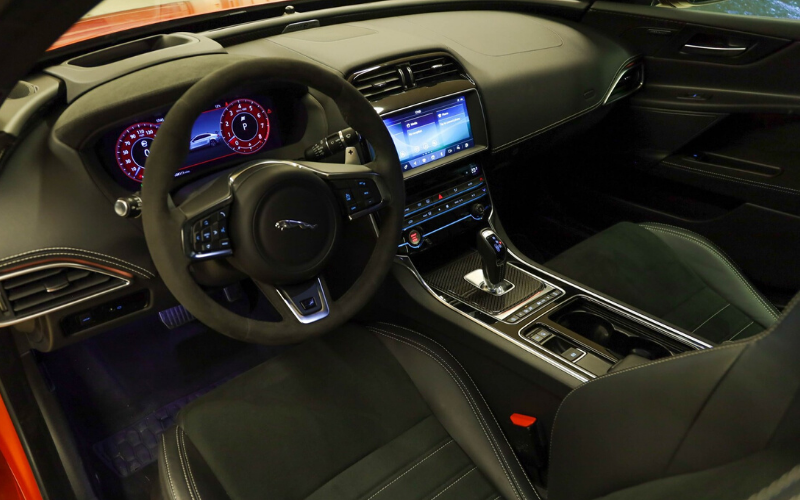 Jaguar have stated that speed and driving exhilaration aren't just about power; Jaguar's pioneering Lightweight Aluminium Architecture combined with Project 8's extensive use of carbon fibre – for the bonnet, bumpers, fenders, side skirts, front splitter and rear aero wing – keep weight to an absolute minimum.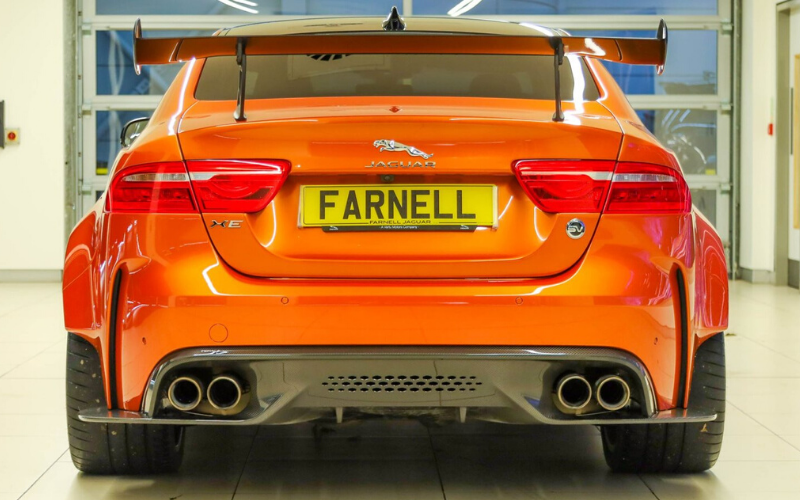 The Jaguar XE 5.0 Supercharged V8 SV Project 8 is a motor masterpiece like nothing else on the road – its limited edition status makes it an exclusive experience to one lucky and brave driver.
For more details or to make an enquiry, click the link below:
The Project 8 won't be in our Farnell Jaguar Leeds showroom for long – see it while you can, as it marks an important moment in Jaguar history.