Honda urges fans to post inspirational messages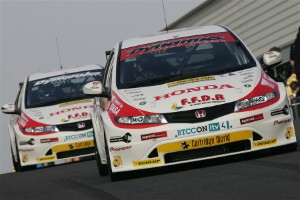 Honda is urging motorsport fans to post good luck messages online for its British Touring Car Championship (BTCC) racing team drivers.

The company notes that Twitter users can offer their encouragement to Matt Neal and Gordon Shedden by posting 50-character messages on social media site Twitter, adding @honda_uk.

Honda will print the most inspirational, entertaining message on the back screens of both drivers' Civic racing cars for the BTCC final at Brands Hatch on October 10th.

The competition closes at 16:00 GMT on Wednesday (October 6th).

"The winner will also have the opportunity to cheer the drivers to victory from the track side with two tickets to the final race day," Honda adds.

Further details of the competition can be found on the Honda Facebook page.

Matt Neal and Gordon Shedden are currently placed second and third respectively in the BTCC points table.

In other news, the new Honda Jazz with hybrid technology made its debut at the Paris Motor Show last week (September 30th).