Kia Sorento Named Overall Winner At What Car? Tow Car Awards 2021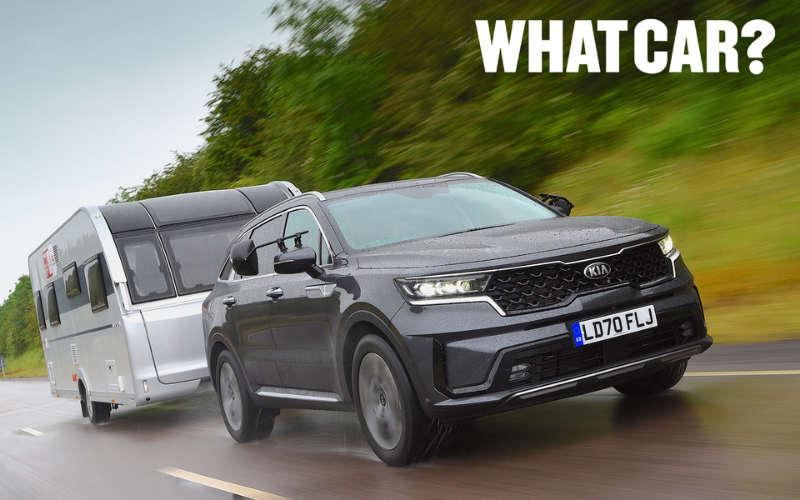 Expanding its trophy cabinet once again, the new Kia Sorento has picked up a few more titles this week - this time, at the 2021

What Car? Tow Car Awards.
As both overall champion and winner of 'best tow car' in the 1,900kg+ (up to £50,000) category, the Sorento impressed the What Car? judging panel.
Now in its fifth generation, the Sorento has always been a popular and capable tow car.
The What Car? judges commended the Sorento 2.2 CRDi '3' DCT for its breadth of abilities, with plenty of torque available from the engine, all-wheel drive and a smooth-shifting eight speed dual-clutch transmission, delivering a smooth and painless towing experience.
What Car? Editor, Steve Huntingford, commented: 'If you picture a Venn diagram with circles representing stability, performance, practicality and value, right in the middle, at the point where those circles overlap, sits the Sorento.
'It's a reassuring car to tow with, pulling a big tourer with composure. And the Sorento can handle whatever it's faced with because it has powerful brakes, the stability to cope with a sudden lane change, and four-wheel drive to help you make the most of its performance whatever the weather.
'The Sorento also has room for adults in all seven of its seats, and air vents for all three rows, while the many USB ports throughout its interior show that Kia understands how modern families keep themselves entertained on long journeys.'
The Camping and Caravanning Club's Ian Hewlett, a tester judge on the programme, added: 'Our panel of experts were really impressed by the towing credentials of this year's entrants.
'It's vital that motorists match the right car with their caravan, and our awards programme gives drivers excellent insight into the performance of the latest vehicles on the market.'
To see our great deals across the award-winning Kia Sorento range, click the link below: