Meet The All-New Toyota bZ4X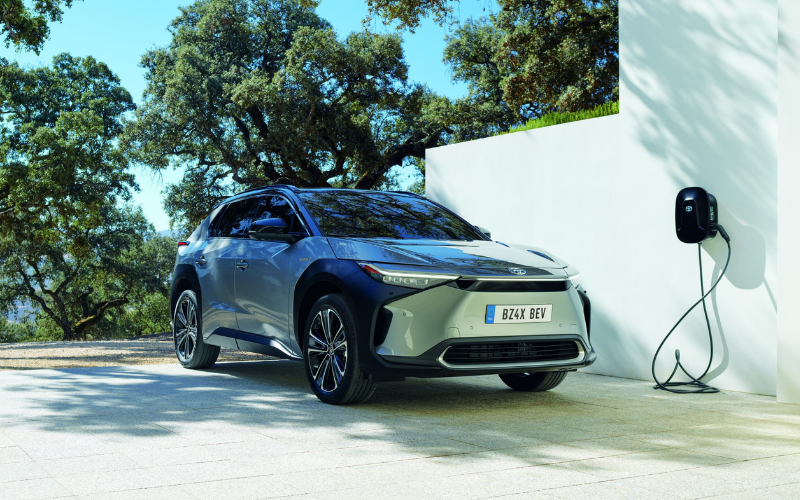 Toyota has revealed its first purpose-designed battery electric vehicle, the bZ4X; the first model to feature in Toyota's new bZ (beyond Zero) sub-brand.
The Toyota bZ4X SUV offers comfort and practicality in abundance with the added benefit of zero-emissions driving. The all-wheel-drive system provides exceptional off-road handling and performance and with an expected range of 280 miles (WLTP, dependent on the model version), it can certainly take you on life's adventures, without any range anxiety.
Read on for more on what to expect.
Exterior Design
The Toyota bZ4X has a sleek exterior design that exudes confidence through the new "hammerhead" front end, which features slim headlights and large front corners. From the side, the vehicle has a low height, bold lines and wheel arch mouldings are pushed out. From the rear, corners are emphasised further and a distinctive taillight bridges the width of the vehicle.
The exterior design has been built on aerodynamic principles which contribute to its considerable range. These include features such as front bumper apertures, a full underbody cover, and a split roof spoiler.
Combining the smart aesthetics of a modern BEV with the robustness of an SUV, it is as much prepared for urban life as it is travelling through the countryside.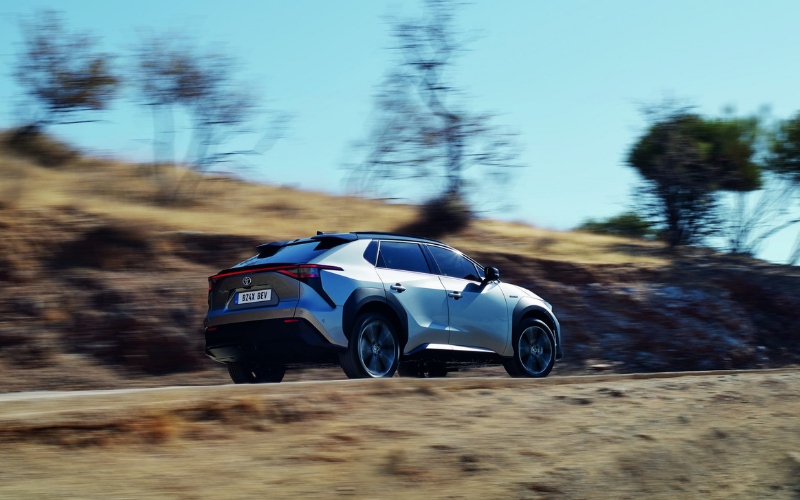 Interior Design
Toyota has described the ambience inside the bZ4X as similar to a living room – with soft textures and ample space providing ultimate comfort.
The driver will have maximum visibility as the seven-inch instrument and information display sit in their direct forward eye-line, just above the steering wheel.
The long-wheelbase delivers generous legroom for all occupants, plus, a large boot provides cargo space of 452 litres, even with the rear seats in place.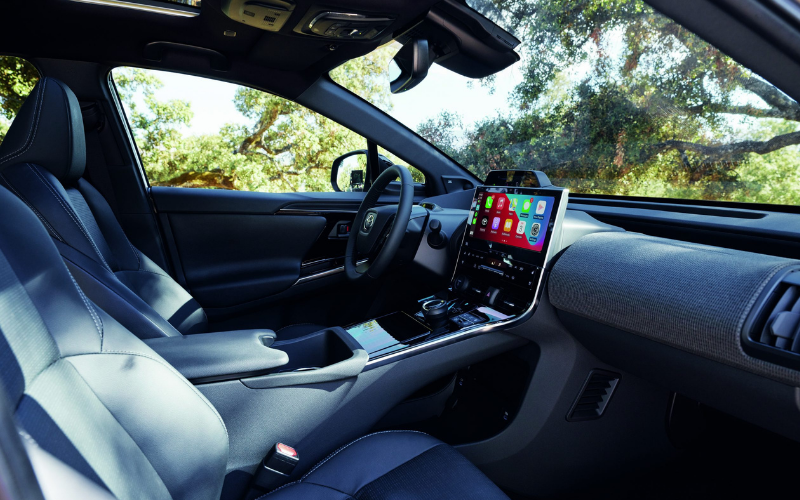 Technology and Performance
Toyota is certainly no newcomer when it comes to electrification; drawing on 25 years of battery technology innovation, to create the world-leading lithium-ion unit which powers the bZ4X. The manufacturer promise that even after ten years of driving, the battery should still operate at 90% of its original performance*.
The front-wheel model is powered by a 150kW electric motor, producing 201bhp and acceleration from 0-62mph in 8.4 seconds. In the all-wheel-drive model, maximum power will reach 214.5bhp with an acceleration of 0-62mph in just 7.7 seconds.
An efficient heating system means that range shouldn't be negatively impacted in sub-zero temperatures, compared to competitors any decrease will be marginal.
The battery can also be charged from 0-80% in just 30 minutes using a 150kW fast charger – this rapid charging will not compromise the safety or service life of the battery.
The bZ4X comes with a range of innovative technology features, such as a solar panelled roof that can charge the battery, as well as a number of Toyota Safety Sense advanced driver assistance systems.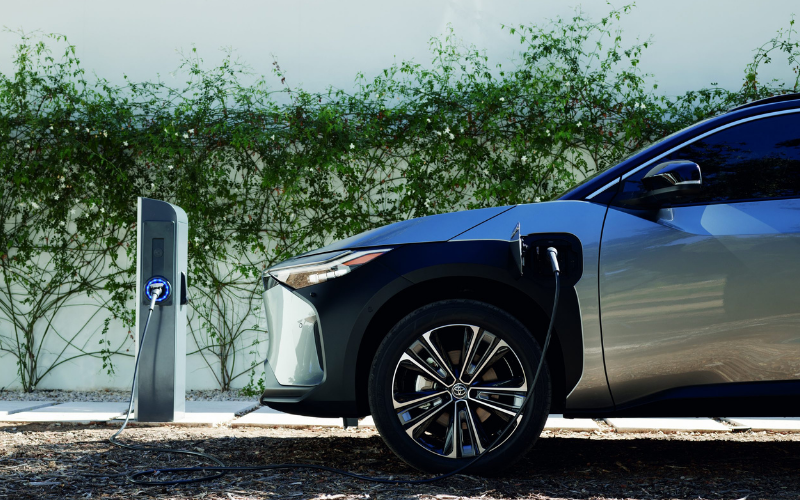 Toyota Beyond Zero
The bZ, Beyond Zero sub-brand demonstrates Toyota's environmental commitment through innovation, as pioneers in electric technology sinch launching the world's first hybrid-electric production car (the Prius) back in 1997.
The bZ4X adds to Toyota's multi-technology approach to electrified mobility; with a range that includes hybrid electric vehicles, plug-in electric vehicles, battery electric vehicles and fuel cell cars.
Toyota aims to reduce CO2 emissions with products that are easy to integrate into everyday life and have a strong appeal to customers. 'Beyond Zero' is an extension of 'Zero Emissions', as the manufacturer strives to deliver better mobility solutions, enhancing the enjoyment of driving and safety for all road users. The bZ4X has been designed to help customers transition to electric vehicle ownership with no inconvenience to their lives.
The model has a European premiere set for 2nd December 2021, where further details will be announced, including when order books will open. In the meantime, keep an eye on our Newsroom for further updates – or if you can't wait until December – check out our current Toyota deals.
(*Target values during development. The period of use and mileage is assumed to be 10 years or 150,000 miles, whichever is shorter.)