New Jeep Trailcat Concept Revealed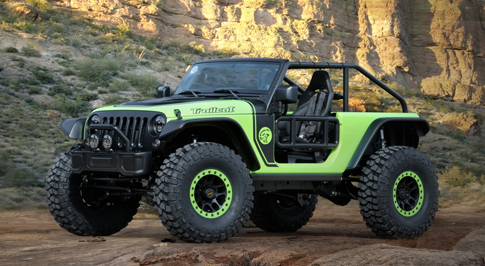 The facts speak for themselves: with a 707 bhp Hellcat V8 engine, Jeep's new Trailcat concept is a force to be reckoned with.
The supercharged engine has been a huge success in the Hellcat and Grand Cherokee SUV, set to grace our roads in 2017, and to celebrate the 50th Easter Jeep Safari, the rough and ready off-road manufacturer has announced the Trailcat.
The Trailcat Concept draws inspiration from the Wrangler, but its wheelbase has been increased by 12 inches, in order to fit the vast eight cylinder engine.
Other differences from the Wrangler include a slanted, short windshield, enormous 39.5 inch tyres, open half-doors, and plenty more.
The behemoth of an engine generates 650lb.ft of torque, which combined which the tyres will give the Trailcat dominion over practically any road surface.
Further, this is mated to a six-speed manual gearbox, for a truly powerful driving experience.
The Trailcat is an instant classic, and an exciting signal of things to come for the off-road manufacturer.